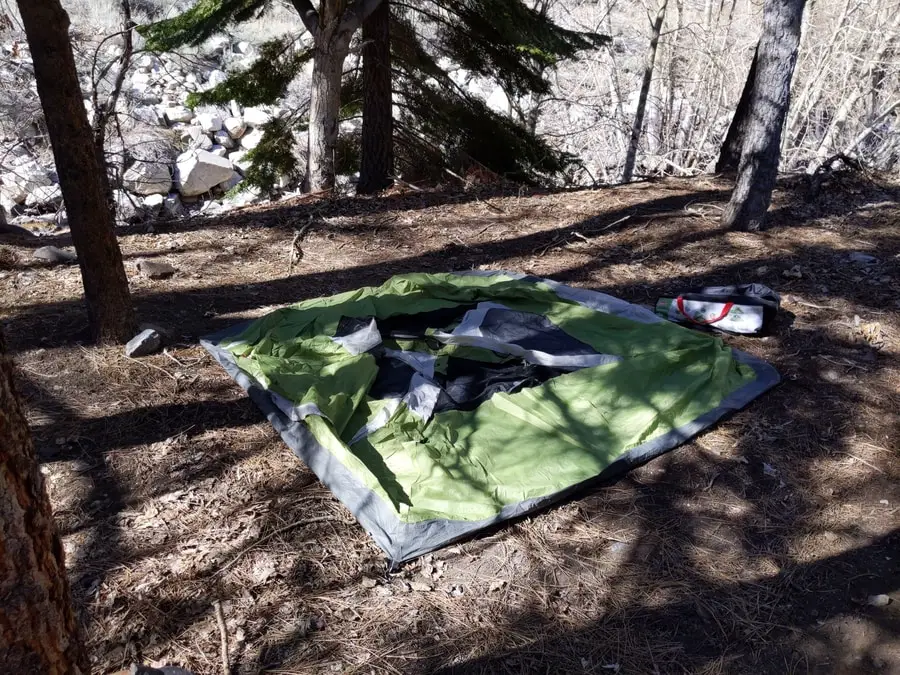 It might be time for you to get a new tent, but one question you still might have is about recycling your tent and if it is possible. When I wore out my first tent the first thing on my mind was how to dispose of my old tent properly.
So, are tents recyclable? Tents can be recycled in a variety of different ways. Tents can be donated to charities, they can be repurposed, or they can be dropped off at most recycling centers.
Recycling is a noble cause, any time we can limit our waste is an opportunity to make a small but significant long-term impact on the environment. Modern recycling is getting better and better, and there are many different ways to recycle different items. Tents can easily be recycled, but some methods may require a bit of ingenuity.
By the way, If you are in the market for a new tent, then you should click here

to see the one I recommend on Amazon.
Repurposing Is The Best Option
Many different parts of your old tent can be repurposed in order to continue serving you for many more years to come. Repurposing is taking an item meant for some purpose and transforming it for a different purpose. Tents and tent hardware can be repurposed in several different ways.
Tent Poles
Tent poles can easily be repurposed in your garden in order to assist plant growth. You could even paint the tent poles a better color to fit in with your existing garden colors.
Tent poles can also be used to design and create your own kite. This can be a fun project to do with children.
Tent poles could be used for arts and crafts in many different ways if you are creative enough.
Tent Material
Tent material is very strong and so it can be repurposed into many different items such as:
Repairing your new camping gear
Creating stuff sacks for other camping gear
Making a tent footprint for your new tent
Creating some reusable shopping bags
Crafting simple, but strong backpacks
Making simple, but durable wallets
Tent Stakes
Tent stakes can be used to stake more than just tents. If you have extra tent stakes consider using them for a variety of other needs such as:
Beach umbrellas
Sunshades
Keeping camping chairs from falling over in the wind
Holding down tarps, including tent footprints
Staking down mats such as shoe mats
Helping plants In the garden
Kept to be used with your next tent
Anything else that can be tied down
Recycle Your Tent Using Online Shops
Someone else could want your tent, even if you don't. Consider listing your old tent on an online store where you can offer it for free or for just the shipping price. There are many different sites to choose from such as eBay and Craigslist where you could practically give away your old tent. This is especially useful if you don't want to repurpose the tent yourself because more than likely there is someone out there that would love to repurpose it themselves.
Recycle Your Tent At A Yard Sale/Garage Sale
If you would rather stay local and you have some other stuff you want to get rid of, but not necessarily throw away, one thing you can do is sell it out of your yard/garage. Usually, the asking price is very low because your biggest priority would be getting rid of it yourself without actually throwing it away. Hopefully, someone else can find a purpose in your old tent better than you can.
If you are interested in saving money then you might be wondering if camping can save you money on your next vacation compared to staying in a hotel. Luckily for you, I wrote an entire in-depth article analyzing the costs of camping vs hotels. Click here to check it out!
Recycle Your Tent Using A Local Recycling Center
Recycling centers can recycle just about anything for you, usually for free, and sometimes they pay you. You probably won't get paid for the material that your tent is made from, but some recycling centers can help properly dispose of your old tent for you especially because tents are typically made from man-made materials that are difficult, but not impossible to recycle outright.
Recycle Your Tent At Thrift Shops
Thrift shops are an excellent place to recycle unwanted or unneeded goods. Tents can be donated to thrift shops provided that are still in serviceable condition. Some thrift shops also assist in the proper disposal of unserviceable goods, but it depends on the organization. If your tent is still usable then consider donating it to a thrift shop.
If you feel that your tent is no longer serviceable, you should call the thrift shop ahead of time to see if they can still accept your tent and recycle it for you, it never hurts to ask.

Don't Put Your Tent In Your Recycling Bin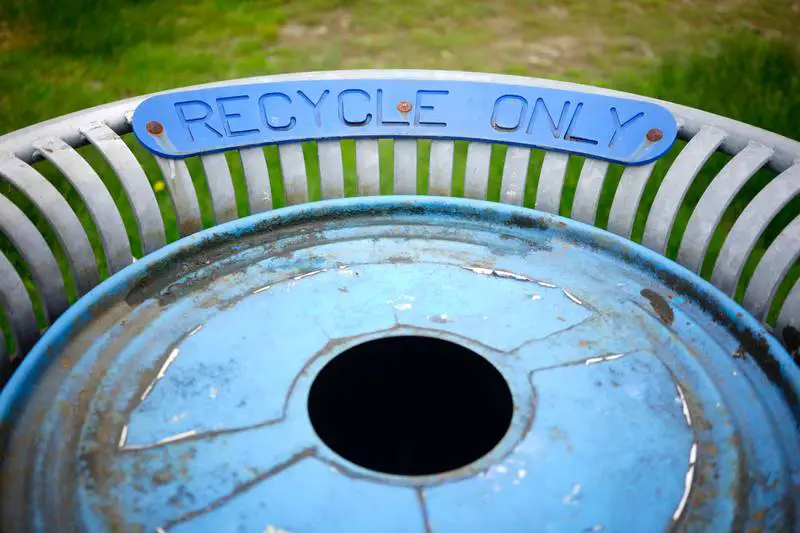 If you have a separate trash can for recyclables, it should be noted that only certain kinds of recyclable items should be put in that bin. What can be recycled with your local waste disposal is dependent on where you live, but most commonly they only allow things such as aluminum cans, plastic water bottles, and cardboard boxes. Call your waste management company to see if they can recycle your old tent, and make sure to tell them what the tent is made from.
Use Your Old Tent For At Home Fun
If you can clean your tent and get it up to standard then it doesn't really matter if it isn't in perfect shape. If your tent can still be set up then it can still be used for fun at home. Children love building forts and what makes a better fort than a tent? If you are pitching your old tent in your living room then it could be a fun way to entertain your kids.
Keeping kids occupied and having fun is a priority when you are camping. Click here to read another article I wrote with 46 creative ways to have more fun while camping!

What About Recycling Other Camping Gear?
Everything mentioned in this article can be applied to other camping gear. First, try to see if any of your old gear can be repurposed for you. If not, then try to see if someone else would be able to repurpose your old gear. You have several options such as selling the gear, giving it away, donating it, etc. As a last resort, you could see if any recycling centers could do anything to recycle the material because unfortunately, camping gear is mostly made of a material that is difficult to recycle.
What Camping Gear Material Is Difficult To Recycle?
Camping gear can, of course, be made from many different kinds of material. Tents, in particular, are made of many different kinds of material. If you are curious to find out what kind of material your tent is made of then check the tag located usually inside of the tent or on its carrying bag. You could also check out this article that I wrote, which explains in detail the different types of tent materials.
Can Nylon Be Recycled?
Nylon is not biodegradable, but it can be recycled. The best way to recycle nylon is to reuse the material for something else because nylon is typically a very strong fabric.

Can Polyester Be Recycled?
Polyester is made from a non-renewable energy source, but it can be recycled. Polyester is a very strong man-made material that does not require as much energy to produce than most people think.

Can Cotton Be Recycled?
Cotton can definitely be recycled, it is one of the more common materials that is known to be recyclable. Cotton camping gear should be recycled whenever possible.

Do You Really Need A New Tent?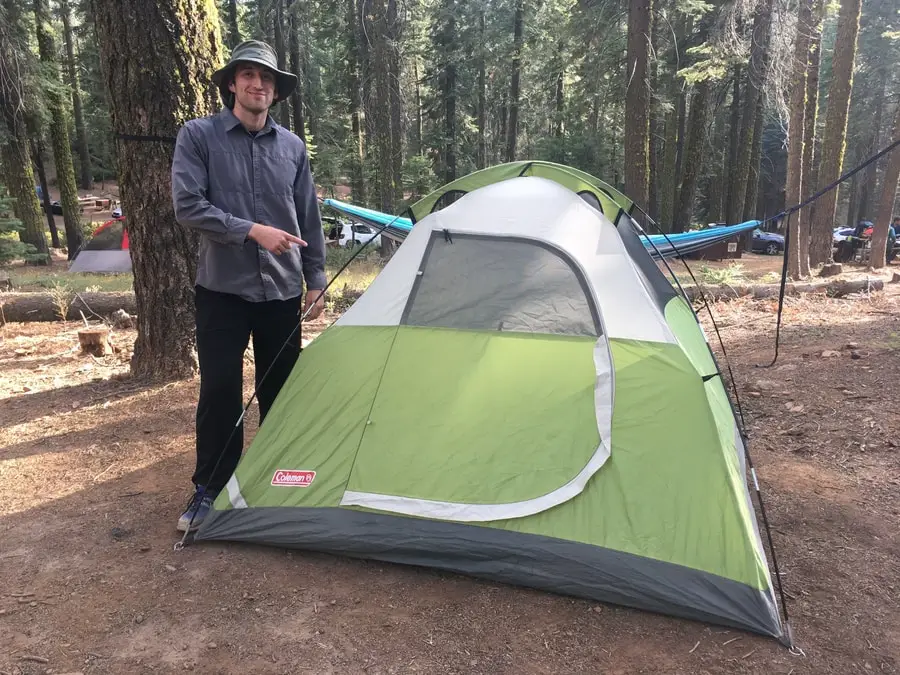 If you are considering recycling your tent because of a broken pole, a small hole, or any other kind of minor damage, consider instead trying to fix your old tent before you go out and buy a new one. Tents can be fixed again and again and last for quite some time as long as you take care of them and fix minor problems before they develop into major problems.
If you are in the market for a new tent then you might want to learn about when Tents tend to go on sale. I wrote a really cool article analyzing data from Amazon in relation to tent prices and the season. So if you want to save a ton of money on your next purchase then click here to learn more about the best time of year to buy a new tent!
Related Questions:
Can you recycle plastic tarps?
Unfortunately, plastic tarps are generally considered to be un-recyclable. The best option for plastic tarps would be to try and repurpose them into something else that is usable.

What do you do with old camping equipment?
The best thing to do with old camping equipment that is still serviceable is to donate it. The next best thing to do would be repurposing the old camping equipment. If all else fails, recycling is the third-best option.
My Favorite Camping Gear