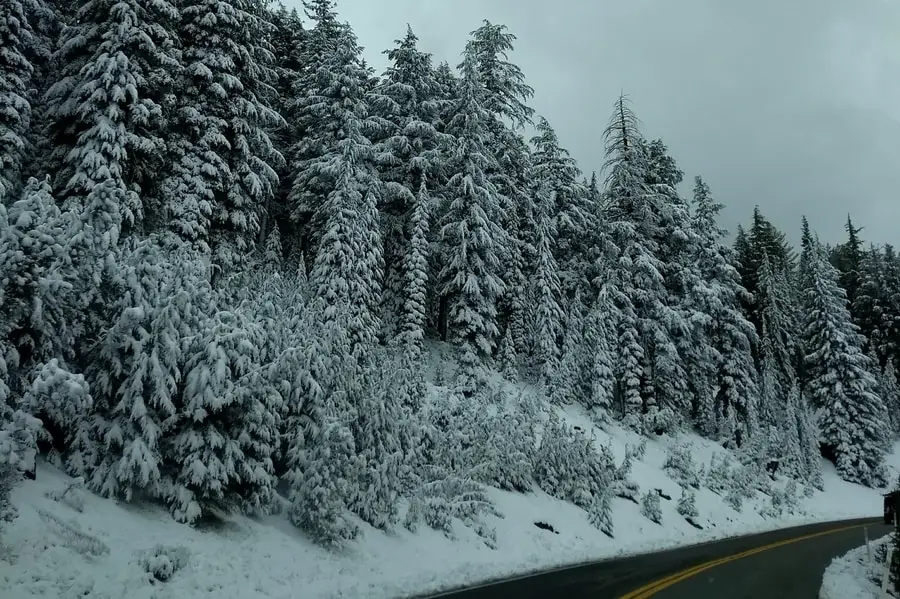 There are many things that you can buy in the off-season in order to get a good deal. Many summer items go down in price when the weather starts to get cooler because the demand for these items goes down as well. Have you ever wondered if this price decrease happens to tents? I have and so I did some digging and some research to find out if tents are cheaper in the winter.

So, are tents cheaper in the winter? Tents tend to stay at a similar price in the winter instead of becoming cheaper. Most likely because camping can be done year-round in some parts of the country.

My findings are based on data pulled from Amazon.com. I used a price tracking software to evaluate past prices of some of the most popular tents sold on Amazon. There seems to be no real correlation between the winter season and a decline in the price of tents.
By the way, If you are in the market for a new tent, then you should click here

to see the one I recommend on Amazon.
Are Tent Cheaper In The Winter?
I analyzed data from three of the top-selling tents on Amazon. I used an amazon price tracking tool known as camelcamelcamel

. Their software tracks the prices of pretty much any item on Amazon so that you can see historical prices and compare them to current prices. It's really good for seeing if you are getting a good price on something selling on Amazon. The three tent's I looked at are as follows
Coleman Dome Tent for Camping
The Coleman Dome tent is one of my favorite tents. I have personally had this tent for several years now. It is a great tent for recreational campers that just want a well built and affordable tent to sleep in. If you are interested in learning more about the Coleman Dome Tent then click here to check out my review of it.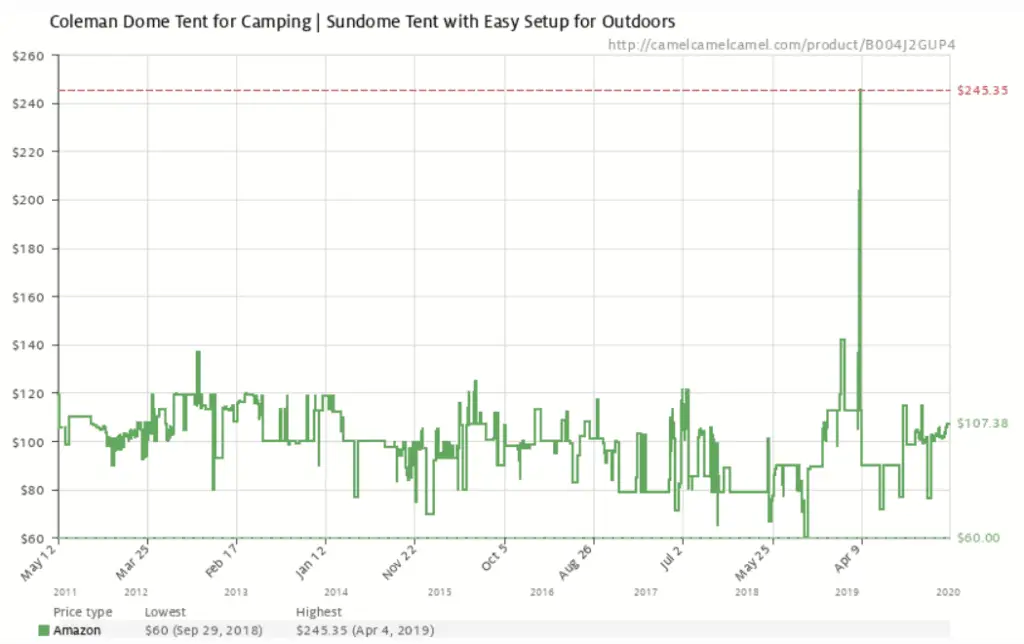 As you can see from the graph, there isn't exactly a perfect correlation between the winter months and a lower price. The lowest price found was $60 and that appears to be somewhere around September or October of 2018. It is difficult to tell since the data goes back to 2011. Let's look at it with just last year's data: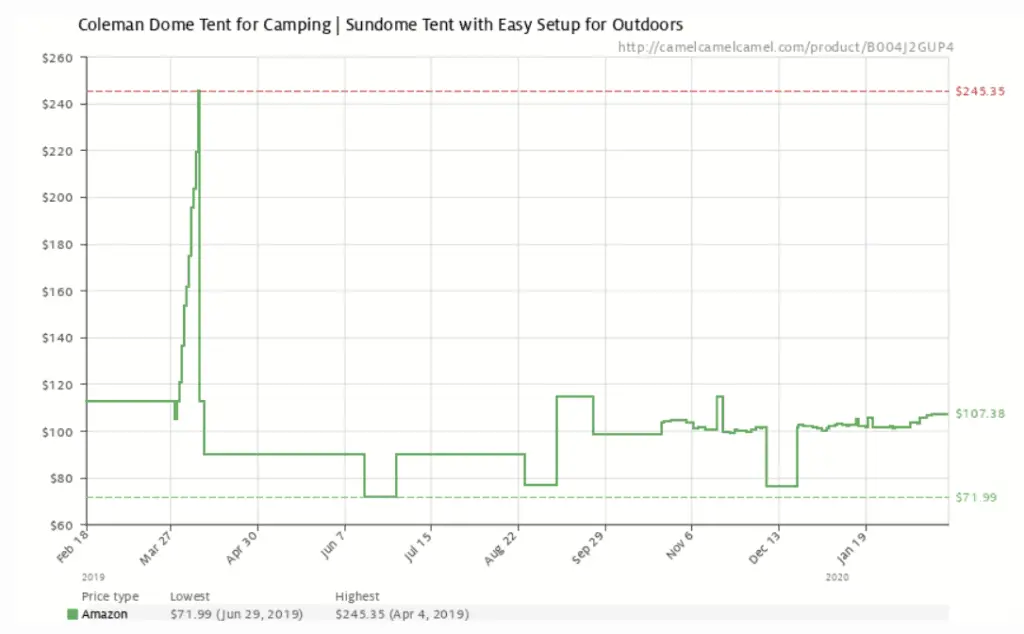 Here we can see that the price seemed to have skyrocketed for a very short period in the spring. However, during the winter months, the price of the tent is pretty steady and it appears that in Summer the price was actually lower than the winter price most of the time.

There could be several different reasons for these price discrepancies. Perhaps there is a large supply in winter and therefore the company marks the price down in order to continue sales and minimize the seasonality aspect. Perhaps the spike in spring is a sudden rush of demand from families that are planning a summer camping trip together. It's difficult to say by just looking at these graphs, but what they do tell us is that this particular tent isn't necessarily cheaper in the winter.

CORE 9 Person Instant Cabin Tent
The CORE 9 Person Instant Cabin Tent is a popular choice for families. I have seen quite a few of these tents at some campgrounds and they look very sturdy and spacious. I have even seen one person set up this tent alone and I was very surprised. If you want to check out this tent on Amazon then click here to see the current price

.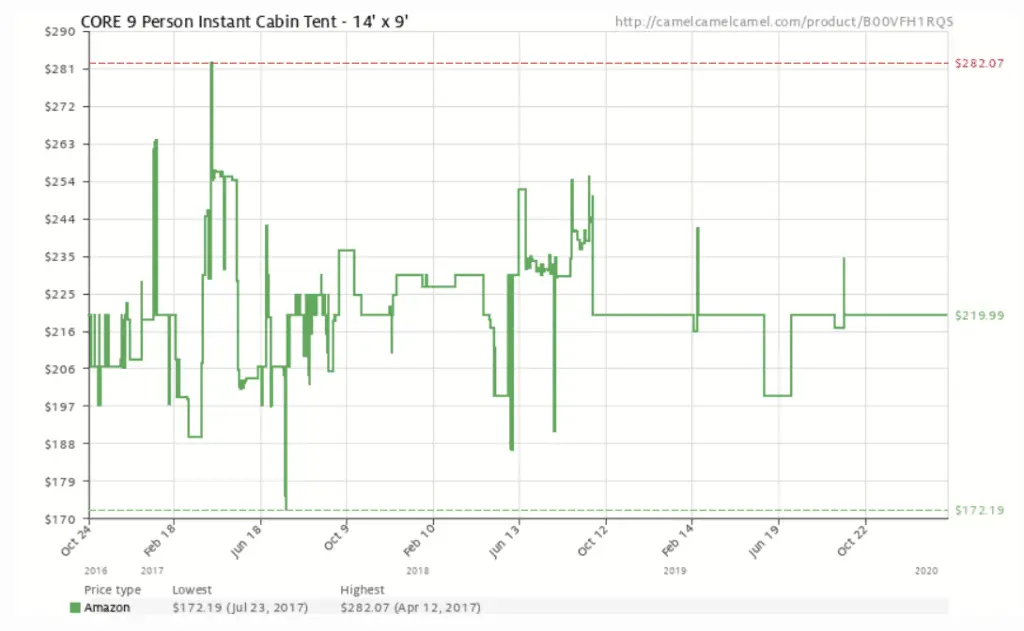 This tent has a shorter price history but it still goes back to 2016. The lowest price shown is $172.19 and that was around July or August 2018. This is slightly surprising because you would think that summer would have the highest prices. This graph appears to tell a similar story to the previous one. The price is mostly constant in the winter. The base price seems to be the winter price. Let's reduce it to just this last year so that we can take a closer look: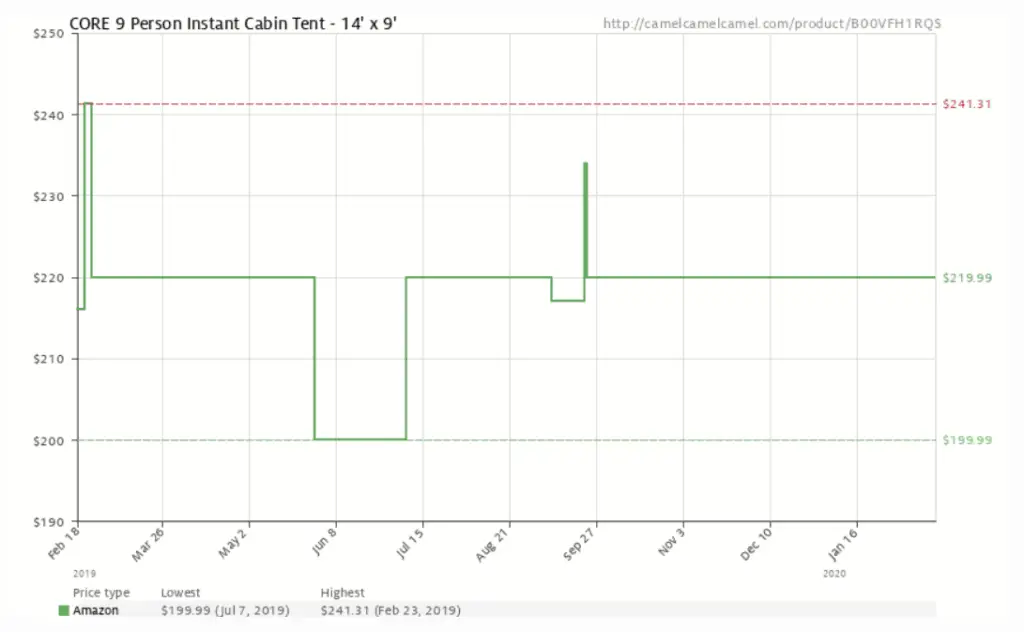 Looking at the one year graph only confirms that the price of this tent was very consistent during the wintertime and certainly not lower. The only price drop was seen in the mid-summer of June and July. This further strengthens the argument that this tent is not cheaper in the winter.

ALPS Mountaineering Lynx 1-Person Tent
I thought it would be important to analyze several different styles of tents. This tent is more of a single person backpacking tent. Backpacking is probably done even less in the winter than regular camping because of harsh conditions, but will the graph reflect that with its price? By the way, if you want to check the current price of this backpacking tent then click here.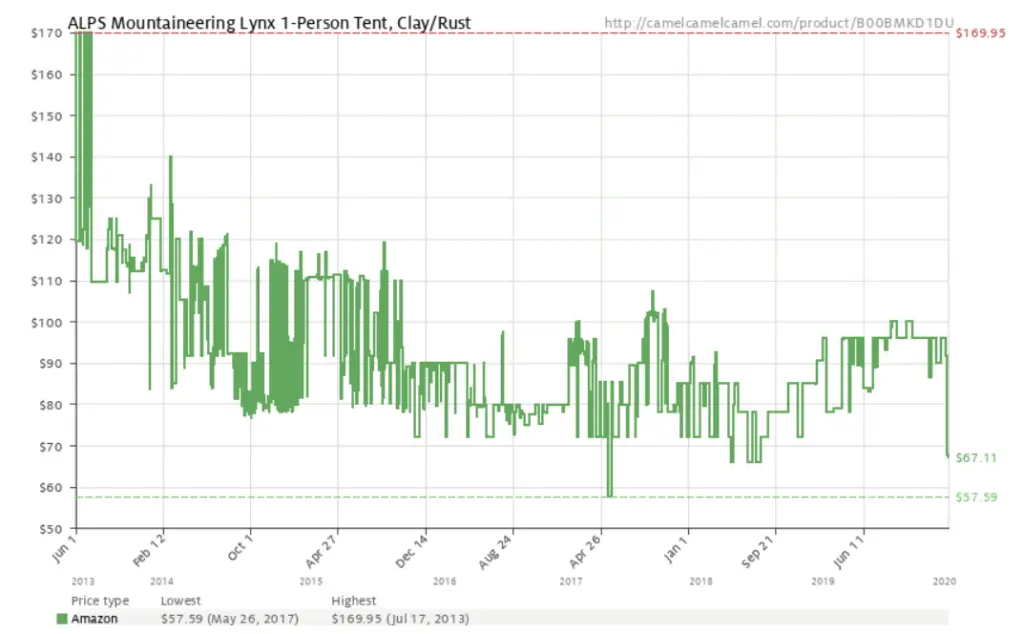 It's hard to analyze this graph since the prices are very volatile and the data goes back to 2013. The price of this tent seems to be getting cheaper overall though. The lowest price appears to be in the Summer of 2017, but the recent price isn't much more than that. Let's condense it down to just last year for a better look: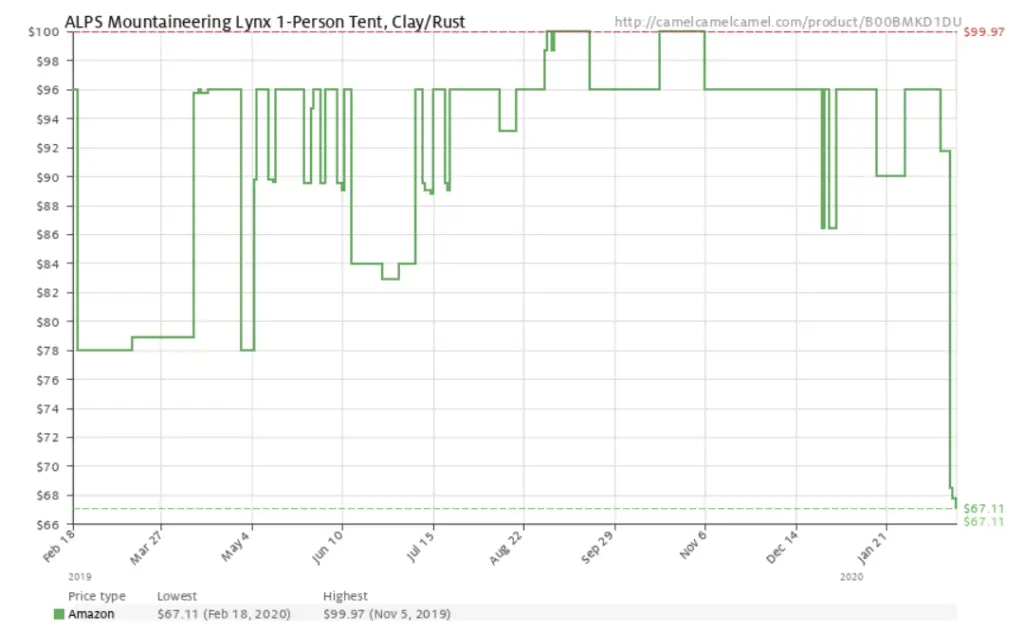 The one year look is no less volatile but it actually does seem like the winter prices are low right now. The price of this tent seems to jump around a lot but always comes back to $96, at least for a short while. Perhaps backpacking tents may be more volatile with seasonal demand than regular tents since the previous two tents we looked at did not vary in price during the winter so much as this one does.

When Is The Best Time To Buy A Tent?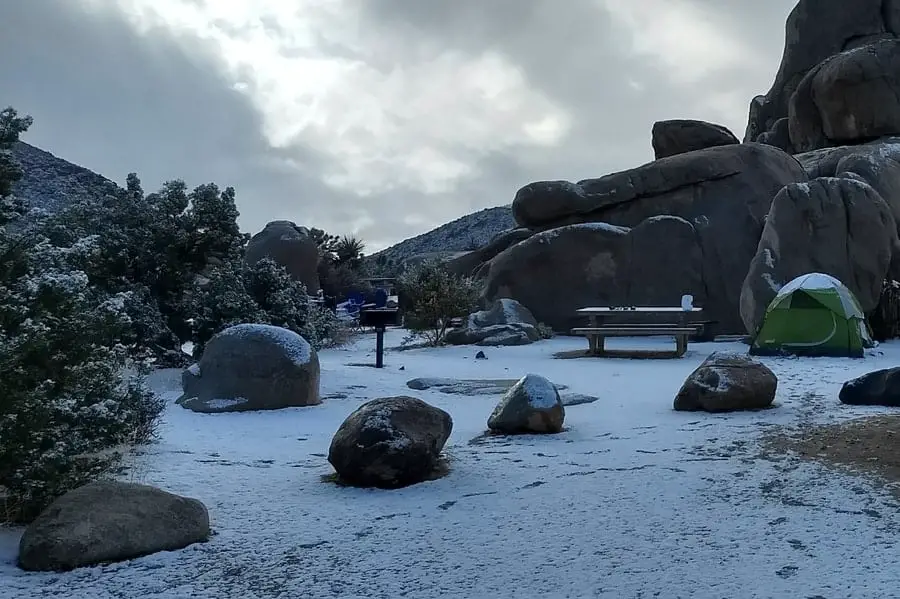 The best time to buy a tent is when you are ready to go camping. You could worry too much about saving $10 on a tent when instead you could be enjoying the outdoors. If you must get the best deal then I recommend you use camelcamelcamel

like I did to see if the tents on Amazon are a good price compared to their historical prices.

If you are going to be buying your tent inside of a regular brick and mortar store then your best bet is probably to look for holiday deals and specials. Most stores have large sales on major holidays, especially outdoor stores.

What About Used Tents?
Used tents can be found for a major discount online or at garage sales. Look for the best sales when the camping season is over such as October through February. The great thing about buying used tents or any used item in general from an individual seller is that the price is always negotiable. If your budget is a big concern then I'd recommend going this route and buying used.

Is Other Camping Gear Cheaper In The Winter?
Possibly. Yes, supply and demand is a huge factor in the pricing of items, but so are other factors like the brand. Brand name items with high reputations usually do not have to have as big of a sale because their name sells for them. Brands that are less known may have better sales because they must attract customers almost purely using price.

Related Questions:
What is the best time of year to buy a tent?
The best time of year to buy a tent is shortly after camping season has ended around September or October and then extending into winter because new models are being released and old inventory needs to be sold. Individual sellers will also sell cheaper during this time.

How much do camping tents cost?
Camping tents can vary widely in their price based on shape, size brand, season, and other factors. Most recreational tents can be found anywhere from $50 to $200 for a decent recreational camping tent.
My Favorite Camping Gear