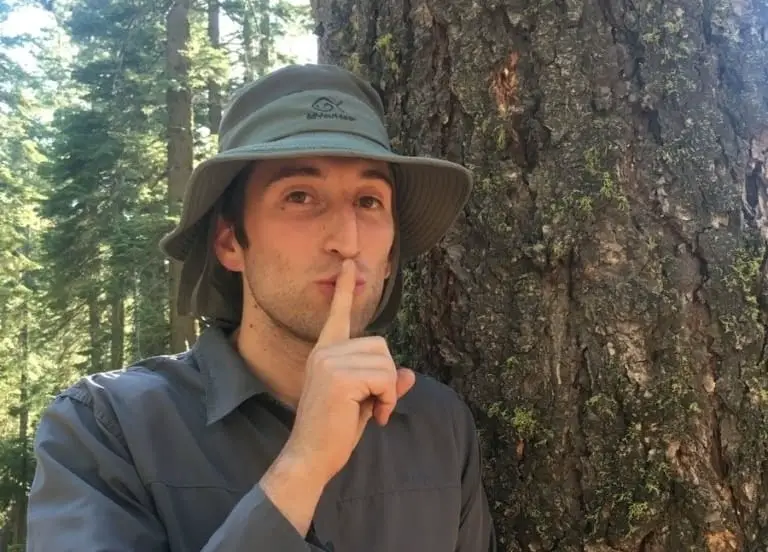 The other day I stopped into my campground and read the board at the entrance as I like to do when I go to a new campground. I noticed some similar rules and It got me thinking about how there are a lot of similar rules at campgrounds. Everywhere you go you are gonna have rules. Camping is no different.
Some of these rules are official, and some of them are unwritten rules, but these are 10 camping rules that you need to know about:
Leave No Trace
Know Your Quiet Hours
Be Aware Of Camping Stay Limits
Learn About Playing Music At Your Campsite
Respect Occupied Campsites
Washing Dishes The Right Way
Provide Proper Payment For Your Campsite
Keep The Vault Toilets "Clean"
Keep Your Dog Properly Secured
Start A Campfire And End A Campfire The Right Way
No Fireworks, Even On The 4th Of July
Leave It Better Than You Found It
By the way, If you are in the market for a new tent, then you should click here to see the one I recommend on Amazon.
Rule #1: Leave No Trace
The "leave no trace" principles are very important. They apply to so many aspects of camping so it can be hard to remember all of the things that you are supposed to do, but if you follow some of the core principles of Leave No Trace (LNT) then you should be compliant most of the time. There is an entire website

dedicated to teaching people about LNT principles. There are 7 main principles when it comes to LNT. They have been consolidated to make things easy for everyone to understand and implement when they go outdoors. They apply to pretty much every outdoor recreational activity, whether you are in a National Park, National Forest, a public park, or even in your own back yard. 
The seven leave no trace principles are:
Plan ahead and prepare.
Travel and camp on durable surfaces.
Dispose of waste properly.
Leave what you find.
Minimize campfire impacts.
Respect wildlife.
Be considerate of other visitors.
If you want to learn more details about The LNT principles you can read about them on the Leave No Trace website here.

Rule #2: Know Your Quiet Hours
Quiet hours are designed to let everyone in the campground get some much-needed sleep. Not everyone likes to stay up late drinking while they are camping. Some people have small children that need to go to bed early. Whatever the reason, please obey the quiet hours that are posted in your campground. The hours will vary from campground to campground, but you should be able to easily find them at the board posted near the entrance of your campground.
Typically you will see quiet hours of 10:00 pm – 6:00 am in most campgrounds. If you don't see any quiet hours posted then assume 10 to 6 is the rule. Quiet hours doesn't mean that you have to stop all activity and go to sleep, it simply means that you need to be aware of how much noise you are producing. The best rule to follow is to turn off any music you are playing and keep your voice to a conversational tone. Noise travels further at night so you need to be extra aware of the noise level you are producing.
Rule #3: Be Aware Of Camping Stay Limits
If you like long-term camping then you might not like this rule. On pretty much all public land there are camping limits. In general, you can usually stay for up to 14 days in one spot. This is usually the rule for National Parks, National Forests, and BLM land. Some places impose even stricter camping stay limits so it is best to try and check the website of the place that you will be camping at.
If you would like to know a lot more about camping stay limits you can click here to read a full article that I wrote about it. The rules for privately owned campgrounds such as RV parks are very different. Usually, these private businesses do not care how long you stay since they want to have their sites occupied as much as possible. It may also be different for state parks since there are 50 different states and therefore 50 different government-run state park systems.
Rule #4: Learn About Playing Music At Your Campsite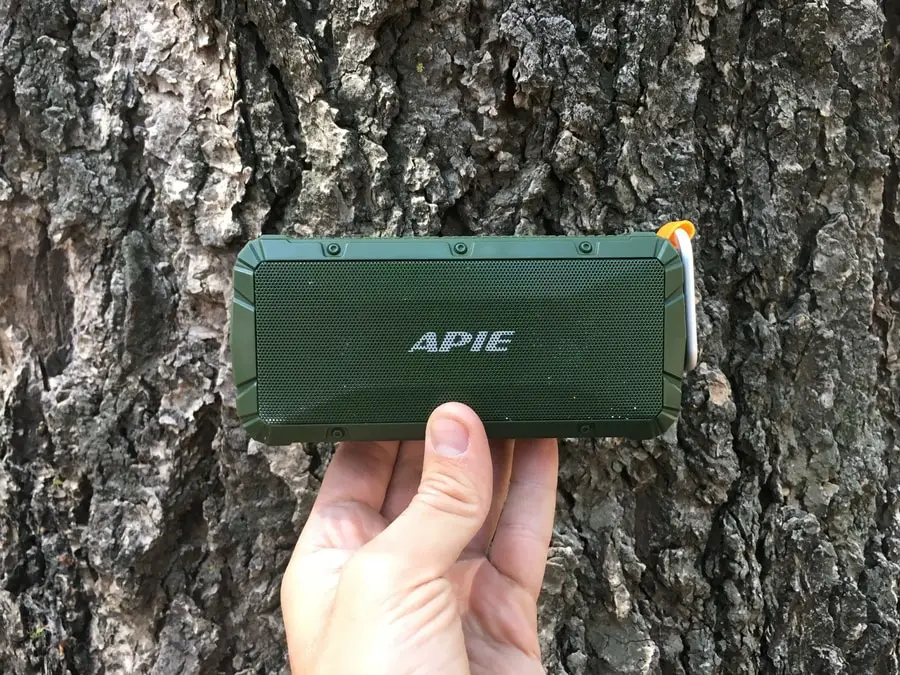 Everyone loves music right? Except that sometimes someone likes different music than you do, or they do not want to listen to music while camping. In either case, the general rule for playing music at your campground is that it shouldn't be able to be heard outside of your designated campsite. This really is a low setting as the sound will travel further than usual since there will typically be less surrounding noise while you are camping.
If you want to know more in-depth on the formal rules of playing music at campgrounds on federal lands you can check out the article that I wrote about playing music at campsites. Basically, there is a federal regulation that specifies specifically how loud your music can be while camping. If you follow the general rule of "only playing music loud enough to be heard in your own campsite" then you should be fine.
Rule #5: Respect Occupied Campsites
When you occupy a campsite and properly pay for it then you are basically renting that area on a short term temporary basis. This means that you should respect other people's campsites and they should respect yours. Mostly what this means is that no one should be cutting through each other's campsites to save 2 minutes of walking.
If you really need to cut through a campsite you should ask the people who are occupying it. They will probably say yes, but mostly because they will feel like they have to. Sometimes it's just better not to ask and walk around if you are capable. It is also important that you inform your children about this rule. It is all about respecting others while camping, which is essential for everyone in the campground to have a good time.
Rule #6: Washing Dishes The Right Way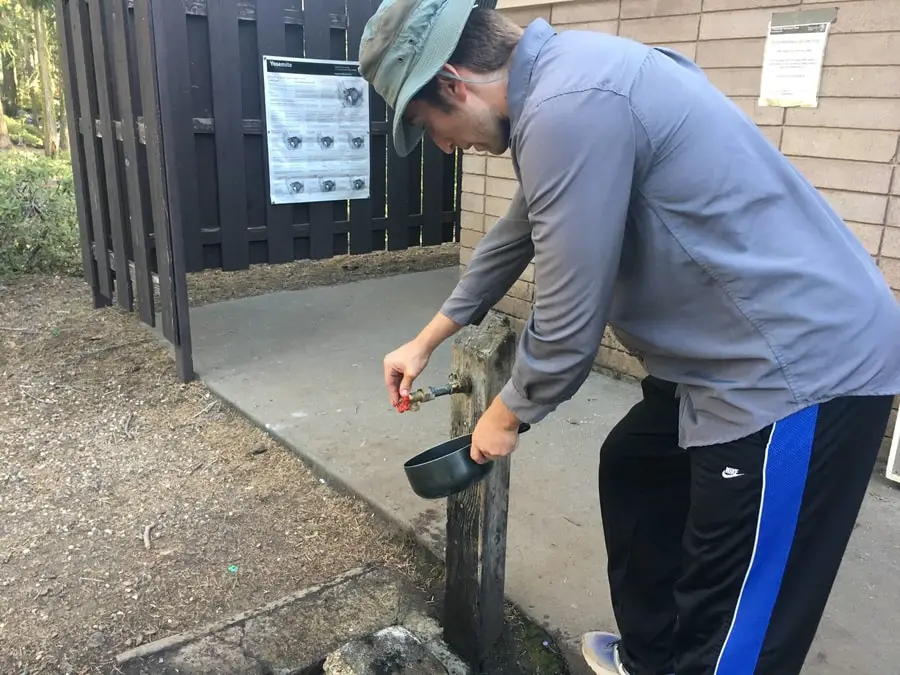 Washing dishes can be tricky while you are camping since water is usually scarce. One thing is for sure, you shouldn't be washing your dishes in the campground bathroom or at the water spigots. This rule is usually clearly posted since a lot of people end up breaking it. You should only wash your dishes separate from these areas and then dispose of the dirty dishwater properly.
If you want to know more about proper dishwater disposal you can read my full article on it here. The reason why you shouldn't be washing dishes in the campground bathroom is that they aren't designed to handle food scraps. At the same time, it is just unsanitary for other campers that need that are to wash their hands and face. Washing your dishes there also can leave food scraps and food smells that attract insects and animals.
The same goes for at the water spigots, there is no drainage system for food scraps and therefore the food scraps will build up and attract unwanted visitors. Wild animals should never be fed human food and leaving food scraps in one easy-access location is just asking for visitors. So please wash your dishes separate from these areas and dispose of the waste properly in accordance with leave no trace principles.
Rule #7: Provide Proper Payment For Your Campsite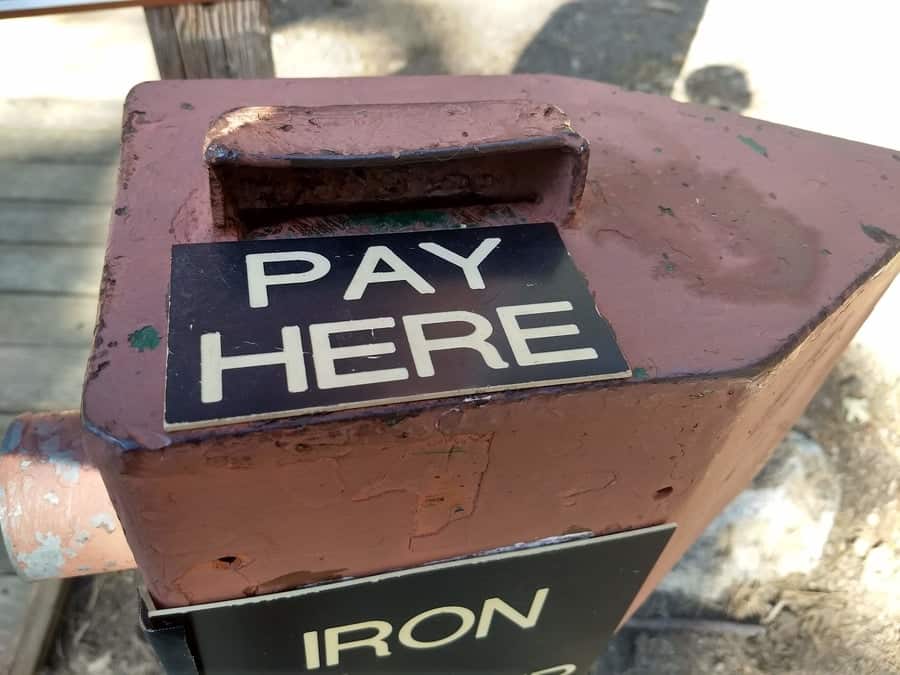 A lot of campgrounds operate on the honor system using envelopes stubs to display proof of payment. Often times at smaller campgrounds there is no one to even check if you actually paid. These rules usually only apply to first-come, first-serve campgrounds. Campgrounds that you actually reserve online usually have you pay online so they don't apply.
With first-come, first-serve campgrounds you usually must provide payment within 30 minutes of occupying your campsite. To do this your two options are usually cash or a check to put in an envelope. This is one thing that you need to remember if you are going camping; bring cash. Additionally, you will need to bring a pen or pencil to fill out the payslip and envelope. If you are sure that you will be camping there it is best to just provide the payment as soon as you find a good campsite.
If you need a full guide on how to get a campsite in a first-come, first-serve campground then you can read my full "how-to" article. Don't forget that campgrounds also often impose additional use fees for bringing more than one vehicle.
Rule #8: Keep The Vault Toilets "Clean"
Vault toilets can be quite an experience. There are some rules to keep in mind with them too. Never put trash or anything other than human waste and toilet paper into them. There is usually a sign expressly stating this rule. In addition to that, these toilets usually have a venting system that can only work if the toilet seat lid is kept down. When you are finished using a vault toilet when camping please put the toilet seat lid down, but never look down!
Rule #9: Keep Your Dog Properly Secured
Bringing your dog along when you go camping is awesome. It's fun for you and its often a lot of fun for your dog. However, there are some rules you need to keep in mind when bringing your dog along with you camping. The first and most common rule that usually applies to all campgrounds is that your dog must always be on a leash no longer than 6 feet long.
Now, I don't think anyone is going to bring a measuring tape and check the length of your dog's leash, but the idea is to make sure that your dog is secured and under your control. Other options that you have are putting your dog inside of a dog crate or putting them inside of a camper if you have one.
Along with keeping your dog secured also try to make them behave because excessive barking degrades everyone else's camping experience. Please also pick up after your dog since their waste does not belong in a campground.
Rule #10: Start A Campfire And End A Campfire The Right Way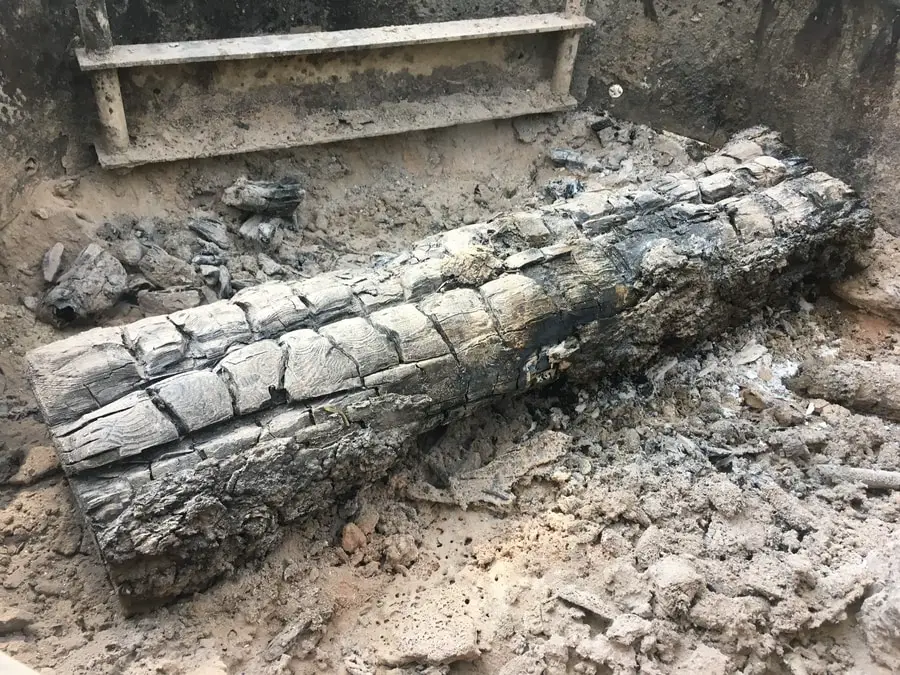 There are lots of rules when it comes to campfires. Sometimes in certain areas, there are temporary or permanent restrictions on having any campfire. It is your responsibility to be aware of any current restrictions on campfires in the area you will be camping at. Usually, it can easily be found on the website or posted at the campground itself. Proper campfires and the rules associated with them extend even further.
The most important thing to keep in mind is that you should only have a campfire in a designated campfire ring. Most campgrounds will offer these rings and state that they are the only location where a fire is allowed. The next most important consideration is to extinguish your campfire properly and never leave it unattended.
Properly extinguishing your fire means that it is actually cool to the touch. The recommended method is to smother it with a bucket of water and then mix it around with a shovel. In some areas like in California, you actually have to do some online training and obtain a fire permit. This is usually for dispersed camping and not family campgrounds.
Another rule to keep in mind with campfires is that Only firewood should be burned in it. You should never attempt to burn trash in your campfire. Not only does some trash not properly burn all the way, but it increases the likelihood of a fire ember escaping. It can also emit unhealthy fumes and pollute the environment. So please only burn firewood and not trash.
Rule #11: No Fireworks, Even On The 4th Of July
For many people, the fourth of July is a popular time to go camping. Along with the 4th of July comes the associated frenzy of setting off fireworks. Unfortunately, there is typically a strict no firework policy on most federal lands. The reason for this is to protect the natural environment and prevent possible fires. So if you want a little more peace and quiet from the fireworks, then going camping could be a good option for you.
Rule #12: Leave It Better Than You Found It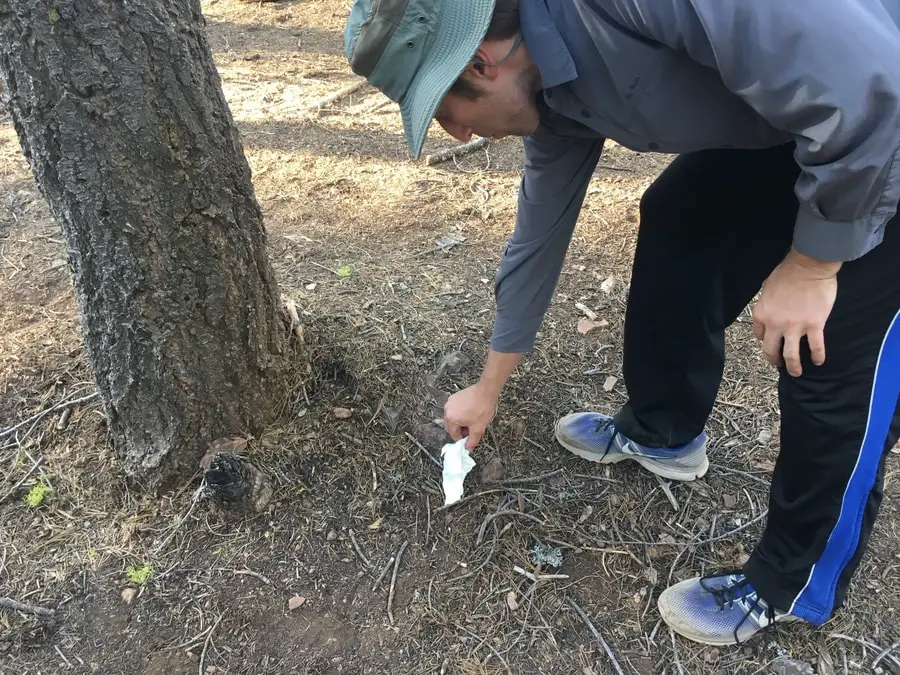 The final rule I will provide you with goes above and beyond leave no trace. It is to clean up the campsite even if the mess was not caused by you. Sometimes you will find campers that just aren't as respectful as they should be. Even though we did not cause the mess we should try to keep our areas as clean as they can be before we leave.
I like to walk around in the morning with a trash bag and just pick up anything that isn't natural. It can be inconvenient, but once you realize that you are making the campground a better place to be you won't feel much discontent.
Conclusion
Even though there can be a lot of rules to try and remember, they are all set in place to either protect the land or improve your camping experience. If you have been camping a few times then these rules should be second nature to you. Always try and do some quick research on the area you will be camping at to see if there are any other rules or regulations that you need to keep in mind.
My Favorite Camping Gear