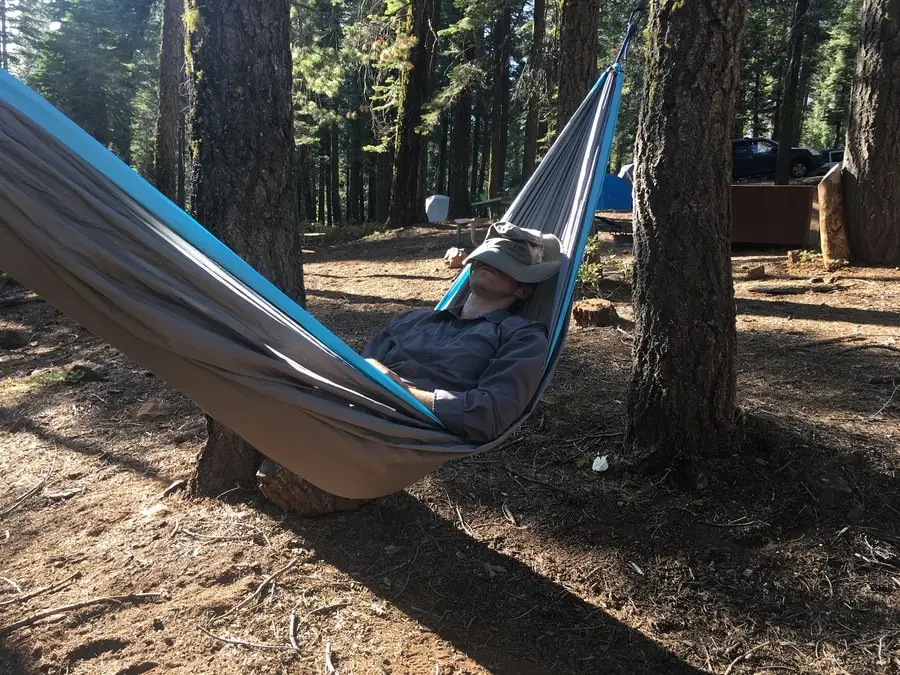 When I first got a hammock I fell instantly in live (and asleep) because they are so comfortable. Especially when you take them camping with you, hammocks and camping are a perfect combination. Luckily for me, I purchased a double hammock as my first hammock and a single one later after that. The double hammock is the most comfortable in my opinion.

So, are double hammocks comfortable? Double hammocks are just as if not more comfortable than single hammocks because they provide a lot of fabric to sink into, even if it is occupied by only one person.

If you are thinking about getting a new hammock and are trying to figure out which one will be more comfortable then you have come to the right place. I will be explaining why I think double hammocks are more comfortable than single hammocks and overall why hammocks, in general, are very comfortable.

By the way, If you are in the market for a new hammock, then you should click here

to see the one I recommend on Amazon.
First Things First. What Is A Double Hammock?
A double hammock is a hammock that is large enough to fit two people in one hammock. This is done by increasing the amount of fabric to make the hammock wider. Most double hammocks will have a width of 5 feet to 6 feet whereas a single hammock would usually have a width of only 4 feet to 5 feet. You don't need two people in order to enjoy a double hammock though.

Double Hammocks Have More Space
Probably the most obvious but important thing to mention is that double hammocks have more space than single hammocks. That extra space is technically so that you can fit two people in one hammock, bur having that extra space all to yourself is even better. Extra space usually means more comfort for you. It also means you can have more space to bring your dog up for a nap.

Double Hammocks Aren't That Much Heavier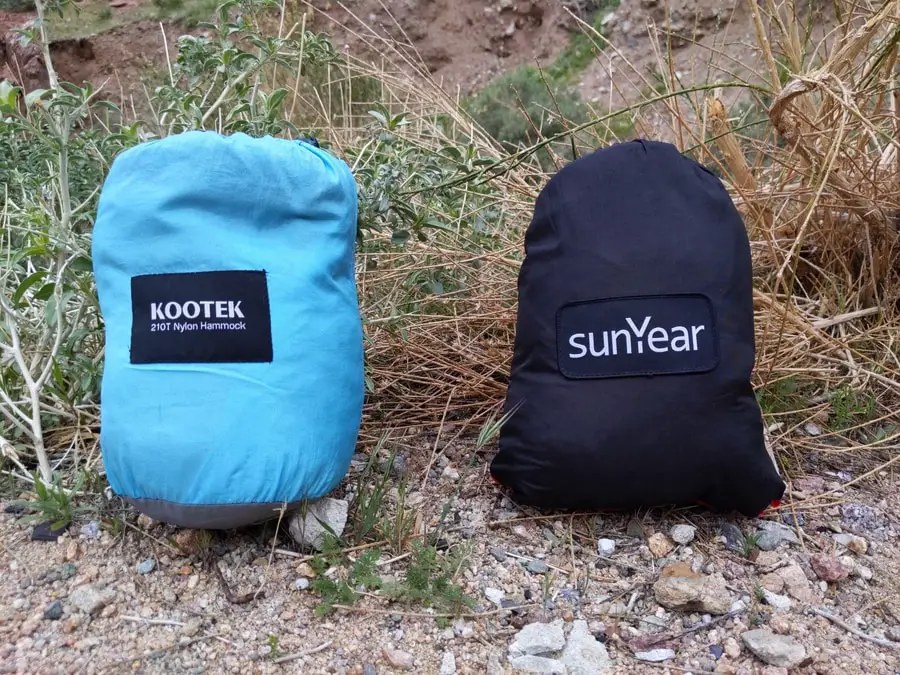 Even though double hammocks give you so much more space, they aren't all that much heavier. We are talking just mere ounces more of weight. Weight usually isn't that big of a deal when you are car camping anyway. When you are backpacking and hammock camping then you might pay more consideration to weight as an important factor. However, the extra space presented by a double hammock is usually more than worth it. 

It's Easier To Lie Flat With Double Hammocks
A secret way of being more comfortable when trying to sleep in a hammock is to actually try and sleep in a flatter position. If you lay in the hammock in the traditional way then it creates a sort of U shape that could get uncomfortable after a while. However, if you subtly shift your head to one side and your feet to the other side and try laying somewhat diagonal then you will naturally be lying more flat.
Lying flat could be the difference between a good night's rest in your hammock and tossing and turning all night. Or during the day it could mean a great nap or a closed eye, still awake session.

Double Hammocks Are Stronger
Double hammocks are designed to hold the weight of two people instead of one, and so naturally, they are made to be stronger and hold more weight. Single hammocks are typically built to hold around 300 to 400 pounds, which is still a good amount. However, double hammocks usually come in a bit stronger by being designed to hold somewhere around 400 to 500 pounds. So if you are little on the larger size then a double hammock may be best for you whether you are larger vertically, horizontally, or both.

Double Hammocks Allow Cuddling For Comfort
Double hammocks were made for two people, so what does that mean? It means that you can easily cuddle with your significant other in somewhat comfort. Okay, so hammocks are not as comfortable when two people are actually occupying it rather than one. For short periods of time, you can enjoy the comfort of cuddling in your double hammock without worry. You just don't have the room to do this with regular single hammocks.

Double Hammocks Are Priced Very Well
Even with all the extra benefits, double hammocks aren't usually much more expensive than single hammocks. The price difference is usually negligible, which makes double hammocks even more desirable. Sure the price doesn't have anything to do with the comfort, but it does give a little bit of comfort to your wallet knowing that you won't be spending a fortune to get all the added benefits of a double hammock.

How Much Should I Pay For A Double Hammock?
You don't need to spend a fortune to get a good high-quality double hammock. You can find double hammocks online in the $30-$50 range that will last you for years and many camping adventures. It's easy to choose a good qualify and good priced double hammock online because there are many reviews that you can look at. That is how I found the hammocks that I currently use. If you haven't seen those yet then you can click here to see them.

Are Double Hammocks Comfortable To Sleep In?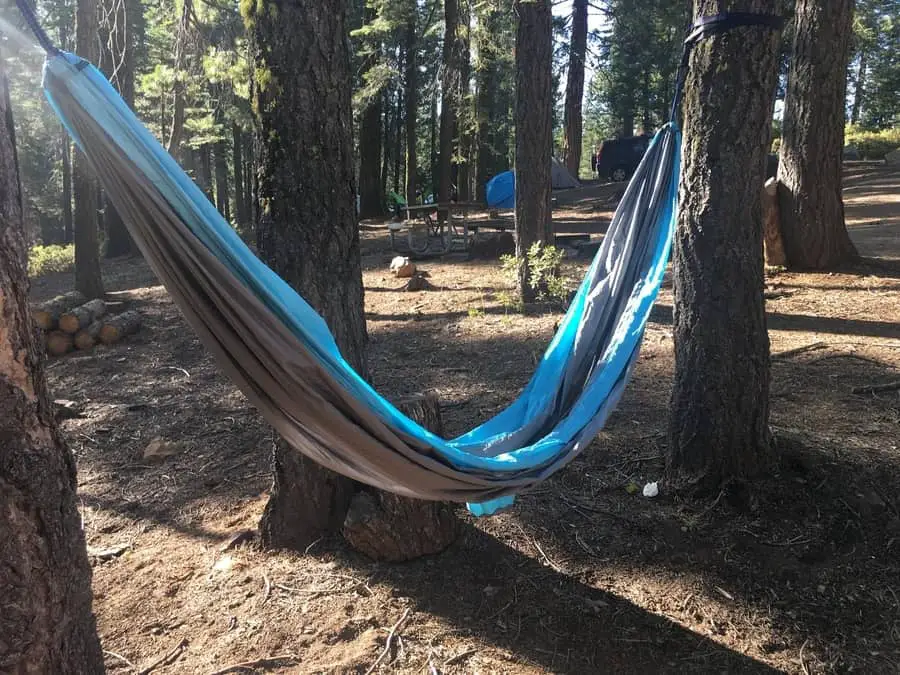 Double hammocks are comfortable to sleep in alone, but trying to actually have two people sleep in it simultaneously will likely cause comfort problems. Mainly because gravity will be doing what it does best and try to push the heavier person towards the center of gravity and both bodies will be hard-pressed against each other. It works fine for some daytime lounging, but for a full night's sleep, it doesn't work so well.

What Material Are Double Hammocks Made Of?
Double hammocks can be made from a variety of different materials and fabrics ranging anywhere from cotton to quilted polyester. However, in most cases, hammocks designed for outdoor use and travel activities like camping, the best fabric for hammocks are made from polyester or nylon materials.

Related Questions:
What does double hammock mean?
Double hammock simply means that two people can fit into one hammock. It usually does not mean a different thickness or different material, but usually, the hammock is wider with more fabric.

Can 2 people sleep in a hammock?
Two people can sleep in a double hammock, but it most likely won't be comfortable. The best option is to use two separate hammocks for sleeping. If you don't want to sleep far apart you could get an accessory that allows you to put two hammocks side by side sort of like a bunk bed for hammocks.

Can one person sleep in a double hammock?
One person can absolutely sleep comfortably in a double hammock. In fact, sleeping in a double hammock is usually more comfortable than sleeping in a single hammock, even for just one person.
My Favorite Camping Gear