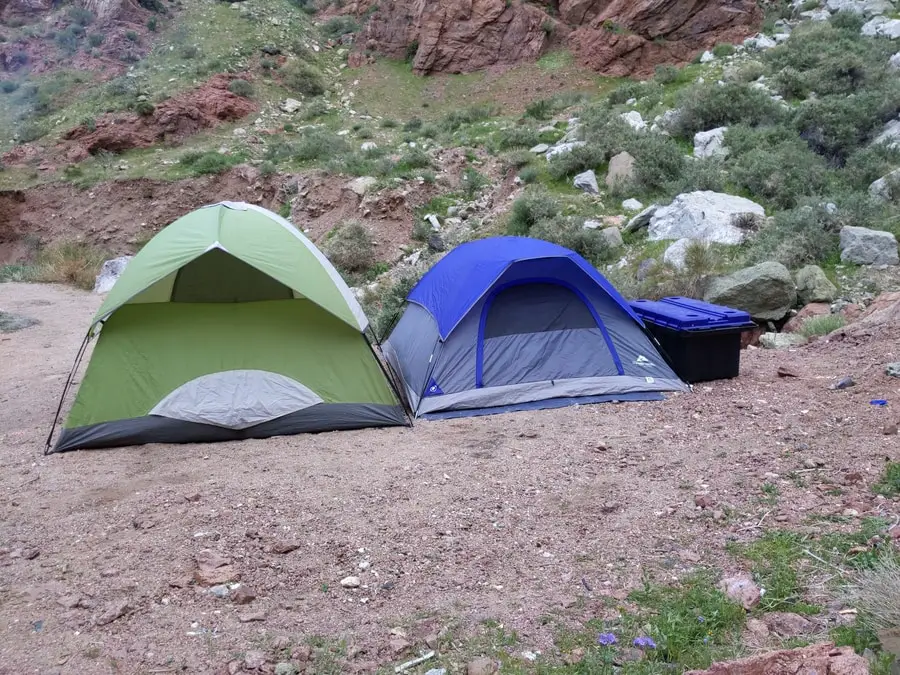 If you are going camping with a group of people then you may have wondered if one regular campsite would suit your needs or if you need to specifically get a group campsite. Luckily there are a plethora of options when it comes to different types of campsites, and double campsites are one of those options.
So, what is a double campsite? A double campsite can have different meanings by different organizations, but it usually means a campsite with double the capacity of a normal campsite.
Depending on the size of your group and the amount of room you need for all of your camping gear, it might be best to go for a double campsite over a regular campsite. Always check the specific rules of the agency that manages the campground or land where you will be camping at.
By the way, If you are in the market for a new tent, then you should click here

to see the one I recommend on Amazon.
A "Double Campsite" Could Have Different Meanings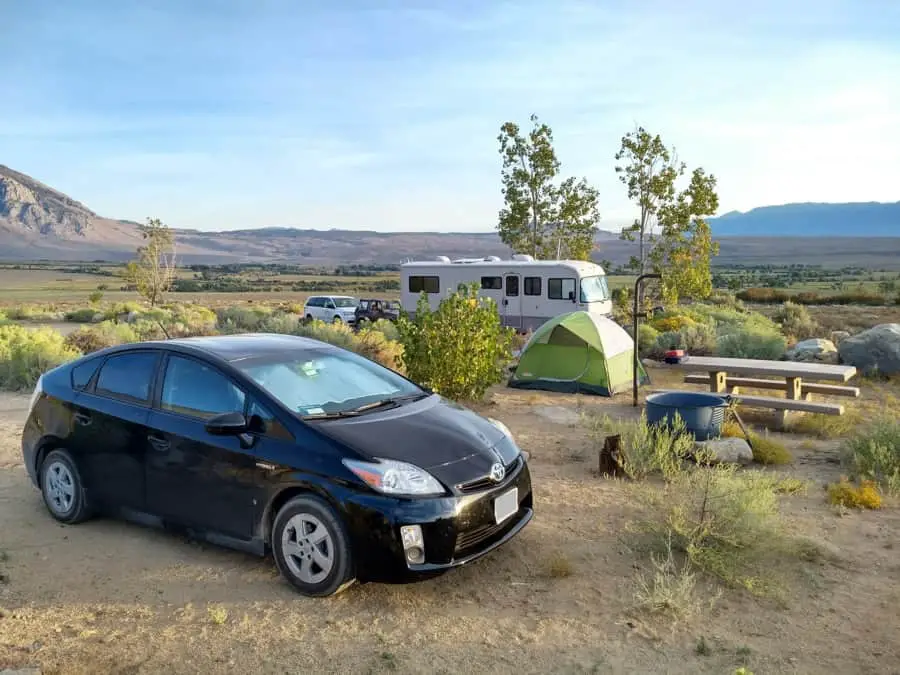 The term double campsite could mean something slightly different depending on where you go camping. Here you will find some of the most common meanings. If you know where you are going camping, you should be able to find the specific verbiage on the website of the agency that manages the campground. If you can't find it on their website then I encourage you to contact the management by phone for clarification.
A double campsite could mean two adjacent separate campsites
Some places you go will classify the term double campsite as meaning a campsite that is in really close proximity to another. It may be referred to as a double campsite because if you wanted to go camping with someone else, but still have separate campsites then you could reserve both campsites that are side by side so that you have more space and yet are still somewhat close.
Another reason why you might want to reserve two campsites that are adjoining is to have more space for just yourself or your family. This is especially useful if the campsites are right on top of each other, but you want some breathing room.
A double campsite could mean that the size of the campsite is larger than the other campsites
When you think of the word double you probably mean twice as large, but in this case when referring to campsites the word double just means larger. It also usually means that it can accommodate more campers on one single campsite.
For example, if you are camping in a group of eight people, but the campground has a policy of only 4 people per campsite except for double campsites then you could possibly be better off getting the double campsite since it is large enough to accommodate your group of eight.

Another good example is if you just want a campsite with more space for yourself or your small group then you might want to get a double campsite instead of a regular campsite so that you get more space.
A double Campsite could mean double the parking or double the RV space
Sometimes you will come across a double campsite that purely refers to double the parking space or double the space for RV's. Many regular campsites only have enough parking space for two vehicles maximum or one tow vehicle and one recreational vehicle. A double campsite could mean double the room for your vehicles.
How To Find Out What A Double Campsite Means At Your Particular Campground
The easiest way to find out for sure what a double campsite means at the campground that you are planning to camp at is to go on the campground's website. Usually, the website will have a frequently asked questions page that will usually answer these questions for you. Alternatively, when you go to make your reservation online for your campsite there is usually something that explains the campground rules and the definitions of each campground title.
If you cannot find the answer on the campground's website then your next best option is to give the campground management a call. If it is managed by the National Forest Service or The National Park Service then you will probably need to contact the ranger district office that the campground falls under.
If all else fails, then you could show up and hope for the best if you didn't really need a double campsite. However, if your group is large and/or you really need some extra space then it is worth it to know if the campsite will suit your needs before you go.

Who Needs A Double Campsite?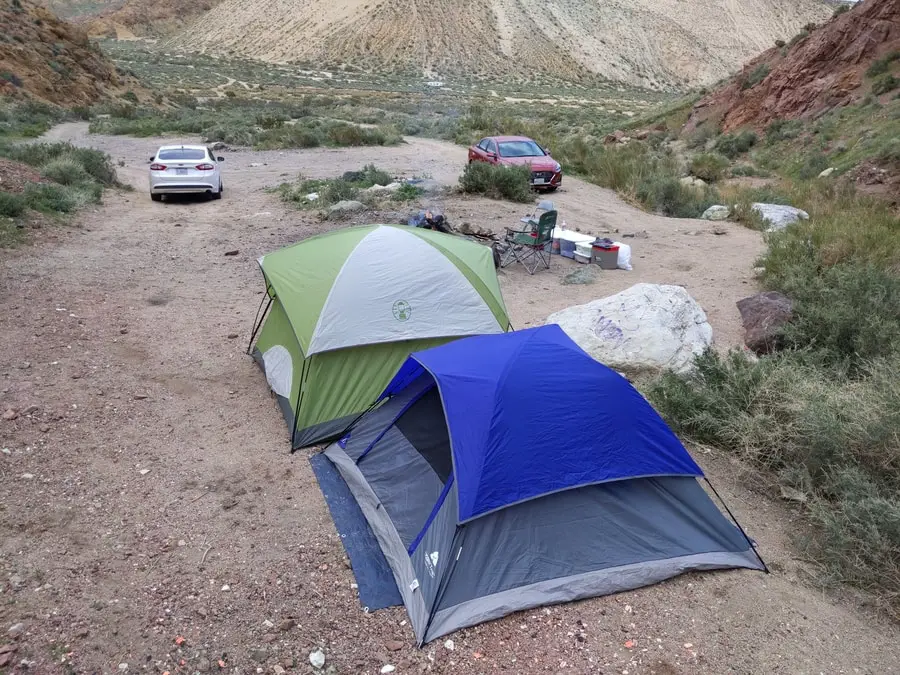 Depending on the true meaning of double campsite in the campground where you are going, someone that will need a double campsite will typically be camping in a group large enough to where it might be too tight of a fit in a standard campsite, but also a group campsite would be too large.
If you are camping in a group that is over the capacity of the standard campsite limit then you might need a double campsite or two separate campsites (hopefully) right next to each other.
If you need extra space for large vehicles, including large recreational vehicles that might not fit into the standard campsite spots then you might need a double campsite.
Lastly, if you really want more space for yourself or your group within the campground and a double campsite allows you to have more space and be a bit more isolated from other campsites then you might want to get a double campsite.
What Are The Benefits Of Getting A Double Campsite?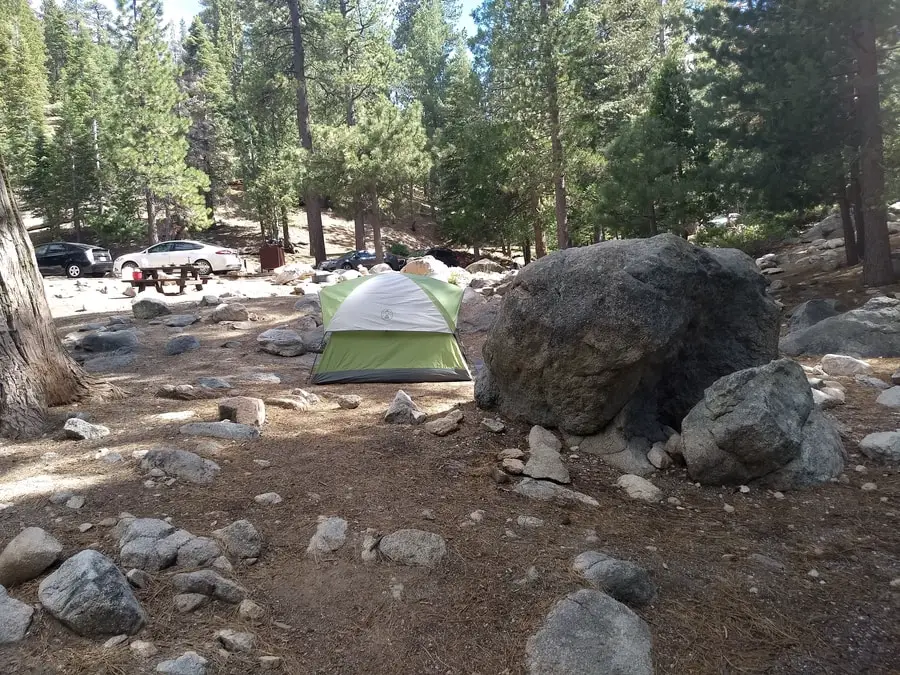 The biggest benefit of double campsites is usually more space.
What form that larger amount of space comes in is dependent on how the campground defines a double campsite. It could mean more area to set up camp, it could mean more area for parking recreational vehicles, it could mean more people and/or more tents can be set up in one campsite. Regardless of what it means, a double campsite when compared to a standard campsite usually has something to do with having more space.
You might need this space if you…
Have a group of campers that exceed the standard campsite occupancy rules.
Need to set up more tents than what is allowed in a standard campsite.
Have a lot of camping gear that could be difficult to fit in the standard campsites.
Want to have two separate campsites that are side by side.
Want to have more space for yourself, your group, your family, etc.
Want more privacy since double campsites could be more secluded within the campground.
Beyond having more space, a double campsite is pretty much the same as a regular campsite. Double campsites could come with more amenities such as more picnic tables, more than one fire pit, running water, and possibly even electricity hook-ups.
Should I Get A Double Campsite or a Group Campsite?
A double campsite and a group site are two very different things. By now you should already know that a double campsite could mean different things to different organizations. A group campsite, on the other hand, is a bit more universal. Group campsites are designed to be very large so that they can accommodate very large groups. Usually, group campsites are designated for groups of somewhere between 20 and 100 campers.
So you should only need a group campsite if you are planning on camping in such a large group. Otherwise, a mid-size group of six to eight people would be better off choosing a double campsite or they could squeeze into a standard campsite provided the campground rules and regulations allow it. Always double-check with the organization that manages your campground so that you know the campground rules before you go.
Are Double Campsites More Expensive?
Depending on the agency that manages the campground and the individual definition of what a double campsite is, you most likely will pay more for a double campsite than you would for a standard campsite. The increased cost may be directly or indirectly. A direct larger cost could be because you are reserving two campsites that are side by side and therefore have to pay for two campsites.
Another direct cost could be a higher reservation cost because the campsite is larger than the standard sites and therefore it takes more maintenance and upkeep. An example of an indirect cost with double campsites could be that there is a per-person cost or a per-vehicle cost. Therefore by camping in a larger group with more vehicles, you are paying more on a per person or per vehicle basis.
Of course, the real answer is highly dependent on where you are planning on camping at. Look and compare the total costs of a standard campsite and a double campsite to see if there is a difference in the total cost and if that difference would be worth it for you to choose the double campsite over a standard campsite. Also, be sure to pay attention to any extra fees that may occur when you get to the campground such as those extra vehicle fees or extra person(s) fees.
Do Double Campsites Come With More Amenities?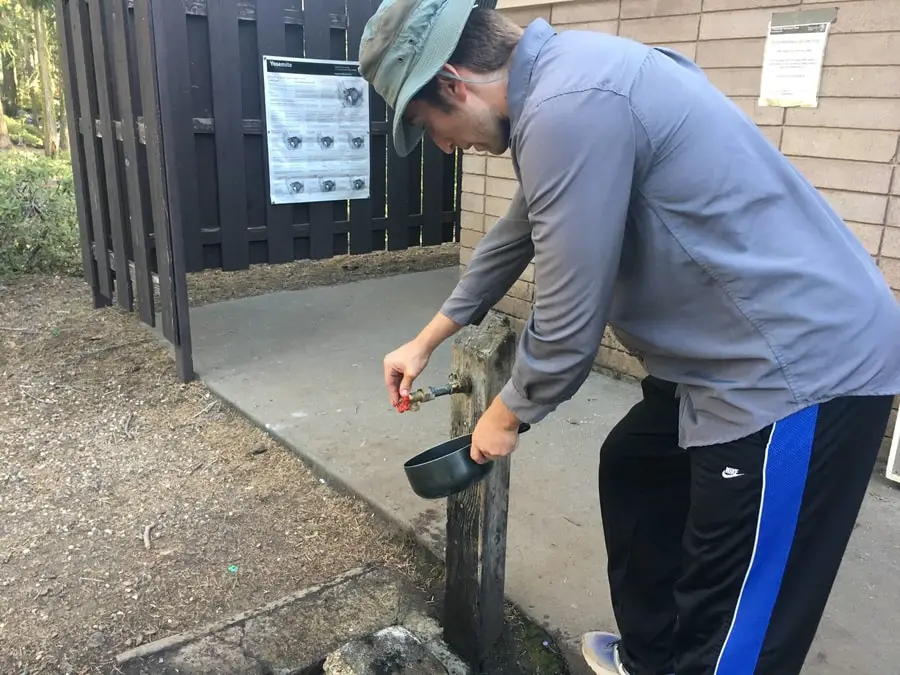 Besides usually offering more space for camping gear, space for more campers, and space for more parking, a double campsite will usually have the same overall campground amenities that the standard sites will have. The main benefit of the double campsite is usually just more space.
It is possible to reserve a campsite that has more amenities than other campsites such as reserving one with "hook-ups" or utilities such as running water and electricity. This is usually reserved for recreational vehicles, but some campgrounds allow tent campers to book campsites with hook-ups if you desire. Double campsites could have the same level of amenities if it is stated on the campground reservation page.
Are Double Sites Harder To Find?
If you are camping somewhere that receives a lot of visitors and traffic then most likely if there are any double campsites, they will fill up quickly since the extra space is often highly regarded with campers. Campgrounds that list double sites are usually campgrounds that require reservations or at the very least accept reservations.
Seldom do first-come, first-serve campgrounds display or advertise double sites. More developed campgrounds with reservations systems are more likely to offer double sites. With reservations being so easy to make, double sites will often be the first ones to get booked up, especially among campers that frequent the same campground. So if you think you will need a double site it is best that you try to reserve it as soon as possible.
Conclusion
Double campsites could mean different things at different campgrounds.
Check the website or call your campground management to confirm.
Double campsites typically mean more space for parking, campers, gear, etc.
Consider getting a double campsite if you are in a medium-sized group.
Double campsites are usually more expensive than standard campsites.
Double campsites typically come with the same amenities as standard sites.
Double sites tend to book up fast, so reserve them as quickly as possible.
Related Questions:
What is the difference between a campsite and a tent campsite?
Typically a campsite without any special designation will be able to host a tent or a recreational vehicle, whereas a tent campsite is meant to only allow tents to be set up at the campsite.

How many tents can you have on a campsite?
The amount of tents that you can have on a campsite is highly dependent on the agency that manages the campground. Usually, the maximum is anywhere from 2-4 tents per campsite depending on the agency and size of the campsite.
My Favorite Camping Gear