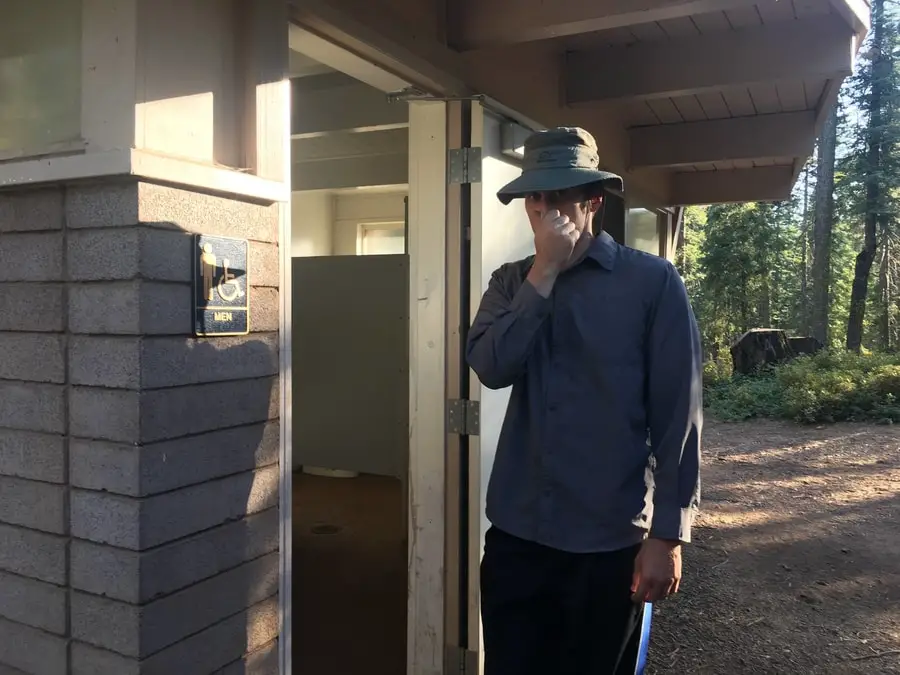 Have you ever had to ask yourself "Should I get a camping spot next to the bathroom?" Having access to a bathroom while camping can be very convenient, especially when you have to get up in the middle of the night to go. On the other hand, there are some drawbacks that you need to consider before choosing a camping spot next to the bathroom.
So, Should you get a campsite next to the bathroom? I would not get a campsite next to the bathroom unless:
You are camping with small children.
You are camping in a large group.
There are no other available campsites.
You need to use the bathroom frequently.
You don't want any peace and quiet.
Campsites near the bathrooms are typically the busiest, loudest, and most trafficked areas in a campsite. Those things can lead to a worse off experience when camping if you have come to enjoy the nature and quietness of the outdoors.
By the way, If you are in the market for a new tent, then you should click here to see the one I recommend on Amazon.
You Are Camping With Small Children
If you're camping with small children then they might feel safer being closer to the bathroom because the bathrooms are typically lit all night, which is kind of like a night light. There is also more human traffic at the bathroom and having that surrounding can be quite comforting to those new to the great outdoors like children. In addition to that, a small child that needs to use the restroom in the middle of the night is probably going to have to wake you up to take them there. If the trip is shorter, then the experience is a little better because it aids in preventing late-night accidents. 
Small children may tend to be louder campers than the more mature campers around you and so it is kind of courtesy to camp near the bathrooms when you have children because it is known as a busier and louder spot within the campground. This way you are being courteous to your fellow campers and they will appreciate it. Now if you have a child or children that have already been seasoned in camping and you know what to expect with them then feel free to choose a different spot. However, much like camping with children, being in a large group when camping might fit the camping spot near the bathroom.
You are Camping With A Large Group 
It helps to first define what a large group is when camping. This is all opinion of course, but from what I've seen is most campgrounds allow up to eight campers per campsite. So if you are approaching that number then you probably have a large group by the campground's standards at least. I would even go as far as to say that a group of six is a larger group when camping because mostly what you do see while camping is couples, small families of three or four, and even singles. Just by design, larger groups tend to be louder and in order to keep everyone happy they should be near the bathroom if they are a little rowdy because the bathroom is where it is typically known to be louder and busier. Of course, they should still also try to keep the noise down as much as possible.
When you're camping in a large group the odds are that there is going to be a lot of drinking, and what does a lot of drinking lead to? It leads to a lot of people needing to go to the bathroom and that is where your location comes into play. Also, not everyone is on the same bathroom schedule so it will seem like there is always someone going to the bathroom in your group because no one's bladder is on the same clock.
Being close to the bathroom is also good for groups because with numbers comes more trash that needs to be disposed of, and trash cans are often found right next to the bathrooms which are another plus for the larger groups. Now if you haven't made up your decision based on children or the size of your group, then you also have the availability of other campsites to take into consideration.
There Are No Other Campsites Available
 When you're camping on busy weekends or during holidays at some campgrounds it can be pretty difficult to find a spot whether it is first come first serve or you reserve in advance online. You need to take into account how many other campsites are left and how quickly you think that they might fill up if you don't make a decision soon. Besides location to the bathroom some other factors when it comes to choosing a campsite might include:
Location to water
This could be water such as drinking water, running water, lakes, ponds, rivers, streams, etc.
Location to sights
The site could have a great view, trees, or rock formations for example.
Location to entrance
It might be important to some people that they can make a speedy exit and entrance.
Level of solitude
Sites in the very back of a campground typically help you feel more solidarity.
Flatness of site
Not all sites are created equal, and site flatness is especially important for pitching a tent.
Shade
This can be very important in hot summer days or just to avoid too much sun.
Terrain
Besides levelness, some sites could look more natural and have more brush or rocks.
 Other amenities
May include tables, fire pits, bear boxes, trash cans, hookups, etc.
It is better to have a less desirable site such as right next to the bathroom than not having a camping spot at all. From my own experience, I've seen that the campsites right next to the bathroom are actually not in high demand. I think this has the most to do with the peace and quiet factor.
You need to use the bathroom frequently
If you are unfortunate enough to have a bladder that likes to go in the middle of the night then maybe you should get a campsite next to the bathroom or at least a site that is not too far away because the trek to the bathroom in the middle of the night can be a pain. Not only that, but you could be disturbing other campers trying to sleep when you are flashing your lights every night trying to get to the bathroom.
Even though I do "suffer" from this because of how much water I drink every day, I am pretty lucky because as a male, camping it is a little easier to pick anywhere to go number one. not everyone may feel comfortable doing that and not everyone is a male so make sure you keep any late-night bathroom tendencies in mind when wondering if you should choose a camping spot next to the bathroom. 
Do You Want Some Peace and Quiet?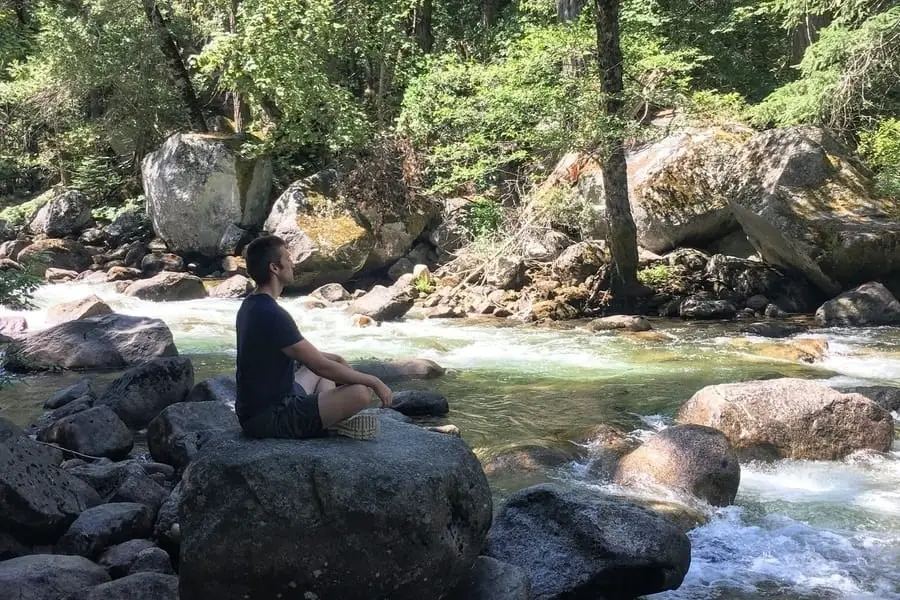 If you're a lot like me, when you go camping, you are looking to get some peace and quiet. Sometimes it is not always possible depending on where you go and when, but camping spot location does play a huge role in how quiet it is going to be. As discussed above, the area close to the bathrooms is usually one of the busiest and loudest areas of the campground. The bathroom area is just about as busy as the entrance itself. So if you are looking for a quiet spot to camp then you may want to stray away from the spots right next to the bathroom.
 Let's talk about why the camping spot next to the bathroom is lacking in peace and quiet. Well for one, campgrounds usually have a very limited amount of bathrooms and so all the people staying in the campground are going to be sharing one, two, or maybe three bathrooms. So there is going to be a lot of foot traffic near the bathrooms. Some campgrounds have it set up to where it is hard to access the bathroom without cutting through the campsites near it, and unfortunately, this is what most people do; they cut through the campsite that is located right next to the bathroom. This high foot traffic is another reason why you might not want to pick that spot.
Conclusion
As you may have gathered by now I would not prefer choosing a camping spot next to the bathroom. Those spots are too heavily trafficked, too loud, and too lit up at night for my liking. There are however some circumstances when I would choose a spot near the bathroom such as camping with small children, camping with a large group, and if it was the only camping spot left. Other than those reasons, I much prefer peace and quiet as much as possible and it is the biggest determining factor in my camping spot selection, and I believe it should be considered by you as well.
My Favorite Camping Gear