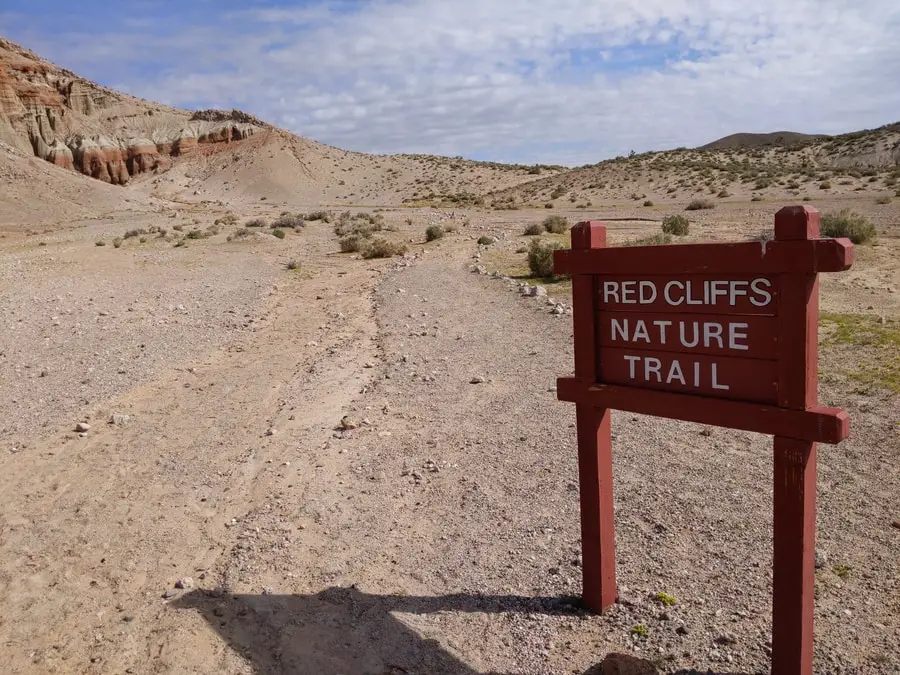 Trail Details:
One way distance: N/A
Roundtrip distance: Approximately 1 mile.
Elevation: Approximately 2,500 feet.
Elevation Gain: Approximately 101 feet.
Time Required: Approximately 0.5 hours roundtrip.
Difficulty: Easy.
Trail Type: Loop.
Best Time To Go: Late Fall-Winter-Early Spring.
Great For: Kids, Dogs, Fresh Air.
Permit Required?: No.
Pet-Friendly?: No.
Trailhead Address: 926F+X5 Ricardo, California.

By the way, If you are in the market for some new hiking shoes, then you should click here

to see the ones I recommend on Amazon.
Getting There:
GPS directions can be used by using this address:

926F+X5 Ricardo, California.

This should take you directly to the parking lot of the trail. It is very easy to miss the turn when driving down Highway 14 so slow down and be vigilant when you are close. There is no off-ramp or really any good signs directing you to the area so you will need to pay attention.

Red Cliffs Nature Trail is a short and easy hike located in Red Rock Canyon State Park in California. Not to be confused with other red rock cliff areas in Nevada and Utah. The park offers dramatic and unique desert landscapes for all to enjoy. This particular hike is a nice easy stop off for anyone traveling down Highway 14.

You can enter the red cliffs parking lot from either direction on Highway 14. If you are coming northbound from the Mojave then you will be taking a right turn. If you are southbound from the 395 intersections then you will be taking a left. This trail is just one small piece of what Red Rock Canyon State Park has to offer.

If you have extra time then exploring more of the park is recommended because it is a beautiful landscape. The campground known as Ricardo campground located just a couple of miles away from this hiking trail is really great and features some really unique geographical features itself. You can find out more about this state park on the California State Park's website.

Things To Keep In Mind:
When To Go:
This is a hike located in the high desert, and thus it can get very hot in the summertime. It is best to do this hike in the winter when the temperature is milder. The hike is also suitable in early spring and late fall when temperatures are moderate. There is no shade on the trail so even slightly warmer temperatures can feel many times hotter.

If you are going to go on this short walk in the summer then your best chance for not getting toasted is to go as early in the morning as possible when temperatures are at its lowest. Even in the early morning during the summer temperatures can reach the low 80s so it still won't be cool.

Parking:
The parking lot for the trailhead is very large and the trail is somewhat isolated from any large cities so parking should not be a problem. I got to the parking lot at 10 am on a Sunday in early Spring and it was empty. Only about 3 other cars came in after that while I was exploring. The parking lot has a classic pit toilet building with two separate toilets and has two picnic tables oddly placed very close to the toilet building.

The parking lot is not paved, nor is the very short road leading up to it. Any car can navigate its way to the parking lot. There are no marked parking spots or anything like that, just a big empty dirt lot. Large rocks are strategically placed to show you where to park.

Crowds:
This trail is considered to be lightly trafficked and you usually won't have to deal with large crowds. Most people will be admiring the red rocks that are right next to the parking lot and not necessarily hiking the short trail. Of course, there are many miles of unofficial trails and washes to explore nearby this trail if you really want to find some isolation in the desert.

Permits:
No permits are required for this trail or to park in the parking lot. Other day use picnic areas within the Red Rock Canyon State Park may require payment for day use such as the day-use area that is located near the state park's campground, but this does not apply to this trailhead.

Pets:
Pets are allowed to be leashed in day-use areas but are not allowed to be on established trails as directed in the Park's brochure. The intent of this is to protect the delicate desert resources for future generations. Please follow the rules and do not bring your dogs onto the trail. Instead, keep them leashed and let them enjoy walking around the parking lot.

Difficulty:
This trail is rated as easy. The trail has very little distance and very little elevation gain. It is well suited for children and those that want a nice gentle walk in the desert to enjoy the red cliffs. This really is a nature trail and not a real "hike" after all. Still, it doesn't mean you should skimp on having some proper gear like good shoes, plenty of water, and sun protection.

The Trail:
The official start of the trail is clearly marked with a nice big sign and small rocks are lined up to guide you along.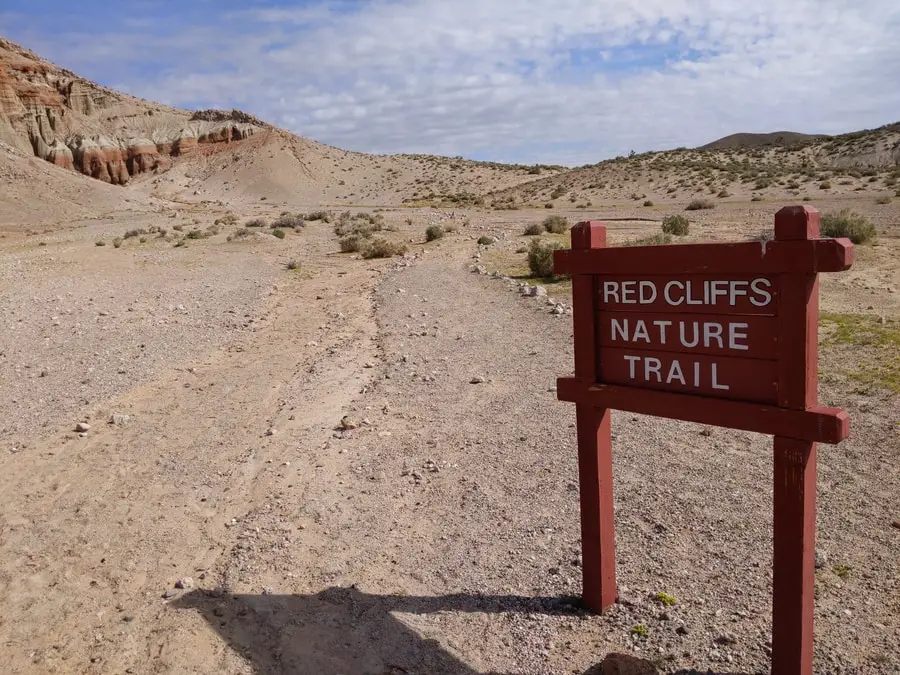 Shortly after walking down the entrance of the trail you will come to a small divide with two faded arrows that point you to either keep going straight or to veer right. The actual nature trail is to the right and if you go straight you can curve around back onto the original trail or keep going into the desert. The photo below is of the divide, but it is hard to see, sorry!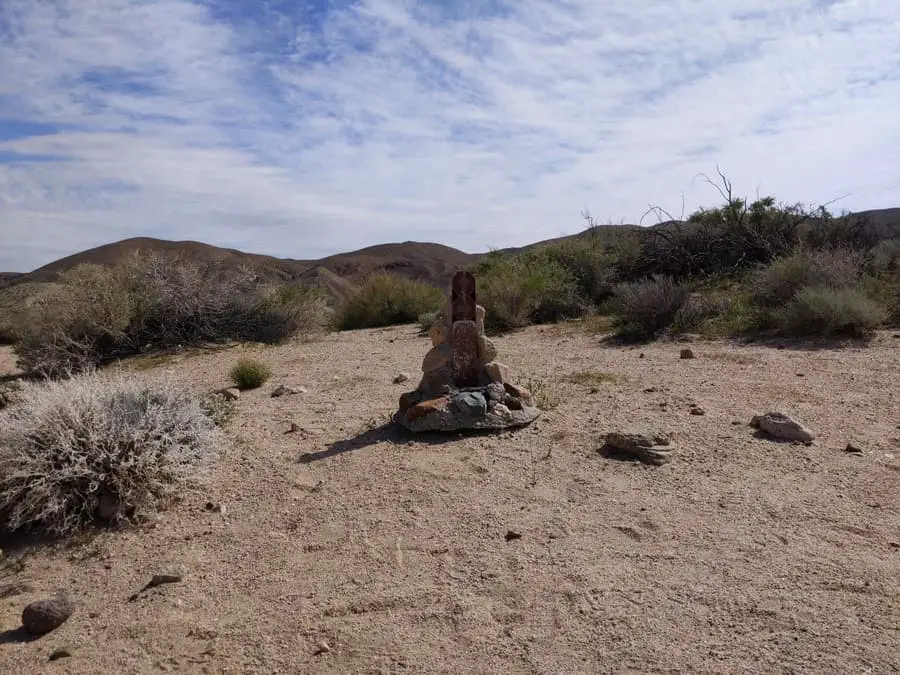 If you go RIGHT then you will go up a short hill and come across the first bench that you can use to sit and admire the red cliffs, they truly are beautiful.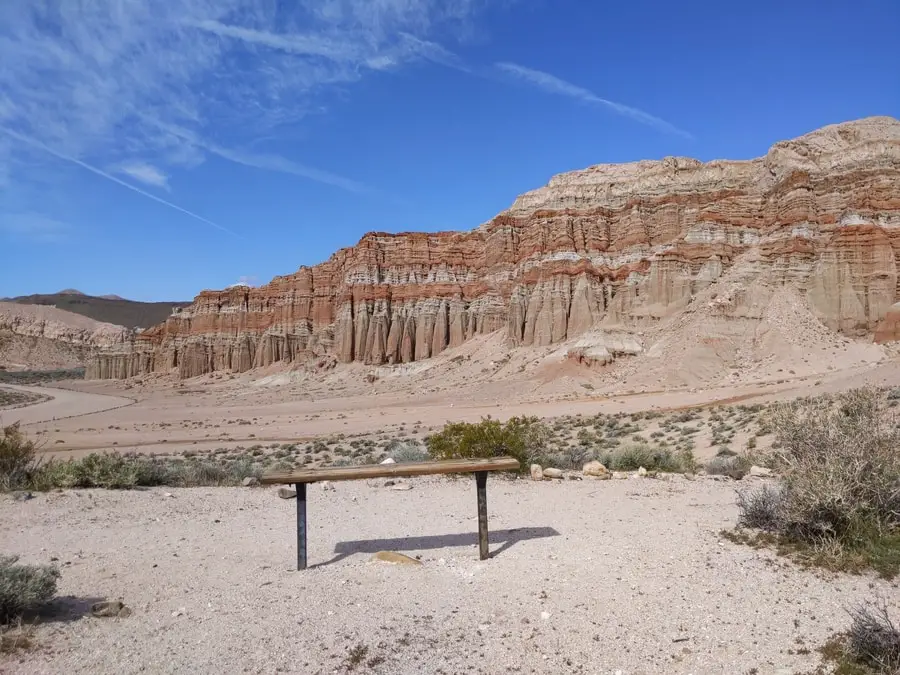 Continuing up the small ridge you will see a second bench that offers a slightly different angle to which you can view the cliffs, I couldn't decide which angle I liked more, the red rocks are beautiful at any angle to me.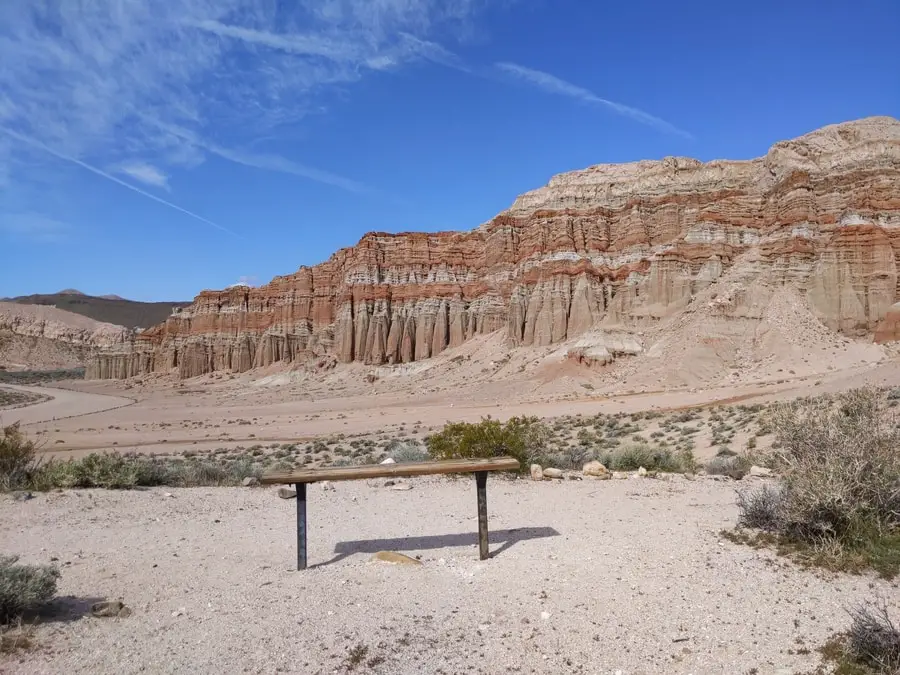 The loop is very short and after walking along the ridge the signs will direct you to go back down off the ridge and back towards the parking lot.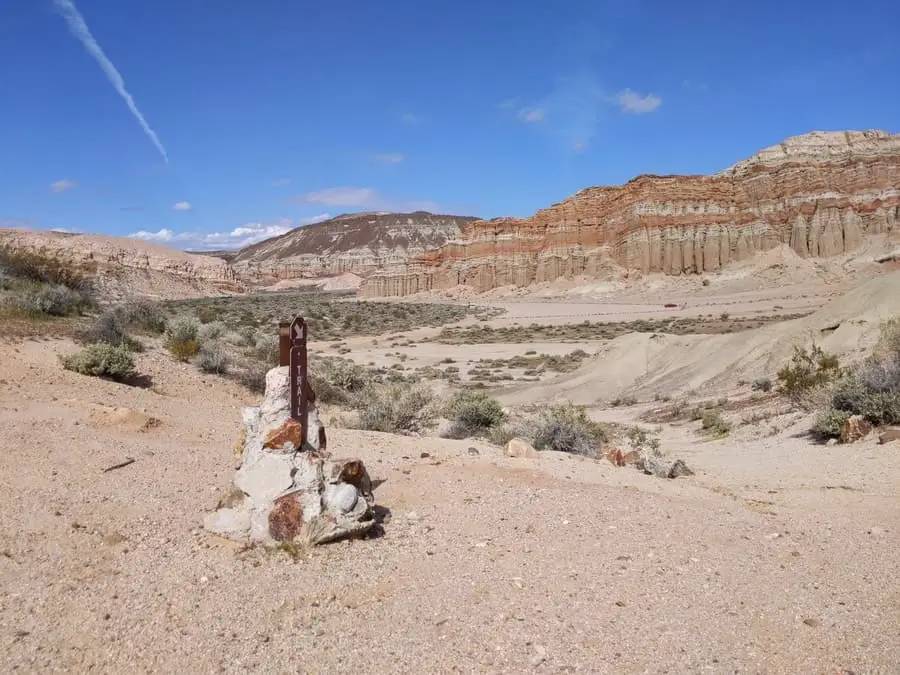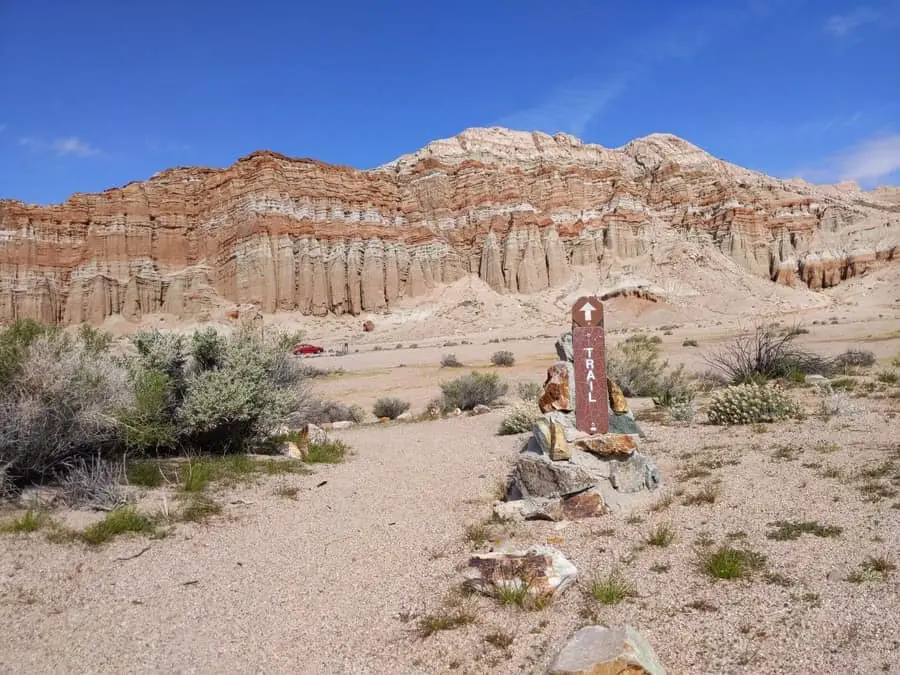 The little nature trail is cute and fun to do as a roadside stop, but you can turn this area into a full adventure if you go off-trail and explore the "outback" of course you should always be considerate of the delicate desert landscape and avoid "crushing the brush" so that many people can come and enjoy the landscape long after you are gone.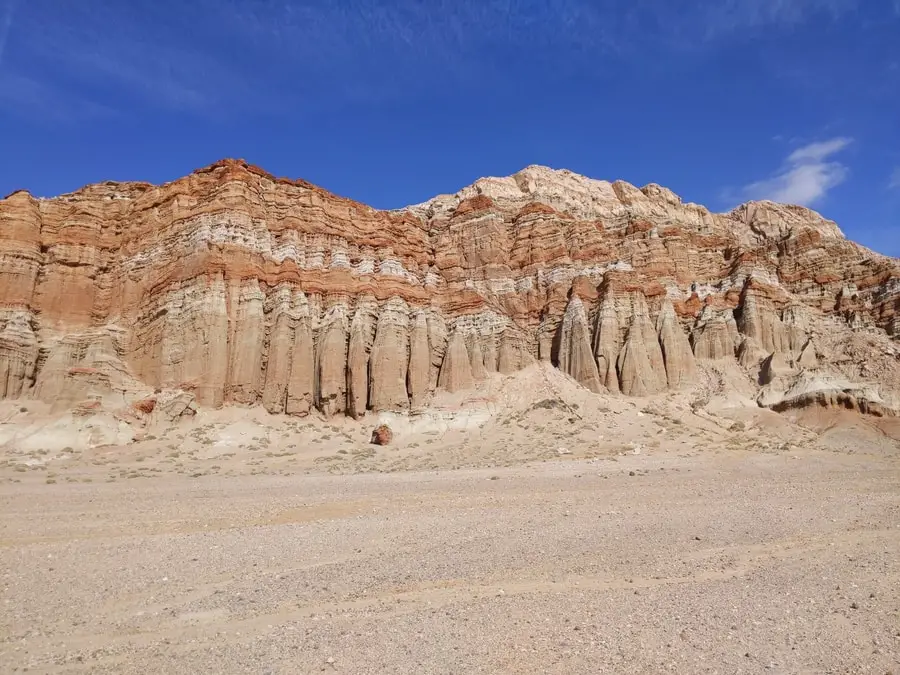 My Favorite Camping Gear