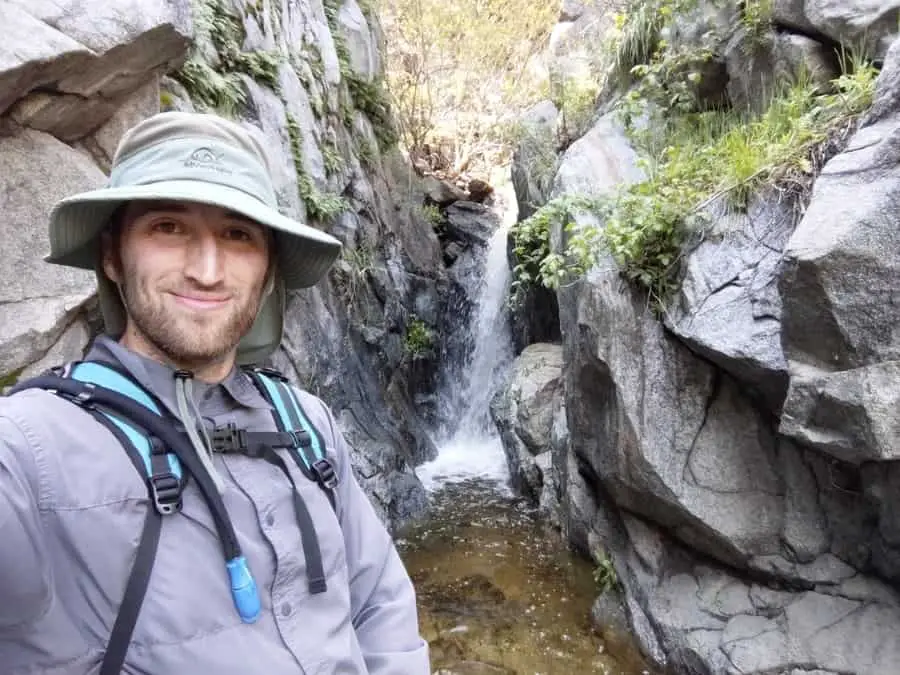 Trail Details:
One way distance: Approximately 2.7 miles.
Roundtrip distance: Approximately 5.4 miles.
Elevation: Approximately 1,957 feet.
Elevation Gain: Approximately 882 feet
Time Required: Approximately 3 hours roundtrip
Difficulty: Moderate
Trail Type: Out and Back
Best Time To Go: Fall-Winter-Spring
Great For: Exercise
Permit Required?: Adventure Pass
Pet-Friendly?: Yes
Trailhead Address: San Sevaine, 3070 Lytle Creek Rd, Lytle Creek, CA 92358
By the way, If you are in the market for some new hiking shoes, then you should click here

to see the ones I recommend on Amazon.
Getting There:
GPS directions can be used by using this address:
San Sevaine, 3070 Lytle Creek Rd, Lytle Creek, CA 92358
If you are coming from the 15 freeway northbound or southbound you will get off on Sierra Avenue heading towards Lytle Creek road. The start of the hike will be on your left-hand side but you will need to park on the wide shoulder on the right side of the road and cross it to the fire road. The road is called "Big Tree Cucamonga". The hike comes up very quickly after you see the sign that says you have entered the San Bernardino National Forest. Parking is right past the turn off next to "West End Gun Club".
Things To Keep In Mind:
When To Go:
The area can get very hot in the summer and most of the trail is wide open as it is actually a fire road. Therefore, the best time to do this hike is when the weather is cooler. Fall, Winter, and Spring are the best times when the temperature is cooler. If you want to do this hike on a sunny day keep in mind that there is very little shade so you should cover up well with clothing.
Since this trail is on a fire road, it mostly follows a ridge along the side of the mountain and perpendicular to Lytle Creek itself. The trail is at the beginning of Lytle creek road and so it is not a high elevation hike by any means. This means warmer temperatures. If you are going to try to attempt this hike in the summer then you should try to start as early as possible.
Parking:
Parking for this hike is simply across the road from the entrance of the hike. You will need to cross the street in order to start hiking so be very cautious when you are crossing the road as Lytle creek is known for fast drivers. There is not an official parking lot or any lines that dictate where to park so just pull off the shoulder of the road far enough to be safe.
Do not park in front of the "trailhead" itself as doing so is not allowed. Maintenance vehicles need to occasionally access the road. There is also a private residence right next to the entrance of the trailhead and their driveway is accessed on that road. Just park across the street and don't forget to have a proper parking pass that I will discuss more below.
Crowds:
This hiking trail is traditionally very empty, especially compared to the Lytle Creek area itself. It's not a popular hike by any means. Even on the weekend, you will likely have very few other hikers on the trail. During the week you will probably be by yourself in most cases.
The trail is occasionally used by other users such as mountain bikers and off-road drivers, but they too are somewhat rare. The further you get into the trail itself the less likely of a chance you have of seeing anyone. Most people are there just to get some exercise for the first mile or so. Once you take the turnoff you will most likely be by yourself for sure. You will see this in the pictures below.
Permits:
The hike is technically in the San Bernardino National Forest and so as with the rest of Lytle Creek's recreational areas a parking pass may be required. There is also a lot of private property in this area and so forest rangers may not be looking for parking permits in this area, but I never take my chances.
I simply buy the annual parks pass from the National Park Service website that allows me day use nearly every National Park, National Forest, and a ton of other public lands. It's $80 per year and pays for itself quickly if you like to visit public lands often during the year. You can check out this annual pass on the National Park Service website here.
Alternatively, National Forests in Southern California have "adventure passes" that you can buy throughout the state at various locations. They run for $5 for a single day pass or $30 for an annual pass but they are only for certain fee sites in Southern California National Forests.
Pets:
Pets are allowed to be on this trail granted they are on a leash. The San Bernardino National Forest clearly says this on their website "Yes, dogs are permitted.  Your dog must on a leash no longer than 6 feet and under your control at all times." They do say that dogs are not allowed in the San Jacinto wilderness, but this particular hike is nowhere near that. You can this information on their FAQ page here.
Difficulty:
Old CC Spur Trail is rated as a moderate hike depending on your level of fitness of course. The initial part of the trail is a slow and steady climb with a small section that is very rocky. There are no extremely steep parts of this trail as it a fire road. Being a fire road, this trail is very wide and open the entire way until you near the end where it becomes more overgrown.
While not being extremely difficult, this trail is good for getting in a decent workout. Hiking poles may not be required but they are very helpful for some of the more rocky sections of the hike as you will see in the pictures below. This trail would probably not be suitable for young children based on the terrain and lack of cover.
The Trail:
Here is the entrance to the hike, as you see it starts out as a roughly paved road. With a gate that I have seen closed and opened on different days.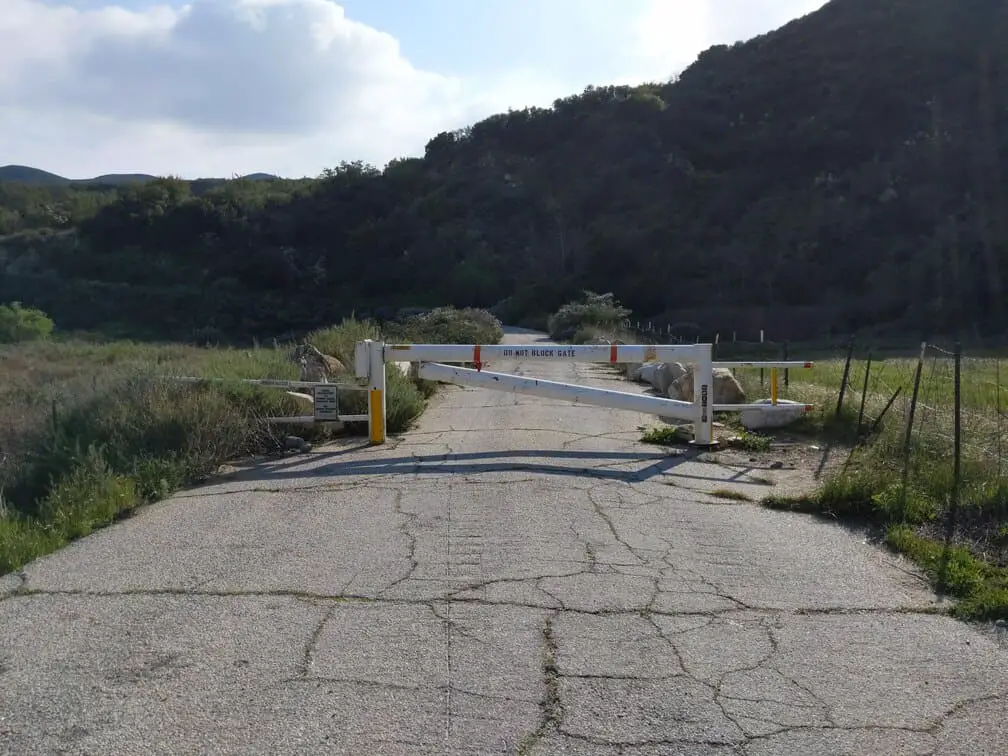 You will also see this sign in front of some private property that points down the road.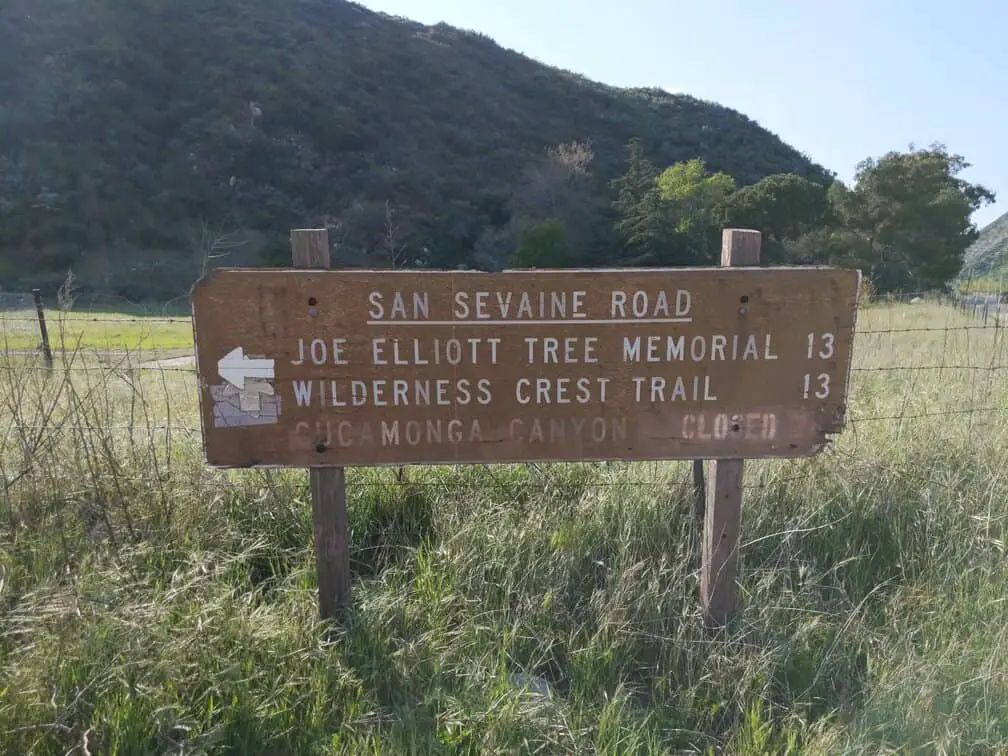 Along the way you may see a lot of bees, so you need to bee careful when you are around them and they will probably beehave in return. I would suggest you highly consider hiking somewhere else if you are allergic to bees. I have hears that the bees are seasonal and not always placed here.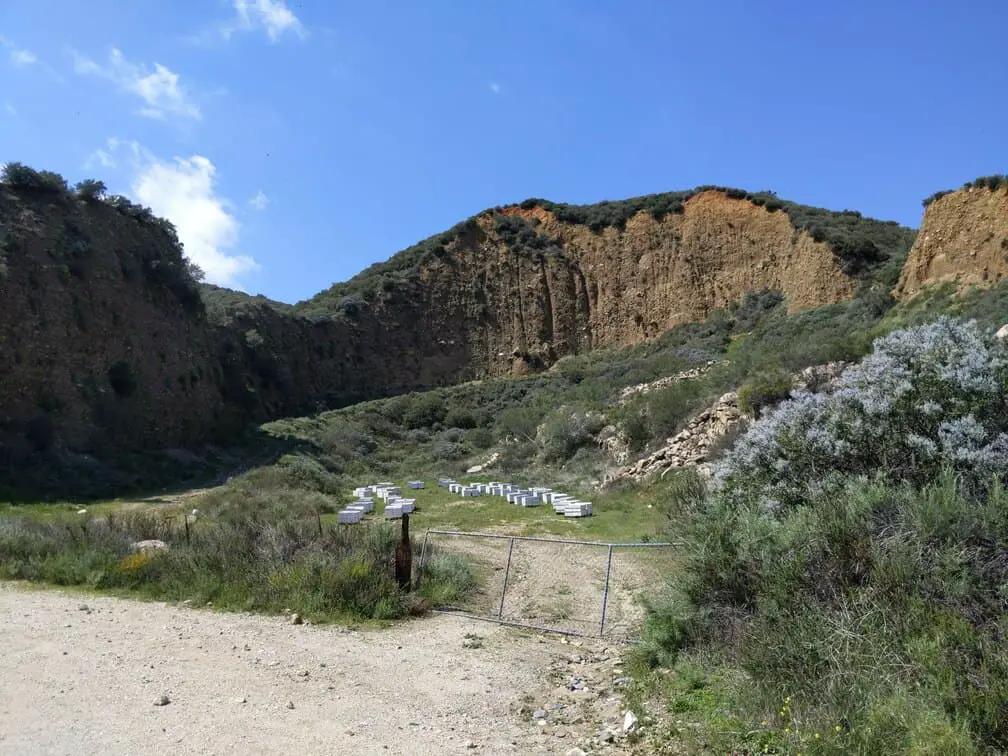 Depending on the season and how much rain the area received recently, you may see some water running across the trail in several different areas: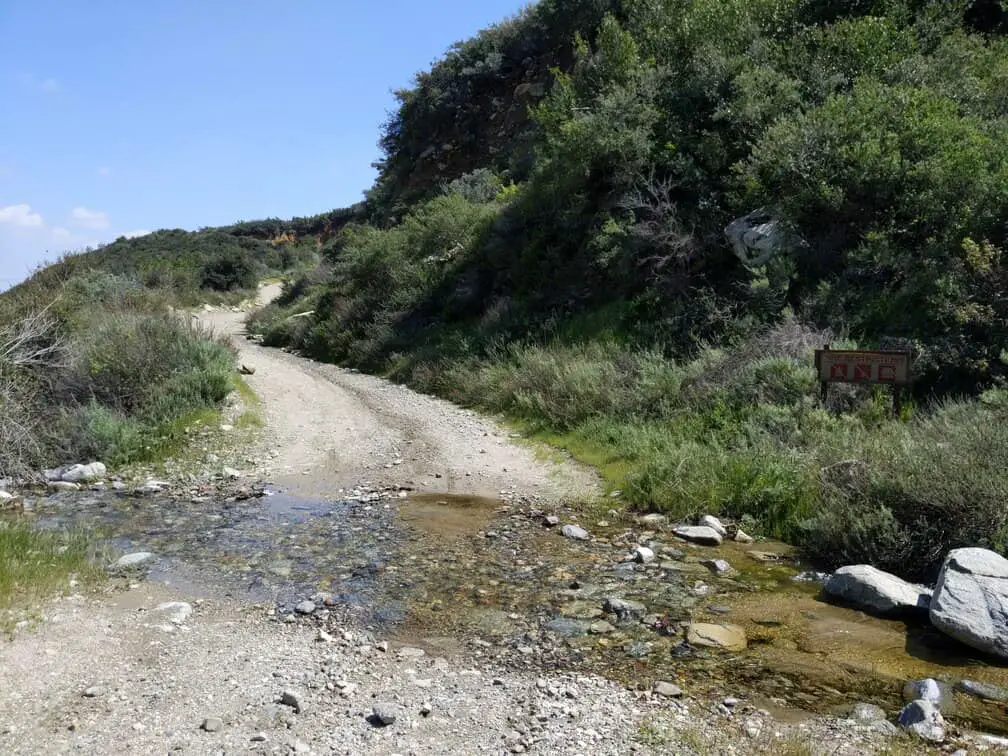 The Trail is pretty self explanatory for most of the way. You will pass by many power lines and there will be some side trails. Just stay straight on the large road.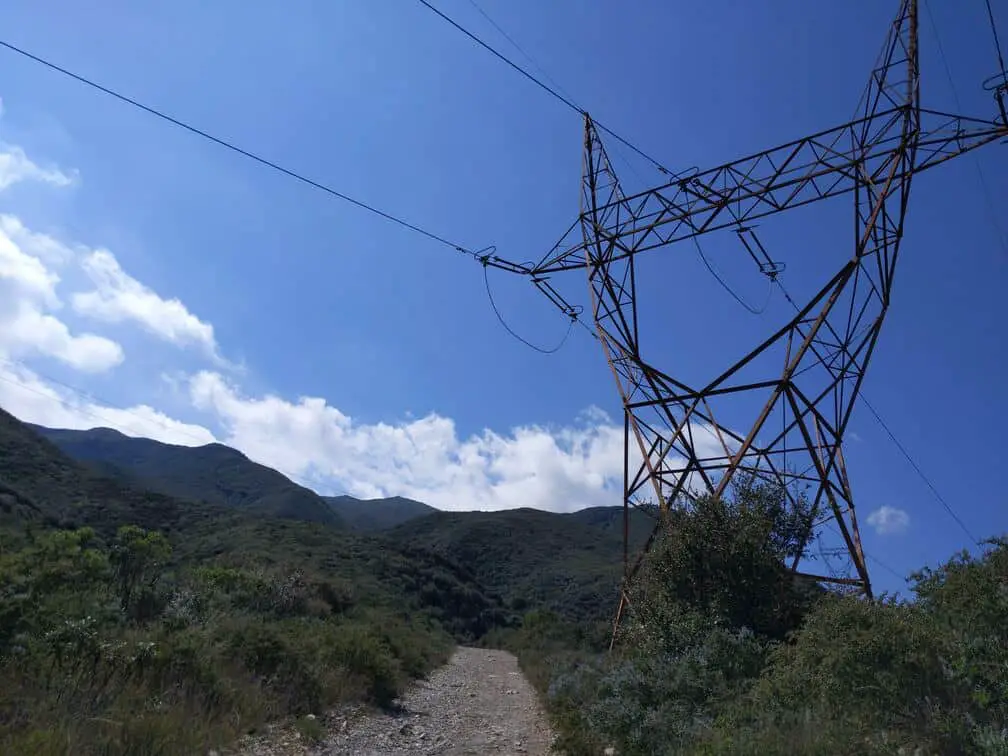 Eventually, you will come to a three-way divide. At this part, you will need to veer RIGHT in order to stay on this trail.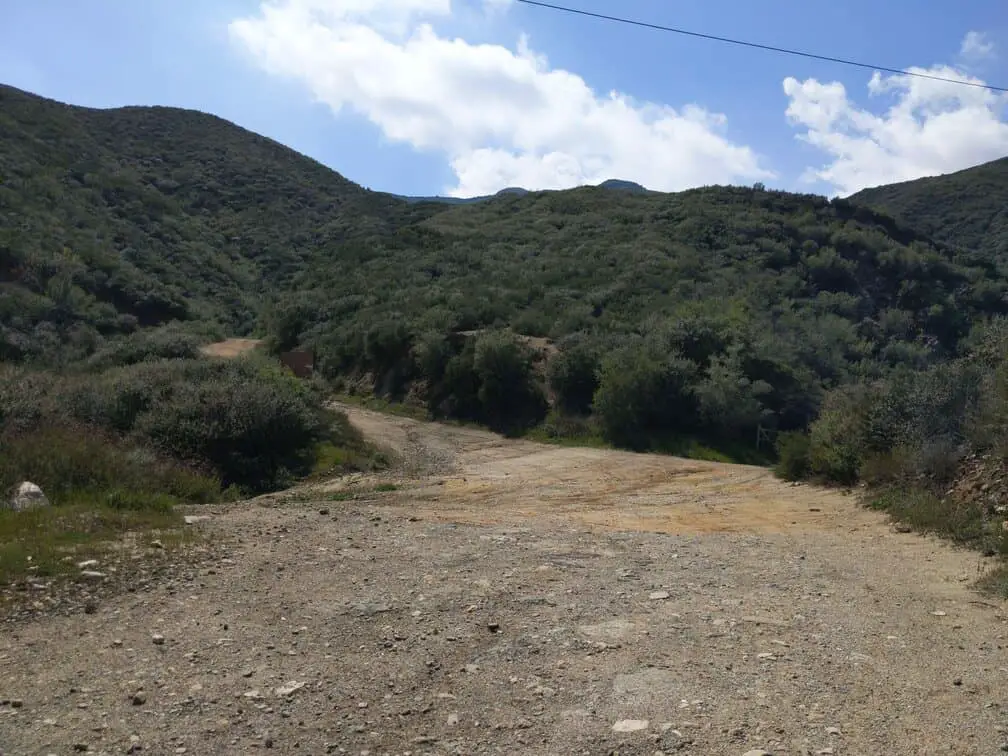 This is the gate that you will be looking for (located on your right) when you get to the divide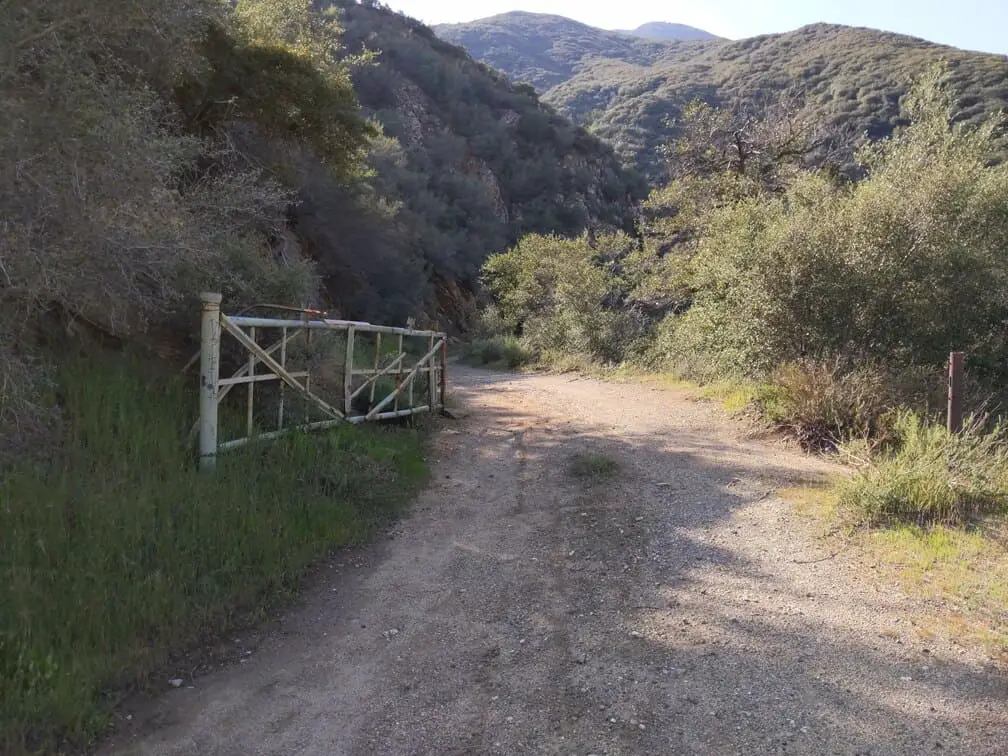 Continue down along this way and you will see some rushing water that you will need to cross in order to stay on the trail.
There is a small secret waterfall in this area that will be seasonal depending on rainfall. I won't tell you exactly how to get to it as there is no official trail and access to it requires some climbing that could be dangerous. I will leave you with a hint: (Rushing water means waterfall nearby)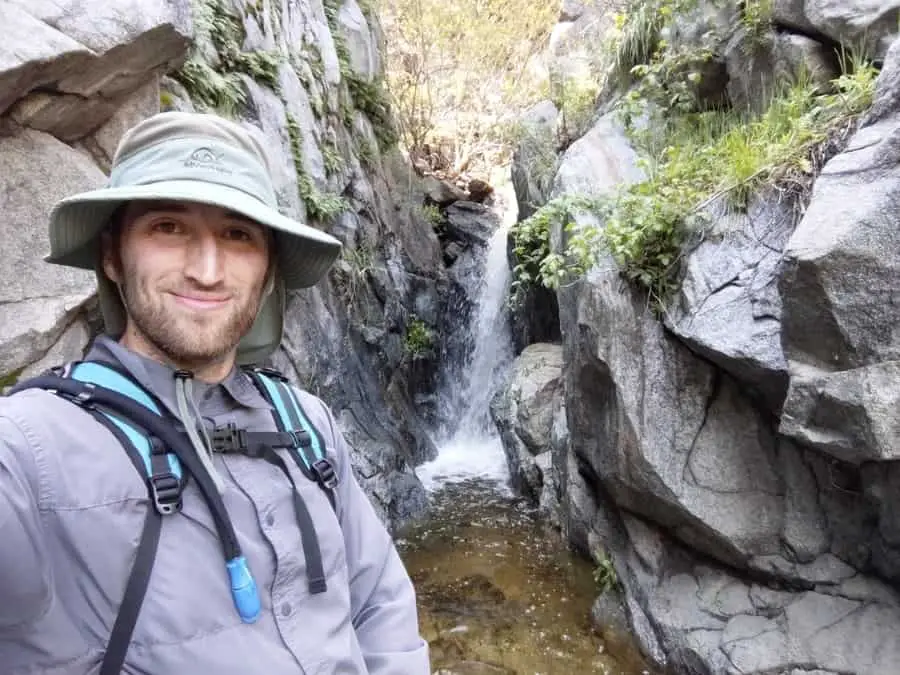 If you cross the seasonal stream and continue on, you will come to an old fire tower that is pretty creepy: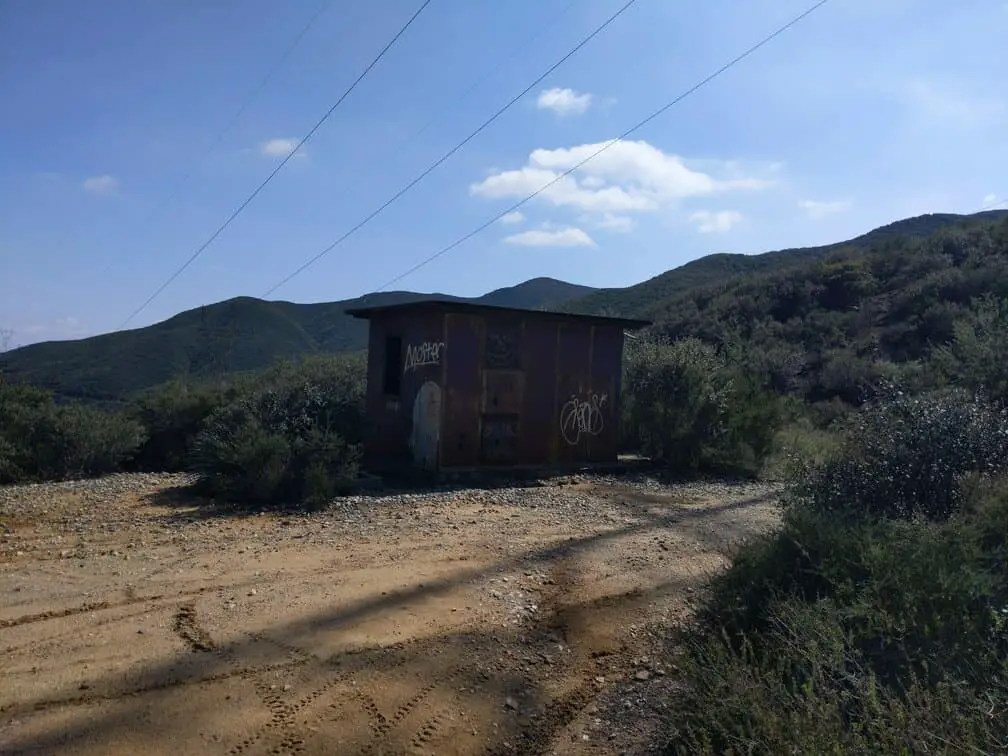 This is honestly where I would turn around if you are hiking for the views. If you want some more exercise then feel free to keep going as I did, but nothing else crazy comes up. The official end to the hike (on the AllTrails App) is literally just another electrical tower: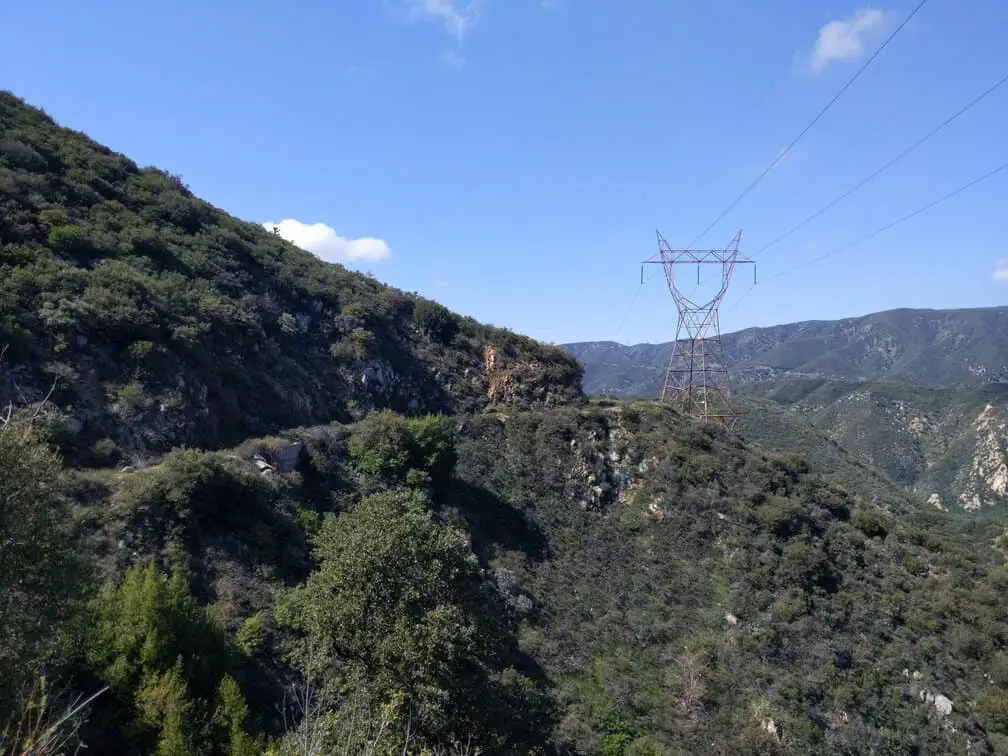 If you keep going past this point the trail becomes more and more overgrown and there is more and more rock falls on the trail: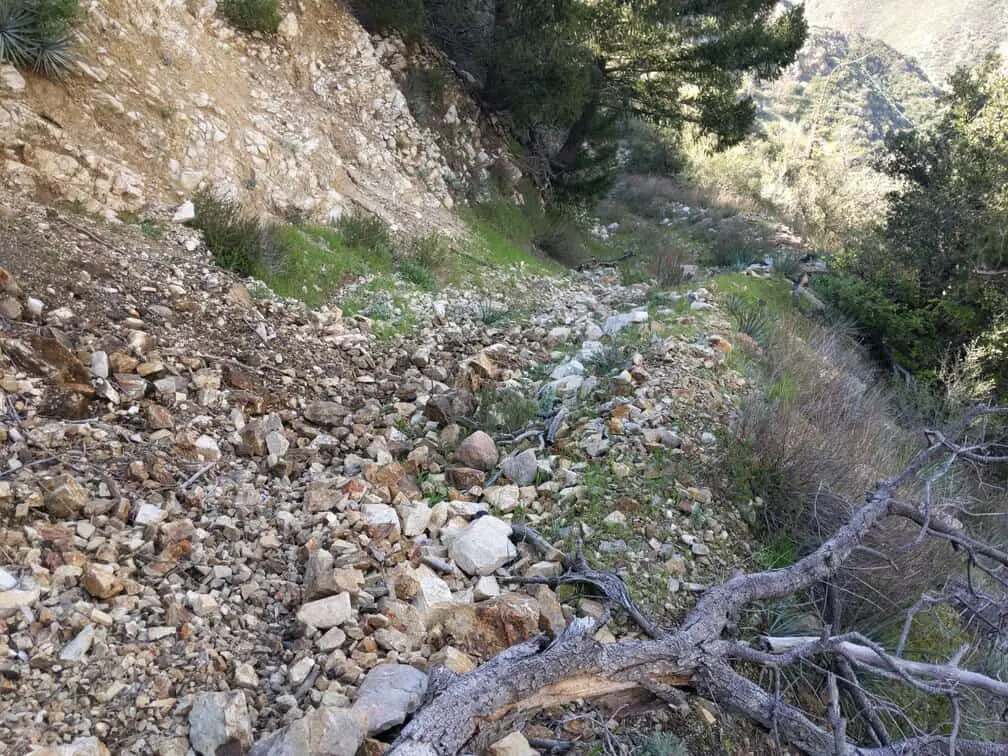 I hope that this hiking guide helps direct you in the right place to discover the OLD CC Spur Trail in Lytle Creek. It has some pretty cool views of Lytle Creek and the Inland Empire Below. The trail serves as a good place to get some exercise. Get out there and enjoy, these pictures do not do the place justice! Go out and see it for yourself!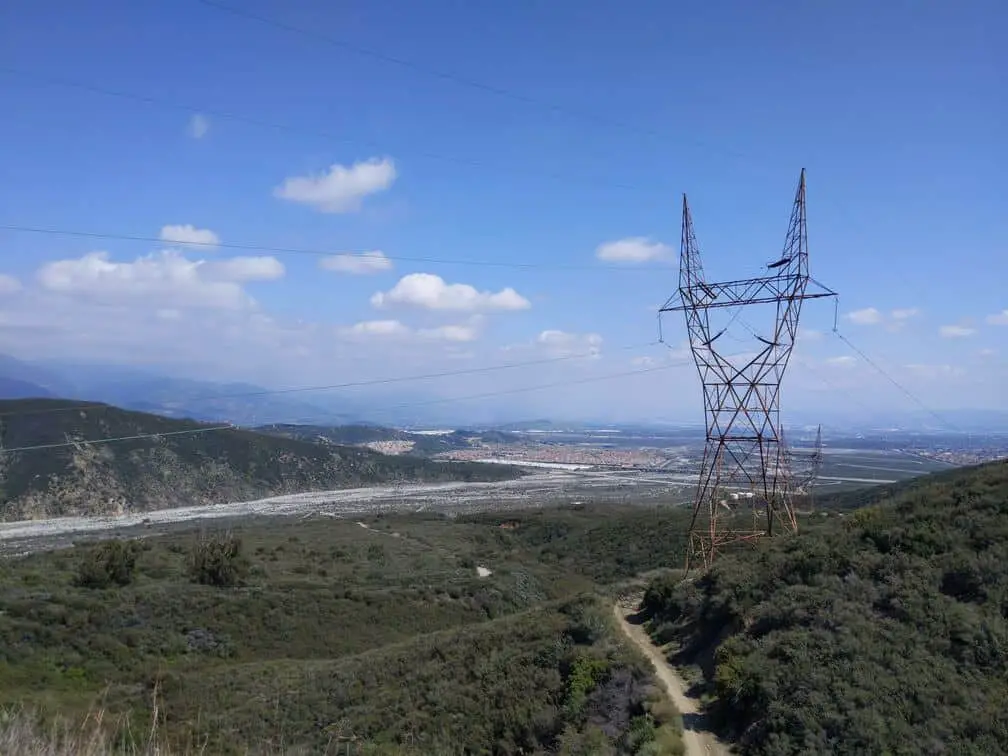 My Favorite Camping Gear