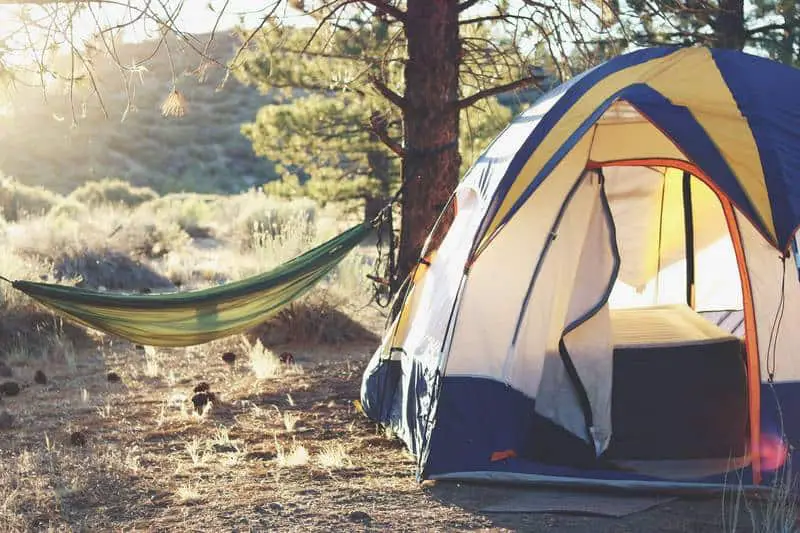 An air mattress is one of the coziest things to sleep on when you are camping. The problem arises when it comes to blowing them up.
14 easy ways to inflate an air mattress while camping:
Built-In Air Pump
Battery-Powered Pump
Car Socket Pump
Electric Pump
Hand Pump
Foot Pump
Hair Dryer
Your Breath
Garbage Bag
Bike Pump
Vacuum
Leaf Blower
Air Compressor
Borrow A Pump
The best way to inflate an air mattress while camping is to use an electric pump that is operated by battery or by the car 12-volt outlet
Keep reading to find more detailed explanations for each method. The order is intended to be from easiest to most difficult, but of course, it all depends on what tools you have at your disposal.
By the way, If you are in the market for a new air mattress, then you should click here to see the one I recommend on Amazon.
1. Built-In Air Pump
The easiest and most convenient way to blow up an air mattress is to let the air mattress do it itself. Air mattresses with internal pumps are more and more common in air mattresses being manufactured today. Typically they come in two different varieties: battery-operated and plug-in operated. Either way, the pump is built inside of the air mattress so you do not need any kind of external equipment to inflate the air mattress (unless of course, the pump breaks). Each type of air mattress with an internal pump has its pros and cons.
Battery Operated Internal Pump
If you are going to be using your air mattress for camping then you will probably want to get a battery-operated one since you might not have access to electricity when you are camping. The downside is that you will have to either keep buying new batteries or make sure that the batteries are fully charged before each camping trip. At the same time, the batteries and the battery compartment could become corroded with frequent exposure to outside elements.
Still, if you make sure to keep your battery compartment clean while you are camping then you should be good to go. A built-in air pump air mattress is the most convenient air mattress that you can own. It is also the most expensive, but if you can afford it then I think it is the best choice for comfortable camping. If you are curious to see what kind of air mattress I use then you can click here

to check out my air mattress on Amazon.
Pros
No electricity needed
Inflates effortlessly
Cons
Must replace/recharge batteries
Expensive
Plug-in internal pump air mattresses work similarly to the battery ones except they do not take batteries, instead they must be plugged into a power source. Usually, the power source must be a standard 120V outlet that you find at home. In order to make this possible while camping you will need an electricity source. If you are camping with electric hook-ups then this is not a problem, however many campsites and campgrounds do not have hook-ups.
It is because of this, I would not recommend getting a plug-in internal pump air mattress unless you can also inflate it externally using a different method. This makes it more versatile, and in fact, it is always a good idea to have some kind of backup external means of inflating your air mattress just in case your primary method fails you.
Pros
No batteries needed
Inflates effortlessly
Cons
Need electricity
Expensive
2. Battery Powered Pump
Another really easy way to inflate an air mattress is with a battery-operated pump. Battery-operated pumps can be used with regular batteries or rechargeable batteries. I would recommend getting rechargeable batteries because even though they will cost you more initially, they will pay for themselves in the long run if you use them on a regular basis. Always bring extra batteries just in case you forgot to charge them or the batties inside of the pump deplete.

Portable pumps come in many different shapes and sizes, but it is important to get one that is well suited for the size of your air mattress. Obviously, a twin-size air mattress doesn't need a portable pump the same size as a queen air mattress. Additionally, a double high air mattress will need a larger pump than an air mattress that is lower on the ground. So get a portable pump that is an appropriate size for your air mattress.
Pros
Can be used practically anywhere
Affordable
Cons
Needs batteries
Pump size needs to suit air mattress size
As you can already see, inflating an air mattress can be a small nuisance. Inflating a sleeping bag is much easier (or there are sleeping pads that don't require any inflating). That's why I wrote another article comparing air mattresses vs sleeping pads for camping. Click here to check it out!
3. Car Socket Pump
Car Socket Pumps are external pumps that are almost as portable as a regular portable pump except that they need to be plugged into your car's auxiliary power socket (formerly known as the cigarette lighter). The car auxiliary power socket is usually 12 VDC (Volts Direct Current) and it has a unique shaped plug. The good thing about these kinds of pumps is that you never have to worry about having charged batteries or bringing extra batteries. They work really great for car campers, but that is also their downfall, you need to be camping near your vehicle to use them.
If you primarily go car camping then you will have no problem using this pump instead of the more portable battery-operated one. However, keep in mind that you will need to inflate your air mattress next to your vehicle and then carry it to your tent. If you are camping at a walk-in campsite then you might need to carry your air mattress a good distance fully inflated from your car (and make sure that you don't puncture it along the way). Usually, these external pumps cost a little bit less than the battery-powered ones.
Pros
No batteries to worry about
Cost less than battery pumps
Cons
Need to be close to your vehicle
Have to carry inflated air mattress to your tent
4. Electric Pump
An external electric pump is going to require that you have a power source while you are camping. Campsites with electrical hook-ups can provide this if you have the luxury of staying in one. Generators can also produce enough power to use an electric pump, but generators are often pretty expensive and it would be a waste to get a generator just to use an electric pump. This is why I would not recommend a regular electric pump for inflating air mattresses that you are using for camping.
Regular electric pumps work great for inflating air mattresses for home use, but they are not ideal for camping situations. On the positive side they do tend to be the lowest cost electrically operated pumps there are since they are designed for home use. 
Pros
Lowest cost external pump
No batteries
Cons
Need an electrical source
5. Hand Pump
Hand pumps are very versatile tools for inflating things, including air mattresses. They require no batteries, no electricity, just good old-fashioned hard work. This can be good or bad depending on your physical condition. To use a hand pump you simply hold it in place with one or both of your feet and then vigorously push and pull the pump with one or two hands depending on the pump design.
The larger your air mattress is, the longer and more strenuous it is going to be for you to fill it up. Hand pumps are great, but I wouldn't want to inflate a double high queen air mattress with one of them. A small single high twin mattress, on the other hand, would be no problem. Hand pumps make a good backup to your electric external pumps.
Pros
No batteries or electricity needed
Low cost
Cons
Time-consuming
Can take a lot of physical effort
6. Foot Pump
Foot pumps are very similar to the previously listed hand pumps except you do not use your upper body (or hands) to push air into the air mattress. Instead, you simply press down on the pump with your foot over and over again. Foot pumps generally require less effort than hand pumps, but they can take longer to inflate. Foot pumps often come included with some air mattresses and they can be a viable option for inflating smaller mattresses.
Pros
Very low cost (sometimes free with the air mattress)
Low physical effort required
Cons
Can take a long time to inflate
Not ideal for larger air mattresses
7. Hair Dryer
Here's an odd way to blow up an air mattress, but it works because hair dryers blow air similar to what a regular pump does. Your hairdryer might need electricity in order to work, but they do make travel hair dryers that are cordless and run off of batteries. Either way, if you have nothing else but a hairdryer you can still inflate your air mattress.
Make sure that you switch the hair dryer to blow out ambient or cool air instead of hot air because the plastic and vinyl in your air mattress could become deformed if exposed to high heat.
The seal between your air mattress and your hair dryer isn't exactly ideal, so you may need to figure out a way to seal the path between the air and the valve. This can easily be done by wrapping duct tape around the air dryer and valve in order to create a more streamlined seal.
Pros
Works almost as good as an electric pump
Little physical effort required
Cons
Need to create a tight seal
Hairdryer must be able to blow cool air
8. Your Breath
If all else fails, you could figure out a way to inflate your air mattress using just your breath. Make sure to clean the inlet first before putting your mouth on it, especially if the air mattress has been camping before. Blowing it up with your breath is a lot easier if your air mattress has a one-way valve. One way valves are where you can blow air in and it can't come back out the same way because the valve has a seal that only opens when air is coming from one side and closes when it is not.
If you stop blowing and the air starts coming back out then using your breath is going to be a lot more difficult. One technique is to breathe in through the nose and breathe out of the mouth into the air mattress. This method is definitely difficult and time-consuming and should be your last resort.
Sleeping pads are more suited for using this method, not full-blown air mattresses. I actually prefer using sleeping pads when camping short term. You can read more about the sleeping pads that I use here.
Pros
It's free
No equipment needed
Cons
Very difficult with full-size mattresses
Very time consuming
9. Garbage Bag
Believe it or not, you can actually fill an air mattress using a garbage bag. When I first heard of this method I thought it was impossible but then I started to think about it and realized how it would work conceptually. After doing some research, I came across this video and was amazed at how well it worked:
So if you don't have access to any kind of pump or any of the other items that I list below, you could possibly fill up your air mattress using a trash bag. It looks even easier than using your own breath. I haven't tried it yet, but I am keeping it in my repertoire for whenever the day may come that I need to inflate my air mattress and have nothing else to fall back on.
Pros
Easier than using breath
You probably have a garbage bag
Cons
Time-consuming
It looks funny
10. Bike Pump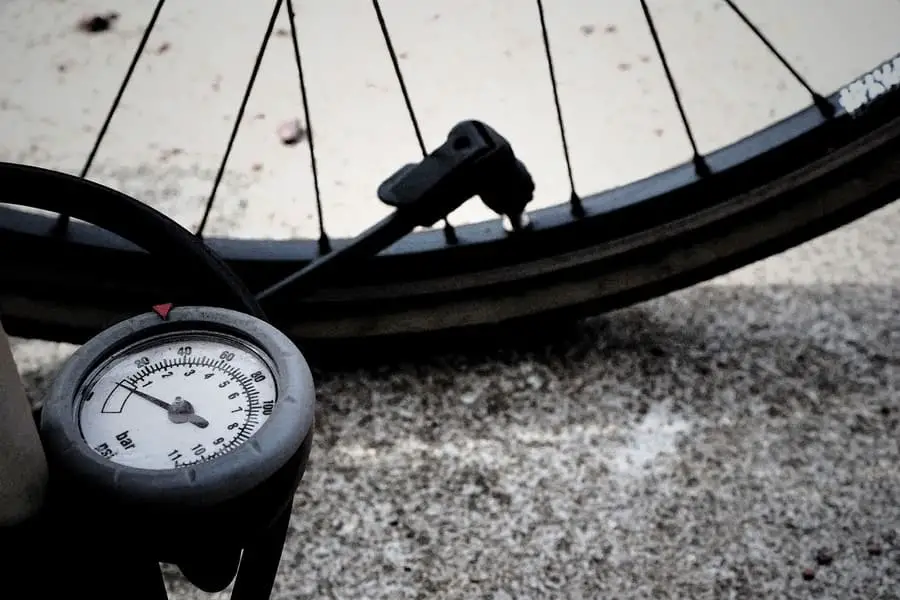 A bike pump can easily be used to inflate your air mattress if you can get a good seal between the nozzle and the valve. Using duct tape or something similar is probably the easiest method. Hopefully, the air mattress has a one-way air valve to make this easier. A partner could hold the bike pump nozzle up to the air valve while you use the bike pump to inflate.
Pros
If you brought a bike, you brought a bike pump
Not very strenuous
Cons
Doesn't seal perfectly
May need a partner to help
11. Vacuum
Another household item that could be used to inflate an air mattress is an ordinary vacuum. Of course, your vacuum will need to have the ability to blow air. The vacuum also needs to have an attached long narrow nozzle. Now I do not know why you would have a vacuum with you when you are camping, but this method is still worth mentioning. Vacuums typically require to be plugged into electricity, but there are also handheld and portable car vacuums that you might have in your vehicle that fit these requirements.
You would simply need to hold up the narrow nozzle against the air mattresses' inflation valve. Again, it really helps if you use duct tape or something similar to secure the nozzle to the valve and create a tight seal. If you are RV camping then you are more likely to have a vacuum with you that has these functions, however, car campers could keep a small portable car vac in their vehicles in order to keep their cars clean after camping and possibly inflate their air mattresses.
Pros
Cons
When will you have a vacuum while camping!?
12. Leaf Blower
Any household item that blows air can theoretically be used to inflate an air mattress and this includes a leaf blower. Now, I don't know why you would have a leaf blower when you are camping, but if you do then consider using it to inflate your air mattress if an easier method is not available. You will need to configure a way to create a good seal between the leaf blower and the air valve.
Pros
Cons
When will you have a leaf blower while camping!?
13. Air Compressor
Like I mentioned before, anything that blows air can theoretically work to inflate an air mattress. If you travel around with a portable air compressor made to inflate your vehicle's tires then you probably could figure out some way to use it to inflate an air mattress.
Pros
Very fast inflation
Cons
When will you have an air compressor while camping!?
14. Borrow A Pump
Here's a bonus tip. If you need to inflate your air mattress but you don't have a pump either because you forgot to bring it or yours isn't working, just ask someone else at the campground you are staying at. The odds are in your favor that someone in a campground has an air mattress pump. Of course, this only works in a campground, but don't be shy and just ask! People who go camping tend to be very nice people!
Pros
Campers are usually nice
Make some new friends
Cons
Not optimal for introverts
Only works when you are camping near other people
No matter how you end up inflating your air mattress, the next critical step is to know how to insulate your air mattress from the cold. You can get pretty chilly when sleeping on an air mattress, even in the summer. Click here to read my full guide to insulating your air mattress when you are camping.
Related Questions
how to blow up an air mattress without a pump?
The best method for blowing up an air mattress without a pump is to use another household item such as a bike pump, hairdryer, vacuum, leaf blower, or air compressor. As a last resort, you could inflate an air mattress using a trash bag and a lot of patience.

How long should you inflate an air mattress?
You should inflate an air mattress to a pressure that is comfortable for you. An air mattress can be adjusted slightly for firmness by putting more or less air into it. Ideally, you should have no excessive sagging when you are laying on the air mattress.
Why is my air mattress deflating but no holes?
A primary reason why your air mattress may be deflating is because of the changing air temperatures. Just like with your car's tires, the changing temperatures from hot to cold can cause your air mattress to lose air within.
What is the best thing to sleep on while camping?
Arguably, the best thing to sleep on while camping is a sleeping pad because they are designed specifically for camping. Sleeping pads can be comfortable and they can insulate you from the cold ground.
My Favorite Camping Gear