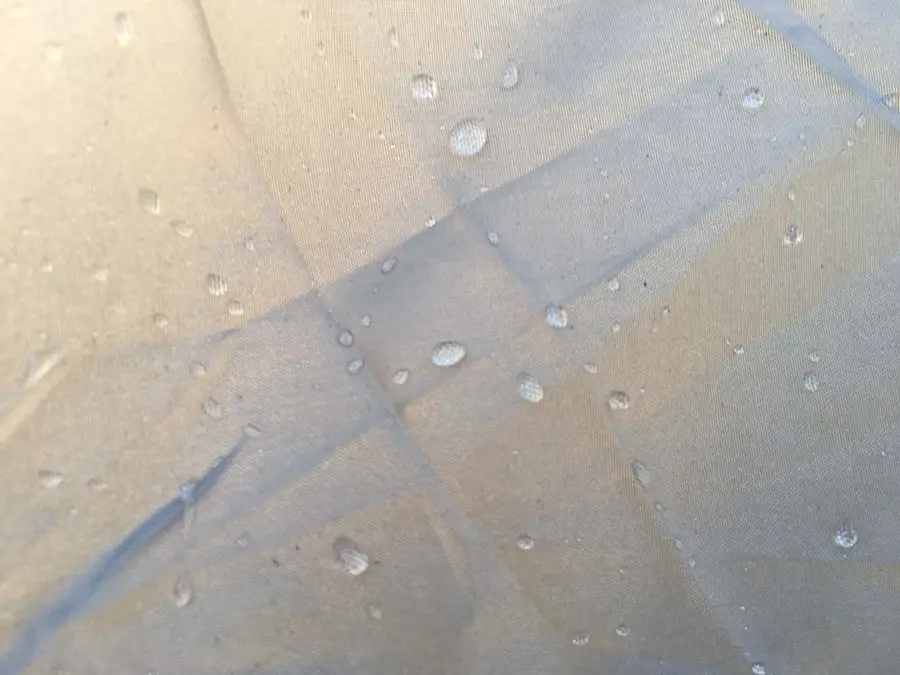 It seems that all the tents we look at online or in the stores boast about being waterproof. After all, keeping the rain out is one of the primary functions of a tent. Is the tent actually waterproof? Is it waterproof enough? If you just got a new tent you might be wondering "do you need to waterproof a new tent?"
If you are still deciding on what new tent to get then you might also be wondering if you will need to get something else to get it ready for your next camping adventure. I too have always wondered if I should waterproof my new tent and so I did some research on it and want to share it here.
Do you need to waterproof a new tent? You might need to waterproof a new tent if there are anomalies in the production of the tent. You should inspect your new tent to ensure that your waterproofing features are functional.
Even tents that come with waterproof coating might not be completely ready for a harsh rainy camping trip, it is best to be extra prepared. Actually waterproofing your new tent is easy and can be done quickly at a low cost. Always follow your manufacturer's recommendations at the minimum. There are a few other things you can do to make sure your new tent is ready to go for your next camping trip.
By the way, If you are in the market for a new tent, then you should click here to see the one I recommend on Amazon.
Why you need to waterproof your new tent
Most tents today claim that they are waterproof and ready to go right out of the box. For the most part that is true, the manufacturing methods of tents are getting better and better every day. Sometimes small defects can occur and if you are caught in the wrong weather while camping, those small defects can become big problems for you. It is always best to make sure everything is 100% ready to go with your tent because it is your lifeline and shelter when you are camping.
This not only applies to new tents but if you already have a tent that might have leaked before, you could try sealing it up and extending its life. When you add waterproofing layers to your tent you help protect it from the elements. Not only from water, but it can also help block harmful UV sun rays from damaging your tent. Basically, waterproofing will prolong your tents life and give you a better camping experience if you happen to get caught in a downpour.
Believe it or not, tent's aren't all that tough. Sure they are designed to protect you from the elements, but they are constantly being exposed to them themselves. Waterproofing adds a small layer of protection to your tent. Your tent can suffer some damage from sun rays, rain, and other things. Rain can cause your tent to develop mold and mildew if it is not properly dried. The waterproofing is in part meant to reduce the amount of rainwater that sticks to your tent. 
How to waterproof your new tent
There are 3 ways to waterproof your tent:
Sealing the seams with a seam sealer.
Applying a urethane coating.
Adding a durable water repellent (DWR) coating.
Note: Make sure that you get the right type of sealer and sealant for your tent. Silicone-treated fabric and polyurethane-traded fabric tents require different types of sealants. Your tent should have clear indications of what kind of fabric it is made from on the box or bag it came with. You can also check the manufacturer's website.
For number one, you might notice that your tent has seam taping that keeps it from letting water in. Hopefully, that seam taping is still intact, although you can re-enforce it by sealing it yourself. These seams are on the bottom of the rain fly and on the inside of the tent. It makes things easier if you flip the tent inside out to access the seams. If you are working with a new tent then you shouldn't need to clean anything but if the seams are dirty then clean them with rubbing alcohol and a rag. Apply the seam sealer to the seams and allow to dry for as long as it is recommended on the seam sealer's instructions. Doing this will give you a lot of peace of mind because you are responsible for sealing your own tent up very nicely.
For number two, it is generally applied to the entire rain fly. Apply a thin coat to the entire area, be sure to follow any special instructions on the bottle as they may have different drying times. Generally, applying a urethane coating might not be needed for a brand new tent, but if you notice something flaking off on your rainfly then that is probably the urethane coating that needs to be replaced. Still, adding a fresh layer yourself can give you peace of mind for your upcoming trip. This can also be done on the floor of the tent, it too usually has a urethane coating on it that can be reinforced.
For number three, it is the easiest to do. Durable water repellent is a spray that goes on the entire exterior of your rainfly. Just spray it on evenly on your fly (as long as it clean) and take a damp rag after a few minutes and just pat it down to clean up and excess coating. Allow the tent to dry and follow any special instructions that might be on the spray bottle.
Always follow the manufacturer's recommendations
Your manufacturer probably knows best when it comes to their tents. They usually provide simple and easy guidelines to care for your tent. They want your tent to last a long time because they want to stay in business and have happy customers. If you follow their recommendations then you should be just fine. Usually, the manual for your tent comes right in the new box, or the manufacturer posts digital instructions on their website. Don't ever be afraid to email their customer service if there are any problems with your tent. They are more than happy in order to help keep their customers happy. 
Other things you need to do to make sure your new tent is ready
Okay so now you know that you need to waterproof your new tent, what else will you need to do? As with any new gear you need to test it out before you take it out. Fully set up your new tent to make sure that there are no visible defects or parts missing. Set everything up, even applying the rain fly on top as well. The last thing you want to do is realize that your new tent is missing an essential component for camping when you are already at your campsite.
In addition, if you are able to leave your new tent set up outside then it can help dissipate that "new tent smell" that it could have. You can even test out your new waterproofing if you would like by using a hose or water bottle for fun. Just be sure that your tent is completely dry before you put it away for storage. Good luck and stay dry on your next camping adventure!
Conclusion
You need to waterproof your new tent if you want assurance that you will stay dry if you happen to get caught in the rain on your camping trip. Waterproofing your tent not only keeps you dry, but it helps improve your tent's life by minimizing UV damage and water damage. Waterproofing your tent is low cost, quick, and easy to do.
You should reapply waterproofing material as necessary indicated by the tent's manufacturer's instructions. Testing out your new tent completely will help you make sure that there are no unpleasant surprises when you get to your campground.
My Favorite Camping Gear