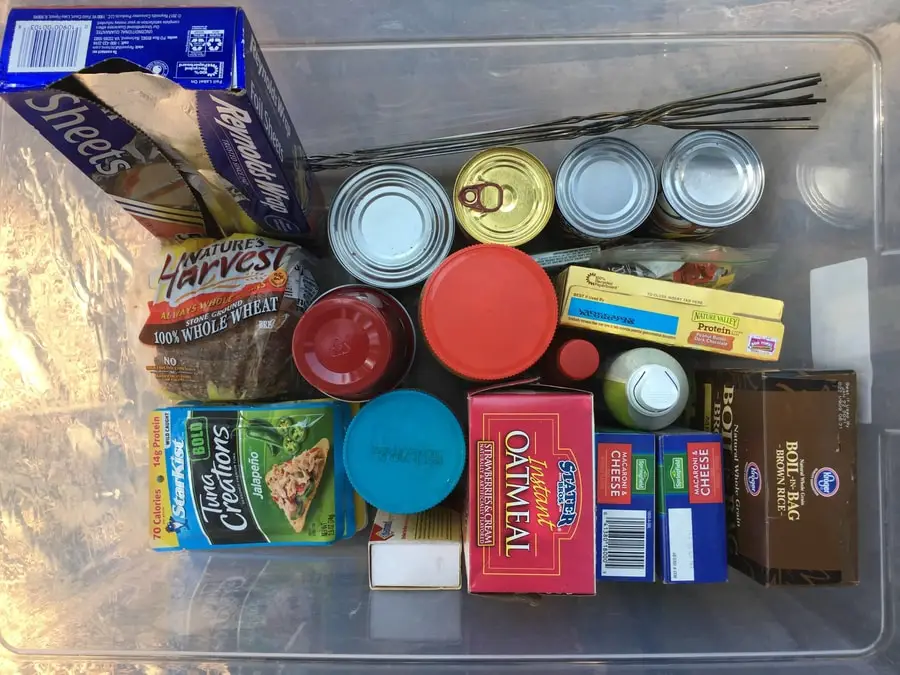 Eating food is one of my favorite pastimes when I go camping and I am sure that it is one of yours as well. I'm always looking for clever ways to store and transport the food I take camping. I want to share 12 camping food ideas that you need to read before you take your next camping trip.
Utilize The Bear Boxes At All Times!
2. Keep Non-Perishables Organized in Clear Plastic Totes
3. Use Airtight Containers To Keep Food Fresh And Separated
4.Organize Food With Plastic Drawers
5. Use Insulated 5 Gallon Water Jugs
6. Freeze Meats Before Taking Them With You
7. Never Keep Any Food With You In Your Tent
8. Bring More Propane Than You Think You Will Need
9. Use Blocks Of Ice In Your Cooler
10. Place A Damp Towel Over Your Cooler
11. It's Probably Time To Upgrade Your Cooler
12. Consider Going To The Next Level With A Portable Fridge
By the way, If you are in the market for a new camping stove, then you should click here to see the one I recommend on Amazon.
1. Utilize The Bear Boxes At All Times!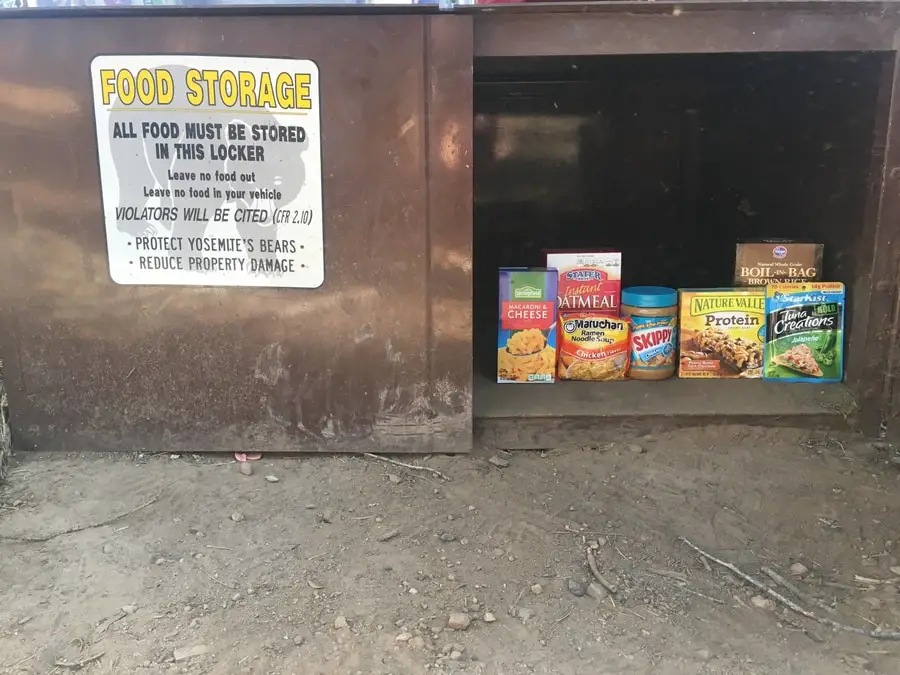 Bear boxes can be found in many areas around the country, mainly in forested areas. Anywhere that is an active bear area should have them. They are not there as an option, many National Forests and National Parks require you to use them and you should! It can be a bit inconvenient putting your food (and all other scented items) in and out of a bear box but trust me, it's worth it.
Some places are highly active bear areas and because of it, there are strict rules on always having your scented items closed and locked inside of a bear box whenever you are not actively eating. One such place I have seen this is in Sequoia National Park

. At this park, there were rangers actively driving around the campgrounds looking for food or scented items left out. If there was something left out then they would throw it away and issue fines.
No one wants to come home with a ticket after camping. Also, I am willing to bet that no one wants to have a bear (or bears) raiding their campsite and eating all of their food (and probably trashing everything). Bears are opportunistic eaters and always want the easiest meal. Unfortunately, human food is often easier to come by than its natural diet. Not only can our food be unhealthy for bears, but it can teach them to become relaxed around humans (which they shouldn't be).
Eventually, after learning that humans = easy food sources, it will cause bears to keep coming back and back again. Many bears will become aggressive in order to steal food and may have to be put down since they can become dangerous for humans. It is often our fault for letting bears get into our food in the first place, so please protect the bears by protecting your food and properly storing it in a bear locker if you are camping in a location that has them.
2. Keep Non-Perishables Organized in Clear Plastic Totes
Proper organization is key to making your camping trip a breeze. It gives you more time to relax and reduces the stress of always sifting through everything trying to find what you need. I tend to bring a lot of non-perishables because well.. they don't perish. Having Clear plastic totes makes organization easy since you can clearly see into the container and pick out where your food is.
These containers are low cost and perfect for camping storage in general. In fact, I personally have 2 large clear plastic containers and 2 smaller clear plastic containers that I take camping with me regularly. Utilizing one or more plastic containers is a great way to organize your food and transport it easily. The good thing is that since you will be storing food with a long shelf life, you can pack up these containers with food in advance so that you don't have to worry about it the day of your camping trip.
Having these containers is great. Be sure to get some very durable containers and they will last a lifetime. They can also be used for other things, which is nice, but I like to have them ready to go camping at a moment's notice. Pairing these with the next tip will take your camping food storage organization to the next level!
3. Use Airtight Containers To Keep Food Fresh And Separated
Using smaller airtight containers to keep your food fresh and separated will make food storage a breeze. Don't go cheap on this since you want these containers to really keep your food fresh. Often the packaging that food comes in is not fit for storage while camping and can make everything in your bigger containers a jumbled up mess. Skip the mess and organize with smaller, but durable airtight containers for your nonperishables.
4. Organize Food With Plastic Drawers
This one is optional, but an exceptional way to organize food for car camping. Those clear plastic drawers like these ones on Amazon

are stackable and make it really convenient for accessing your food. Whether you are keeping your food in the car or in a bear box, they can make it super easy to organize and store food for your camping trip.
5. Use Insulated 5 Gallon Water Jugs
You need to bring a lot of water when you go camping, especially if you are doing any kind of dry camping where water is not provided to you. Many natural water sources are not safe to drink without being treated so it is best to bring your own if you can. The best job for this is large 5-gallon water jugs. Bringing individual gallon jugs is not ideal since you will need a lot of them and they can easily be damaged since they are thin plastic.
Using a good quality 5-gallon water jug like this one from Amazon

can be the perfect fit. It can be filled from the top, it has two heavy-duty handles, and it has a spigot to pour water into smaller bottles or cups to drink. Bring some smaller water bottles or cups to go along with it, but it is a long term solution for holding lots of drinking water. You can also get other types of 5-gallon jugs like this one

(link to check price on Amazon.com) for things like washing dishes, washing your hands, etc.
6. Freeze Meats Before Taking Them With You
Meats are one of those luxury food items that you take camping. We definitely don't want them to spoil. In order to make your meats last longer, freeze them before taking them camping. They will probably thaw out pretty quickly if they are just on top of some ice, but they also serve as an additional way to keep other foods cooler.
7. Never Keep Any Food With You In Your Tent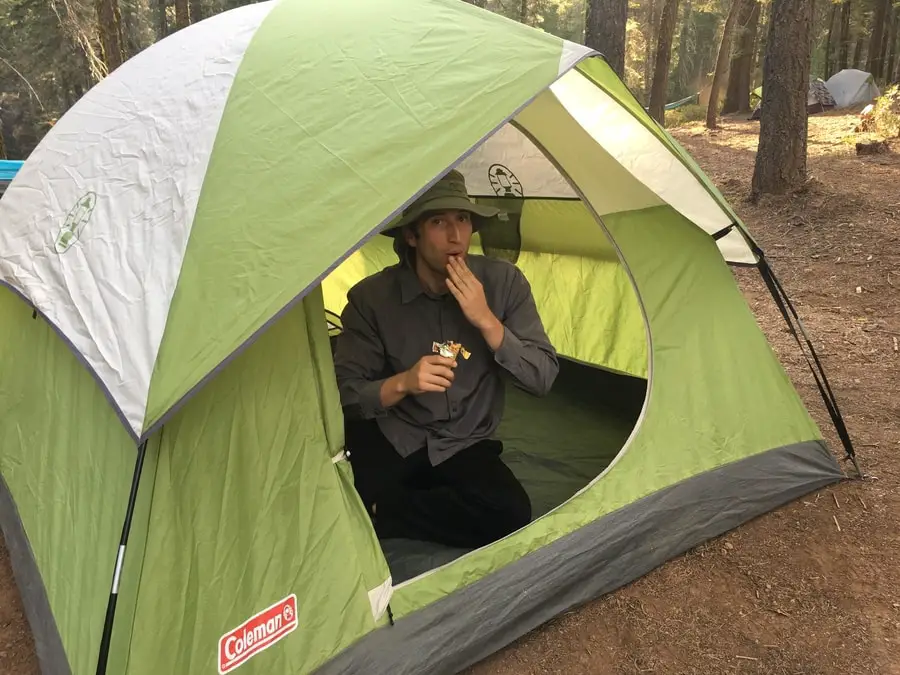 A big tip for food storage while camping is to not take any food (or other scented items) into your tent. The reason for this is that you do not want to attract any animals or insects into your tent with you. Keeping food in your tent is like mailing out invitations for all kinds of critters to come in. No one wants animals or bugs trying to get into their tent so keep the food away from your tent and never store food inside.
Instead. you should store food in animal boxes that are provided to you. If none are available then the next best option is to store the food inside of your vehicle. During the day while you are actively using your food items you just need to keep them within sight and under your control. A tent is not a good storage space since tents can easily be broken into. Even small animals can chew their way into your tent. No one wants that, so avoid storing food inside of your tent.
8. Bring More Propane Than You Think You Will Need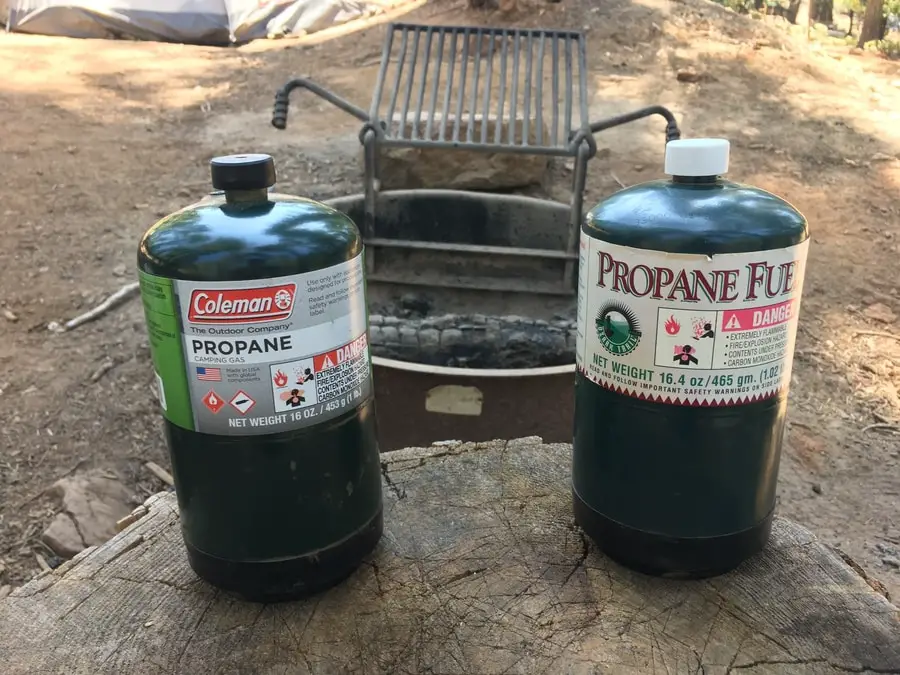 Propane is one of those things that you can never get enough of while camping. If you are using a camping stove to cook some food then odds are that you need some propane. I have one that uses those small 16ox bottles. If you are using a camping stove that uses those small bottles and need a refill, they sell them in 4 packs on Amazon

(Link to check the price).
Bring more propane than you think you need because nothing is worse than running out of propane right in the middle of cooking a meal, or when you still have a lot of food to cook, but didn't bring enough propane to get the job done. Another problem that you want to avoid is one of the propane tanks not working for some reason, like the rings being cross-threaded and therefore not securing correctly. Keep some extras to avoid the hassle.
9. Use Blocks Of Ice In Your Cooler
One of the best cooler hacks that I have ever learned about was block ice. A big block of ice will keep longer in any cooler longer than ice cubes will. The reason for this is that there is less surface area for warmer air to melt the ice. With cubed ice, there is lots of space in between the ice cubes, and therefore, more air will melt the ice quicker.
It might be difficult to find block ice in most grocery stores or convenience stores, so making your own block ice at home will be best. My favorite method for doing so is taking a large metal deep pan and filling it with water and then popping it into the freezer. Since it is a lot of water, it will take some time to freeze, so most likely you will need to freeze it at least the night before your camping trip. I found it better to fill up the pan while it is already in the freezer so I don't have to carry a large pan full of water splashing around in my hands.
So if you want your ice to last longer, put it into block form. Another tip for the ice is to NOT drain the water when the ice melts. By doing so you will be replacing ice-cold water with warm ambient temperature air. The air will cause the ice to melt faster than the water will. Plus when the ice melts completely you will have very cold water to keep your food cool for a little bit longer. Knowing these steps will help you become a master of the cooler. I have one more tip for your cooler, just keep reading on…
10. Place A Damp Towel Over Your Cooler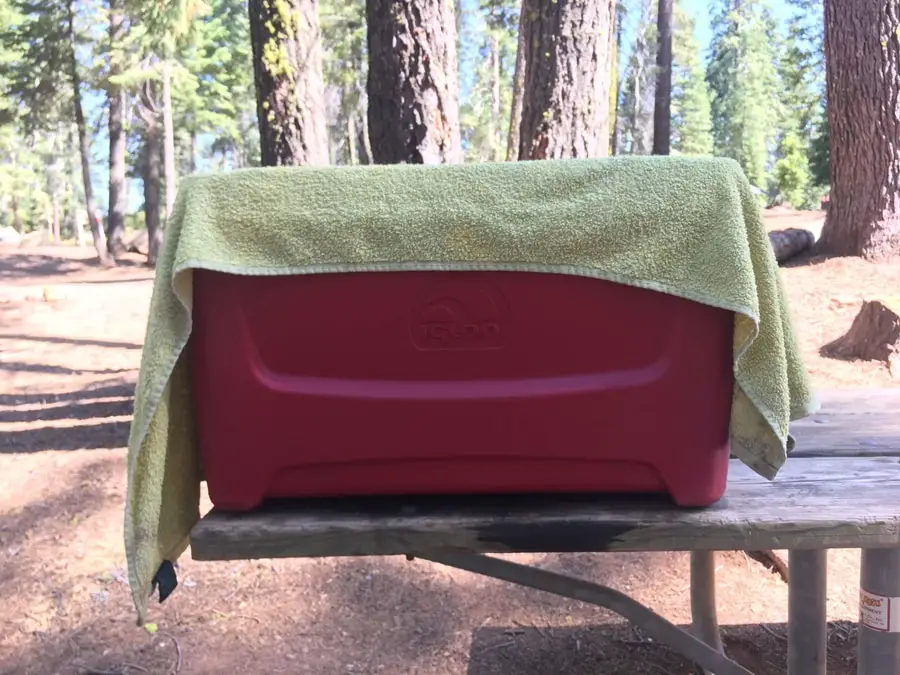 Placing a wet/damp towel over your cooler can keep your food cooler for much longer. The wet towel will help keep your cooler cool even though the outside air is warmer. Pair this method with an actual good quality cooler and your ice could last for several days. The idea comes from "evaporative cooling" which is simply defined as "reduction in temperature resulting from the evaporation of a liquid, which removes latent heat from the surface from which evaporation takes place."
It's the same concept as your body sweating in order to stay cool. Also why you feel much colder with wet clothes on. Keep the towel damp for the duration of your trip. Also, be sure to keep your cooler out of the sun so that the towel doesn't dry as fast and the cooler isn't exposed to the solar radiation. Fun fact: The shade may feel 10-15 degrees cooler than in the sun but it is, in fact, the same temperature. It is simply the solar radiation that makes it feel warmer to us (and our coolers).
11. It's Probably Time To Upgrade Your Cooler
Even with all of those tips on coolers, there is something you might need to know but don't want to hear. It may be time to upgrade your cooler. If you have a cheap cooler then you probably are limiting yourself drastically to how long your food will stay fresh and cool inside of it. Sure you can employ the previous tips and a few more, but they will only take you so far if your cooler is not up to par.
Consider getting a top-notch cooler for your future camping excursions. We have all heard of the Yeti Brand coolers and their amazing ability to make ice last for up to 10 days

in the Tundra 45 Model. Yeti is considered the best of the best when it comes to coolers. If you use coolers very frequently and have some spare change to spend then you might seriously consider getting one since they are basically at the top of the cooler industry. They can get pretty pricey. You can check them out on Amazon.com at this link here. Don't worry they are free to look at.
Fortunately for the rest of us that can't bear spending THAT much on a cooler, there are other similar brands that offer comparative results at very competitive prices. You can do a search for coolers on Amazon.com

or you can consider one like the Coleman Wheeled Xtreme Cooler

(Check the current price on Amazon), which is designed to keep ice for up to 5 days. That is in range with how long most of us go camping so it might be the best budget option.
With that being said I want to leave you with one more tip about coolers. You should get two of them. Why? It is so that you can separate food and drinks. This is important because most likely you will tend to open one of the coolers more frequently than the other. Usually, we tend to open the cooler to grab drinks more often than to grab food. We all know that opening a cooler too many times will cause the ice to melt faster since it lets more warm air in. That is why you should have two coolers: One for the food, and one for the drinks.
12. Consider Going To The Next Level With A Portable Fridge
If you enjoy long term camping trips then perhaps this last camping food storage tip is for you. It is a popular option for people that like to go RV camping, but it can be used with any vehicle. Upgrading your cooler to a portable fridge will take your camping to the next level. By next level, I do mean closer to glamping. Having a real fridge can be awesome if you are on a long road trip or camping for extended periods of time.
Getting a portable fridge will require some investment. They actually run closer in price to the high-quality regular coolers. They usually have adapters that can be used to run on DC power or AC power. They are a good option if you are camping long term, but don't want to keep running to a store 30 miles away to buy some ice cubes that will melt in two days. They are exceptional in campgrounds that have electrical outlets. Consider looking into them if you think that they will fit your camping needs better than a regular cooler.
My Favorite Camping Gear