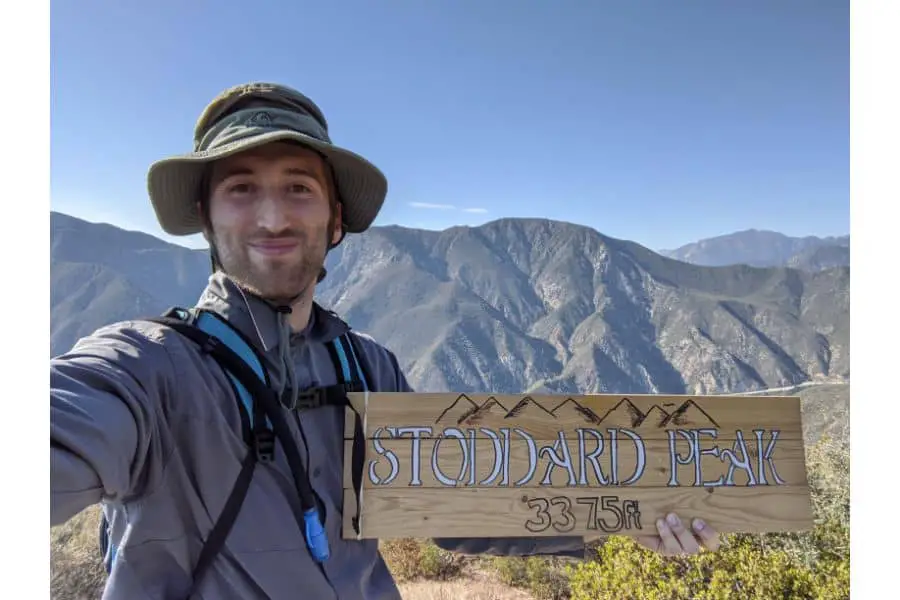 Trail Details:
One way distance: Approximately 2.95 miles.
Round trip distance: Approximately 5.9 miles.
Elevation: Approximately x,xxx feet.
Elevation Gain: Approximately 1,145 feet
Time Required: Approximately 3-4 hours round trip
Difficulty: Moderate-Difficult
Trail Type: Out and Back
Best Time To Go: Fall, Winter, Spring
Great For: A Good Workout
Permit Required?: Yes, For Parking
Pet-Friendly?: Yes
Trailhead Address: Angeles National Forest San Gabriel Mountains National Monument, Barrett Stoddard Truck Trail, Claremont, CA 91711
By the way, If you are in the market for some new hiking shoes, then you should click here

to see the ones I recommend on Amazon.
Getting There:
GPS directions can be used by using this address:

Angeles National Forest San Gabriel Mountains National Monument, Barrett Stoddard Truck Trail, Claremont, CA 91711

Whatever way you get there, you will need to go up Mt Baldy road. If you reach the actual town of Mt Baldy then you have gone too far. Look for "Mt. Baldy Wilderness Preserve" on Google maps when looking for the trailhead, the address above should already take you there.

When ascending up Mt. Baldy road, you will pass through a couple of tunnels, then you will go down a small hill. You will need to turn suddenly towards the bottom of the small hill onto the Barret Stoddard Road where you will be parking for this hike. You will need to make somewhat of a U-turn in order to make it down the small road and onto the parking lot.

The trailhead parking is shared with another small paved hiking trail that begins immediately to the right of the small parking lot. Do not go on that trail if you intend to hike Stoddard peak. I will discuss parking in more detail below.

Things To Keep In Mind:
When To Go:
Although Stoddard peak is a mountain hike, the elevations aren't all that high and so the weather is still on the warmer side here. According to the sign at the top of the peak, it is 3,375 feet at the top, which pales in comparison to many of the surrounding peaks. This makes this hike well suited for the "colder" season in Southern California such as Fall, Winter, and Spring. Summer would be brutally hot here unless you go very early in the morning.

Much of the hike follows a fire road that follows on the side of the mountain and so shade is nonexistent during the day for a majority of the hike, so keep that in mind when you are choosing when to go.

Parking: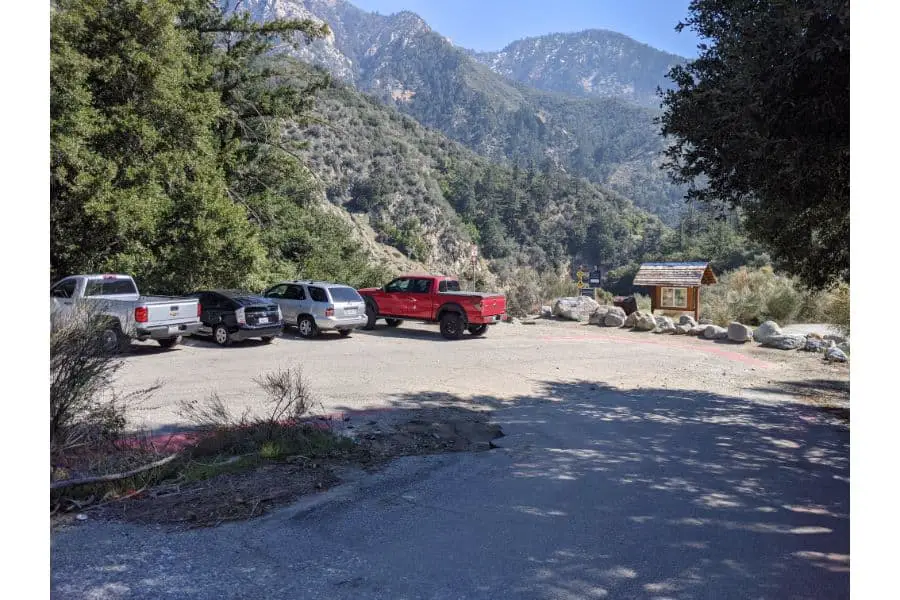 The parking lot can seem too small because it is shared with another shorter hike that follows the creek into the canyon, however, there is more dirt parking available if you go past the first parking lot and follow the dirt road which is Barret Stoddard Road. The road is very rocks and not very smooth so if you have a passenger vehicle it would be best to stay in the first paved parking lot if you can.

Also, be careful with where you park because many areas are posted "no parking" for fire lane reasons. The signs are clearly marked so you should be able to easily see where you can park. 
The no parking signs have arrows that point outward so in between the signs is where it is okay to park.

You will need either an Adventure Forest Pass or an America the Beautiful Pass when you park in either parking lot since you are parking in a National Forest. Adventure passes can be bought in many locations, and at the time of writing this, they are either $5 per day or $30 per year for the Los Angeles National Forest (I would just buy the annual, it pays for itself with just 6 visits). For more information on these passes, you can visit the U.S. Forest Service website here.

Alternatively, you can park using an America the Beautiful Pass, which is like the ultimate pass for federal recreation lands. At the time of writing, they are $80 for one year and more information on them can be found here.

Crowds:
The Stoddard Peak Trail enjoys much less traffic than many of the other hikes in the Mt Baldy area, even on weekends. You will most likely see fewer and fewer people as you hike out of the Mt Baldy Wilderness Preserve area. Most people that come to the area are just there to play by the creek and/or hike down the paved hiking path that follows the creek.

Little do they know that they are missing out on some spectacular views and sights that the Stoddard Peak hike has to offer. If you go on a particularly busy day you might have to park in the dirt parking lot located on Barret Stoddard road instead of the paved lot that you will see immediately when you turn off of Mt Baldy road.

Permits:
The only permits that you need for this hike are the parking passes provided you are just doing a day hike to Stoddard Peak or along the trail. The parking area is supposed to close at sunset, but there is no way of getting locked in or anything like that, so just be wary and call the Mt Baldy Visitor's center if you are planning to hike and not make it back until after sunset. You can reach the visitor's center by finding their contact information on their website here.

Pets:
Pets are allowed to use the hiking trail provided that they are kept on a leash no longer than 6 feet in length. They must also be wearing a collar with current tags from wherever they are registered. You can find more information on the Los Angeles National Forest pet policy on their website here.

Difficulty:
The Stoddard Peak Trail is rated as moderate to difficult depending on your level of fitness. The ascent is actually very gradual for most of the way until you get to the beginning of the actual peak. That is when you get off of the fire road and begin the last ascent to the actual peak where it can be classified as more difficult compared to the rest of the hike.

If you don't care about actually reaching the peak, the hike leading up until the final ascent to Stoddard Peak is a wonderful moderate hike with beautiful views and a very gradual elevation gain. Once you get to the actual peak part, the hike becomes more difficult and narrow as you will see next.

The Trail:
The hike can start out at the first parking lot if you wish (and if you can get a parking spot here). If you are interested in only hiking to Stoddard peak then do not go right of the parking lot past the boulders as you can see in the photo because that is a paved walking path that takes you down along the creek and into the canyon. That path will not get you to Stoddard Peak, instead, you will go left from this parking lot and hike up the dirt road that is Barret Stoddard road.

*Pay attention to the red marked on the pavement, which means no parking because it is a fire lane.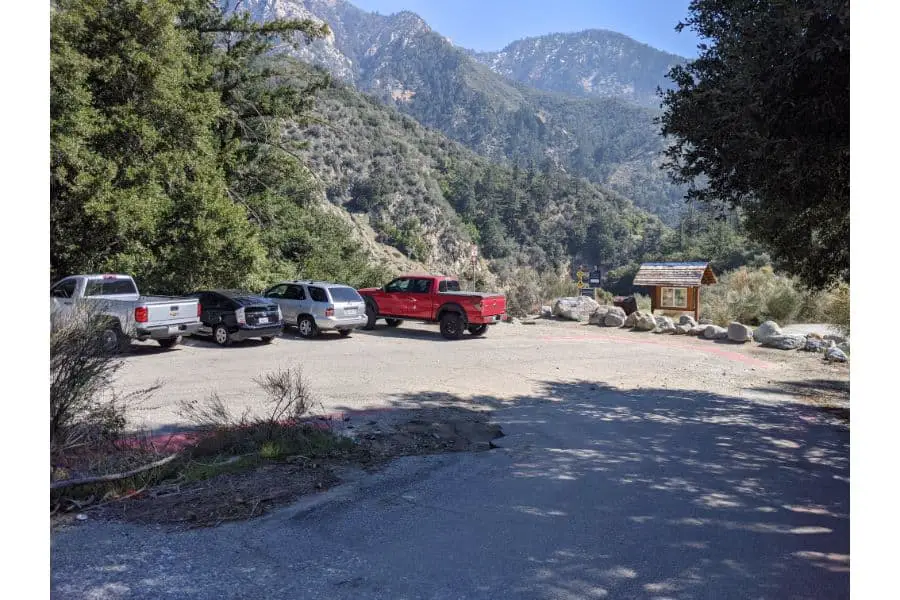 This is the road that you will be hiking up, you will cross a small bridge with a sign that warns you not to jump or dive into the creek which is crazy because the creek is so small and shallow, even in the Spring. I can't imagine someone actually trying to jump in from there, but the sign is up for some reason…

*Do not drive up this road because only people who live up the road are allowed to drive it. Hiking on foot is okay, but not driving.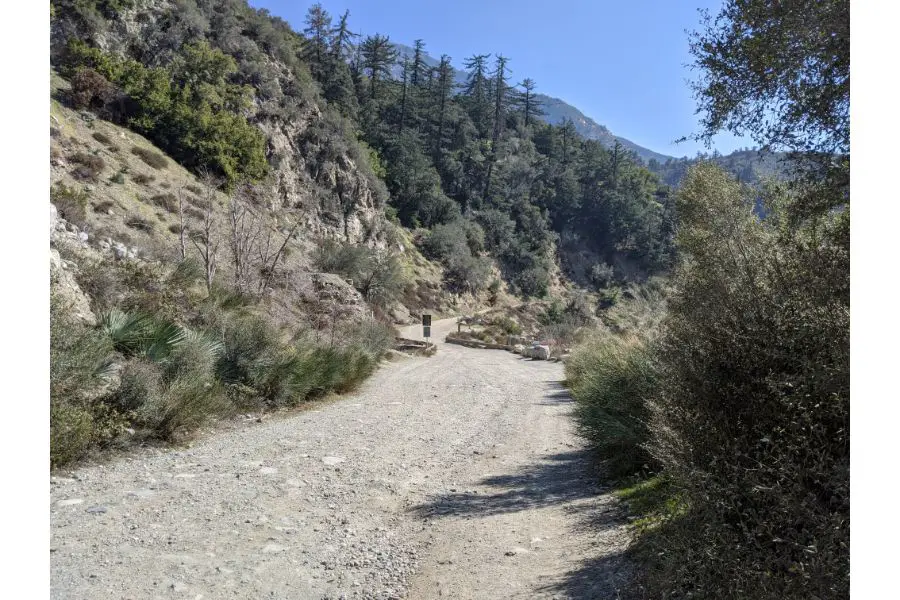 After following the road for a little bit you will come to a fork in the road that designates the private driveway for the residents living there. If you want to go to Stoddard peak then you need to stay LEFT at this fork and continue going up. If you go right you will be going through a mountain home neighborhood which is quite adorable. However, it is private property and you should always be cautious and extra courteous if you are going to explore there. The sign says foot traffic is okay, but you should never disturb the residents of any neighborhood.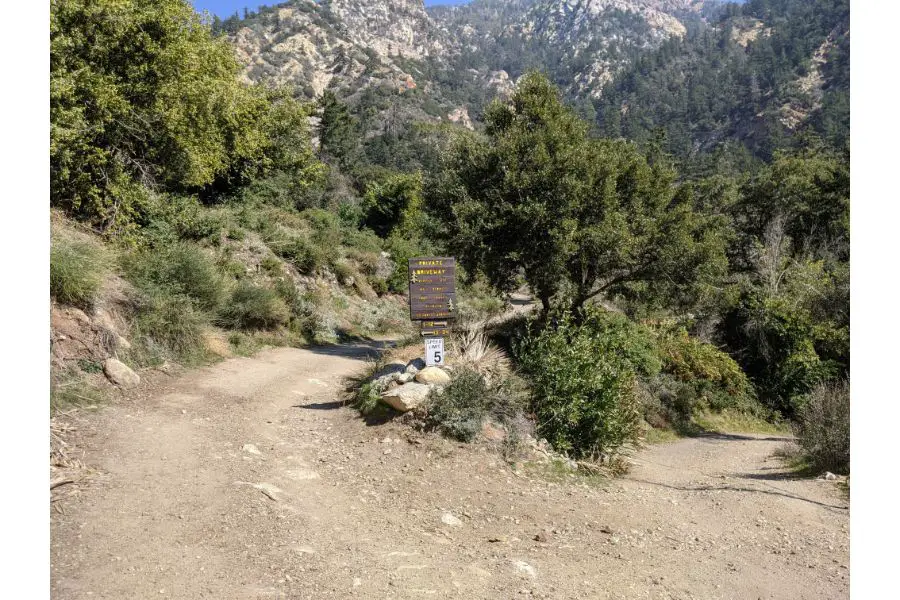 Even though you will stay right you will still get to see a glimpse of all the cute mountain homes. They are really cool to look at, especially because they are all different. Enjoy the views, I felt awkward taking just one picture of someone's house, but I had to show you a glimpse.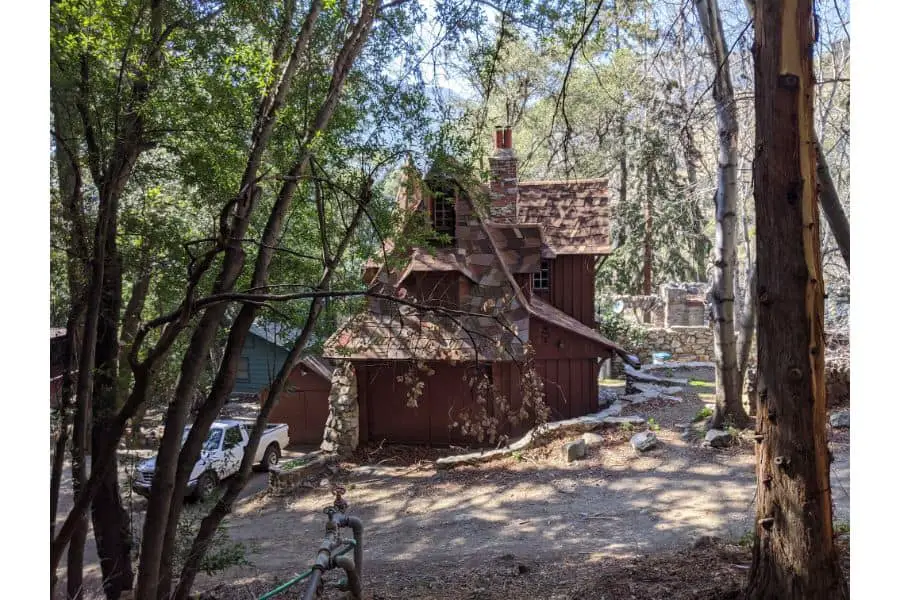 Continue up and through the mountain neighborhood and you will eventually reach the end of the private driveway road. It will most likely be closed so that unauthorized vehicles do not drive past it. You will need to go around the gate in order to continue the hike.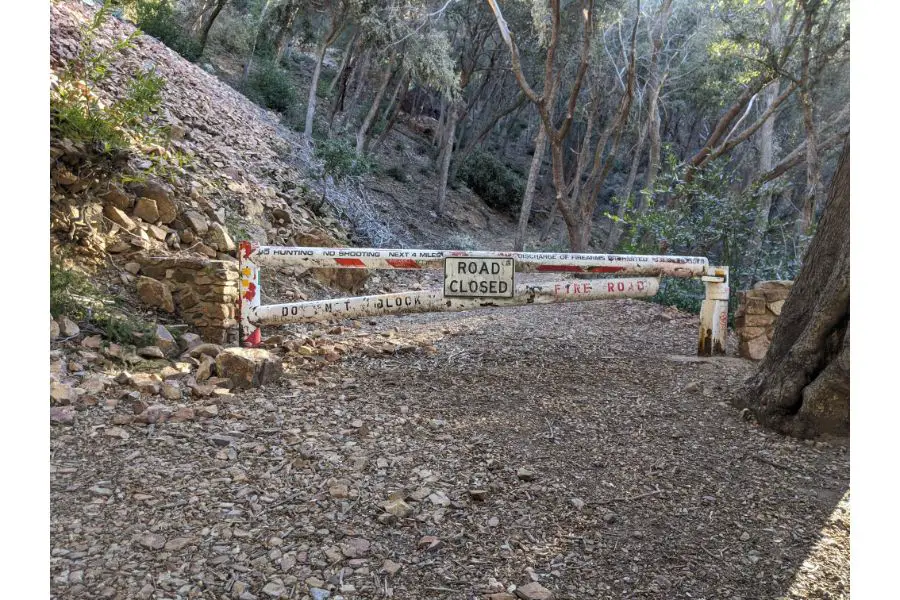 You will most likely see many downed trees the cross over the hiking trail. It has been like this every time I have personally done this hike. It is kinda fun having to maneuver yourself around these fallen trees in order to continue hiking. I hope you never hear a cracking sound while you are hiking it!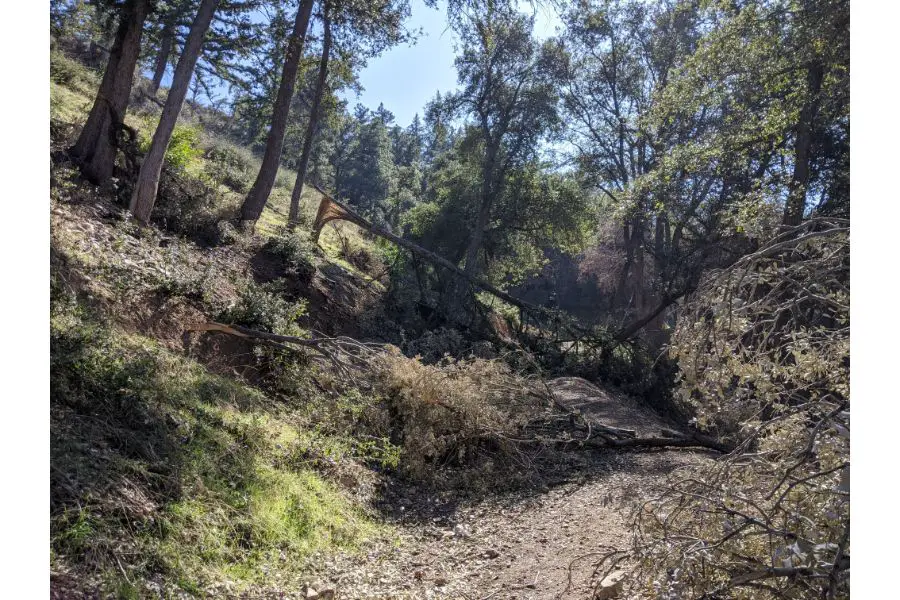 The hike from here is very self-explanatory and easy to follow. It's unlikely that you could ever go off-trail unless because there is a steep drop on your left and a steep mountain on your right for most of the way up. I will leave it up to you to get out there and see for yourself, but the views along the way are pretty gorgeous. I have always spotted deer on this hike (they run away quickly), but maybe I'm just lucky every time.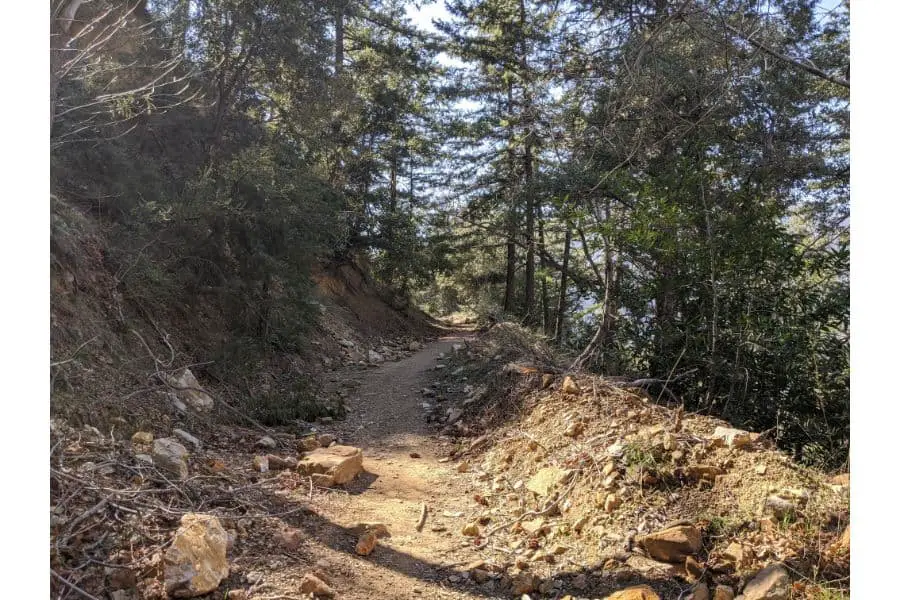 Eventually, you will come to the point where you must venture off of Barret Stoddard road and begin the small overgrown trail leading to the actual peak. It's VERY easy to miss it if you are not paying attention. Once you reach this point (in the photo below) you must go right towards the stack of rocks, it will look like its not a real trail, but it is.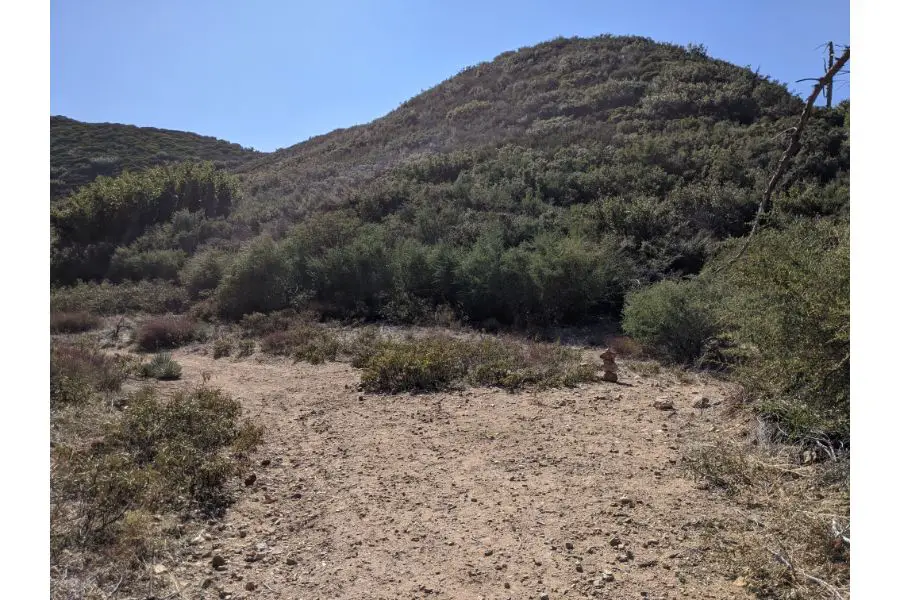 If you don't venture RIGHT towards the stack of rocks you will end up continuing on Barret Stoddard road for many many miles. The turn off point is very subtle, so pay attention. It helps to have some kind of mapping system open. I AllTrails and it worked just fine offline.
What was once a wide-open fire road hike becomes a small and overgrown trail leading to the peak. This is where it is best to have pants and a long sleeve shirt on because you will get prickly bushes that rub against you. This little path will wind around and around for a short while and you will probably doubt that you are going the right way, but you are. I want to leave it as a surprise for you, but here is a small glimpse of the path to the peak: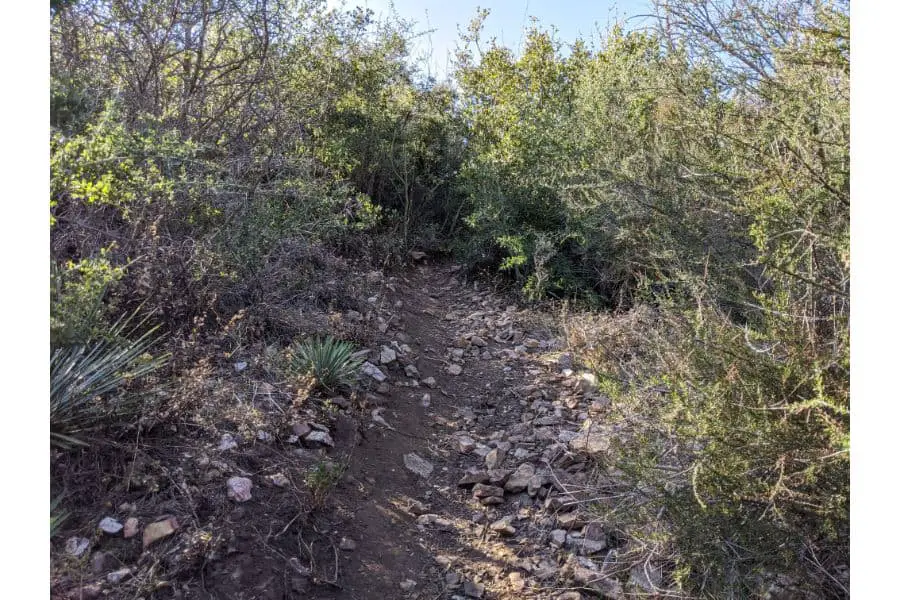 Finally, you will reach the actual peak eventually and it will be all worth it! I seriously recommend that you use hiking poles for this portion of the hike because it is steep and rocky. Check out the hiking poles that I use here. There should be a wooden sign that you can take pictures with, and an ammo can with weird things in there. Also, there is a notebook that many people sign and leave notes for future hikers to see.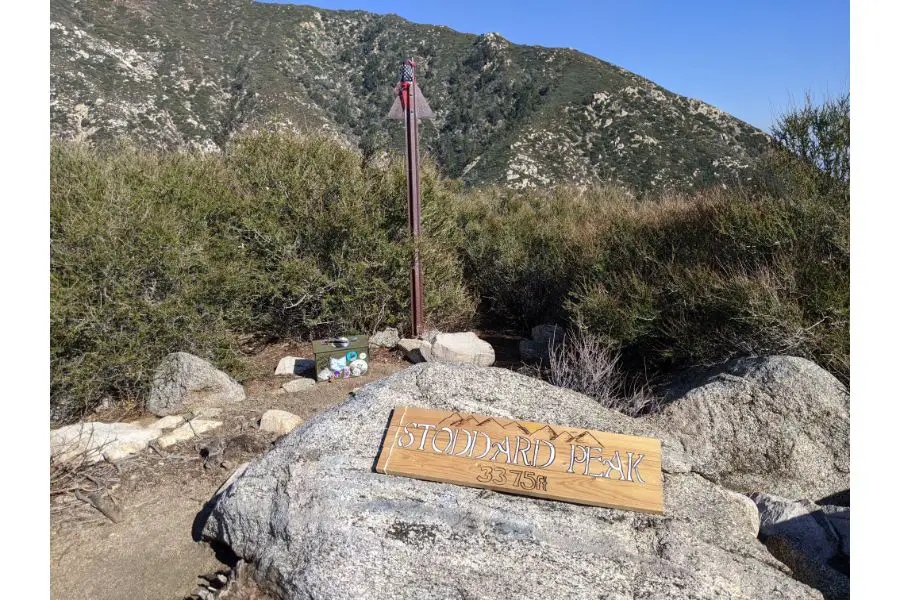 I hope that this quick guide to Stoddard Peak will help you make the trip yourself. I want you to know what you're doing when you get there, but I also want you to experience the magnificent views for yourself that is why I keep the picture count relatively low. Pictures never do a hike justice and so it is up to you to get out there, hike it yourself, and experience the beauty and wonders of Stoddard Peak!
P.S. Don't forget to look back and spot Mt. Baldy itself (the highest point in Los Angeles County)
My Favorite Camping Gear