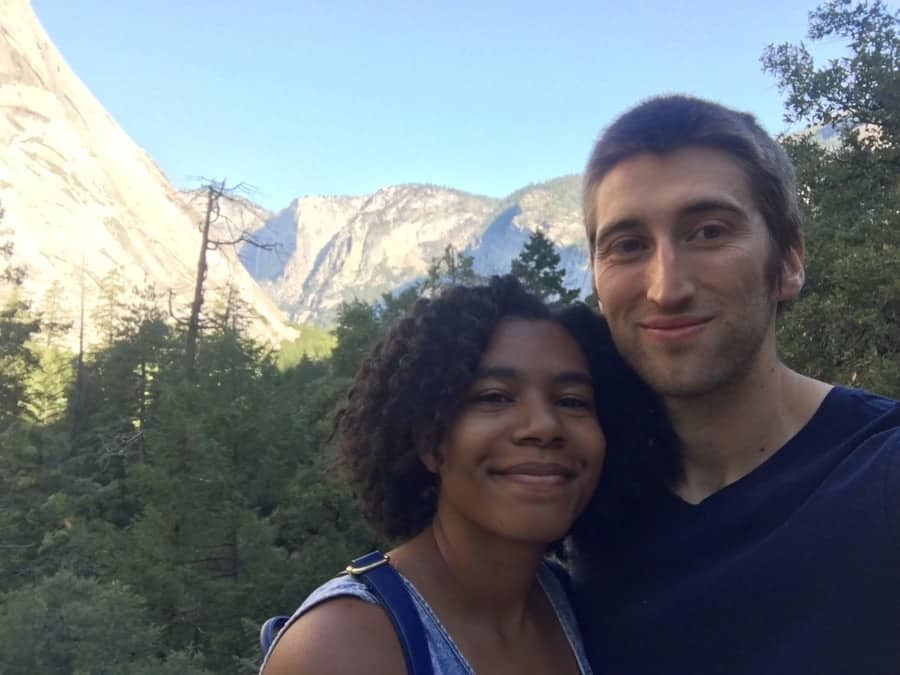 So, is camping romantic? Camping can be a very romantic occasion, it just takes a little bit of effort. A nice camping trip can be an easy way to get away from it all and focus on each other.
Here are 18 ways you can increase romance on your next camping trip.
1. Bring a surprise gift.
2. Make your bed feel like a real bed.
3. Stay up late and enjoy the stars.
4. Watch the sunset with a beautiful view.
5. Cook a meal that would make a chef happy.
6. Consider using a double sleeping bag.
7. String some lights to create a romantic atmosphere.
8. Upgrade your tent to something cozier.
9. Do a daytime activity together.
10. Have a picnic.
11. Bring some wine or champagne.
12. Make s'mores.
13. Get a loveseat camping chair.
14. Consider dispersed camping for some alone time.
15. Lose the electronics.
16. Try a unique camping experience with Airbnb.
17. Take instant pictures
18. Just talk.
By the way, If you are in the market for a new tent, then you should click here to see the one I recommend on Amazon.
1. Bring a surprise gift.
Surprises, in general, can be romantic in and of themselves. Surprising your partner with a gift on your camping trip can make them happy for the entire trip. Even if there is no special occasion, they will enjoy the fact that you took the time to not only plan the camping trip, but also get them something. It doesn't have to be anything big or expensive, most of the time it is just the thought that counts more than the item. You know your partner the best and know what they want or like.

Amazon.com

(link to their website) offers ways to have discrete packaging and there are ways to hide certain orders if you share an account. You can also have your package delivered at a pickup location instead of your house if you want the best odds for keeping it a secret. Odds are that you can find a nice gift on Amazon for your partner. Bonus points if the camping trip is a surprise and you bring a surprise gift!

2. Make your bed feel like a real bed.
What do we usually do on a camping trip? We have an old cheap air mattress and we just throw our sleeping bags on top of it and maybe a pillow or two. Let's take things up a notch and make our camping bed feel as close as we can get it to a real bed. There are several ways that we can do this. First things first, we need to get a good quality air mattress like the one I use

. A comfortable high-quality air mattress makes a huge difference! You can only do so much with a cheap air mattress.

The next thing you are going to want to do to make the best bed is to actually bring regular blankets, sheets, and pillows. Forget the sleeping bag and inflatable pillows for now. Make your air mattress into a real bed by making it a real bed, it really sets the mood. You will need at least a fitted sheet, a flat sheet, two pillow sheets, two pillows, and a comforter. Decorative pillows look nice too. If you don't want to tear up your bed at home then you can check Amazon for some nice bedding sets

at great prices.

After you have the basics down to making it feel like a real bed, you could take it to the next level by adding a mattress topper. A mattress topper can make an air bed feel like the real thing. Having a good air mattress is a start, but putting a memory foam mattress topper like this one from Amazon will take the romance to the next level while camping. It doesn't get much more luxurious than that. 
3. Stay up late and enjoy the stars.
If you are used to living in a city then you might know that light pollution causes the sky to not be so starry. If you go out camping, you get the delight of a full night's sky (depending on where you go of course). Some of the best places to go camping are places where there is little civilization and therefore little light pollution. 

The best time to see the stars will depend on a variety of factors. The moon is one factor, if the moon is too bright (aka full) then its light could impede your view of the stars. The best season to go stargazing is unfortunately not in summer (because the days are longer). You can still see plenty of stars in the middle of the night in summer. Don't fret too much on how well the stars will be on any particular night for if you go camping away from civilization, it's a good chance that you will be amazed by the stars you get to see.

4. Watch the sunset with a beautiful view.
Just as romantic as star gazing, watching the sunset with your partner can be a great time. If you are camping then you can do some research beforehand to see if there are any good places to go to see the sunset. It might be a little more difficult if you are in the mountains. Typically you would have to be near the top of the mountain or near the end of it.

There are many desert settings that offer fantastic sunsets. Of course, there is the classic beach sunset that you could do if you are camping near the coast. The point is, things get beautiful at sunset and it can be a romantic way to spend the end of the day with your partner

5. Cook a meal that would make a chef happy.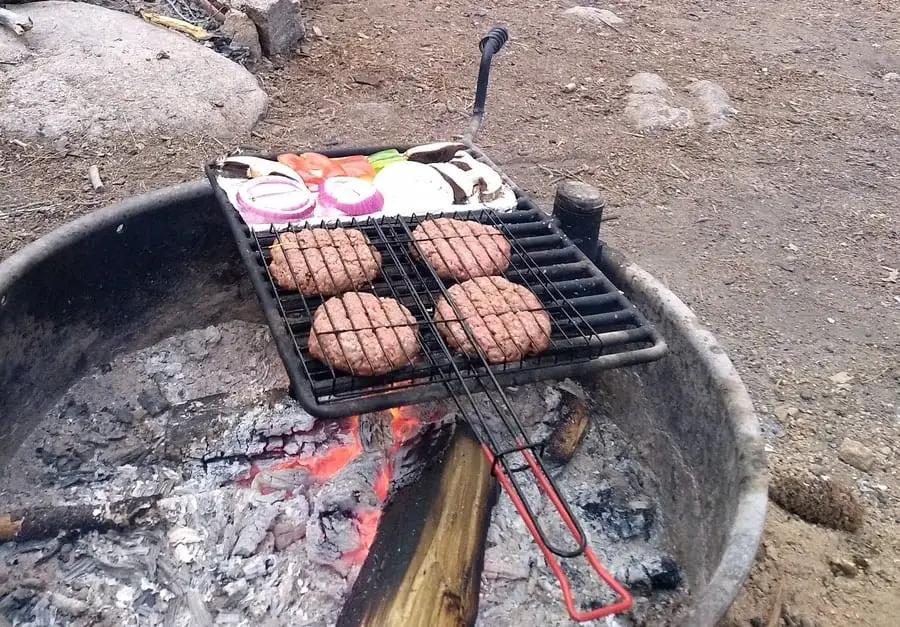 Just because you are camping does not mean that you have to suffer and eat canned chili. There are numerous recipes and meal ideas online that you can find for your camping trip. Cooking a gourmet meal for your partner is a very romantic thing to do. Going camping and cooking a gourmet meal is bonus points.

I'm not much of a chef myself, but one of my favorite things to cook up during a camping trip is burgers over a campfire with grilled onions and grilled peppers. One of the best contraptions I have ever seen and used while camping is a "broiler grill basket" like this one

from Amazon. What is does is let you put meats or vegetables and easily flip it back and forth. It is perfect for cooking over a campfire, especially for burgers, which is my specialty! Food is one of the best ways to someone's heart, so use it

6. Consider using a double sleeping bag.
I talked earlier about making your camping bed resemble a nice comfy bed at home and it's an awesome thing to do, and you should do it if you can. Sometimes though..it's too cold for just blankets. If it's too cold outside for just regular blankets then you are going to need a sleeping bag. If you have two single sleeping bags then that is cool and all, but not very romantic.

Introducing the double sleeping bag, it's like a sleeping bag, but bigger. It fits two people and it is very warm in there. If you want to be warm, cozy, and cuddle up then you need to bring a double sleeping bag like this

one from Amazon. Inside this thing, you can be nice and toasty and you are able to cuddle up just like you would with a regular comforter (kinda) it doesn't get much more romantic than this.

7. String some lights to create a romantic atmosphere.
It's amazing what a couple of lights can do for the atmosphere while camping. Stringing a couple of lights can make you feel more at home. Lights are a modern invention that gives us a sense of safety. I like these little LED lanterns from Coleman

they have on Amazon. You could get creative with any lights really, but it is best that they are battery powered since you will be camping.

8. Upgrade your tent to something cozier.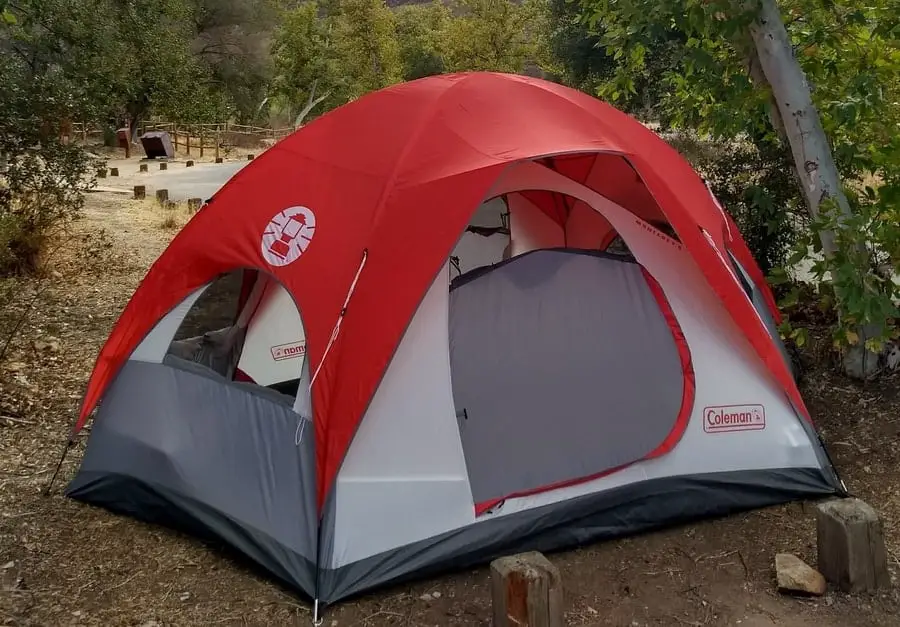 I like my small tent, but it doesn't exactly give off a romantic vibe. Getting a larger tent that you can walk around in can make camping feel "homier" and therefore increase the romance on your next camping trip. I also have a large 8 person tent for just those occasions when I want to present more comfort and romance.

One tent that I have seen a lot while camping that I have been really jealous of is the Wenzel 8 Person Klondike Tent

that they have on Amazon. This tent is huge and it has a built-in screen room that is like a real porch. It's pretty cool, I also adore the windows because they look like house windows. Get a larger tent if you want a romantic area when you go camping, getting a leg cramp in a small tent is not sexy.

9. Do a daytime activity together.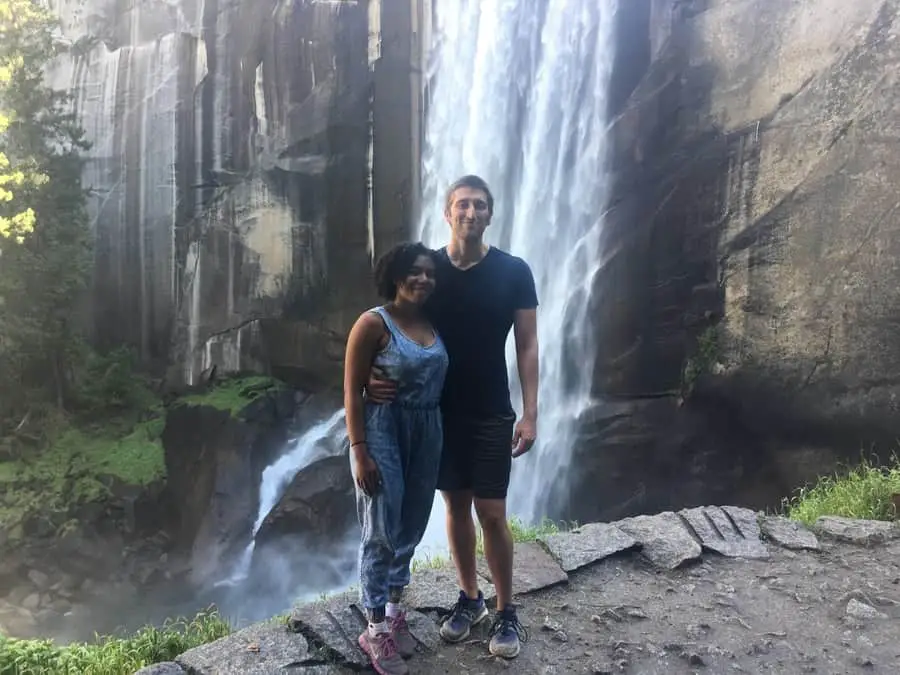 Okay, so this tip is a little broader. It can be all-encompassing because just spending time together is going to spark some romance. Agree on activity and get out there and do it. While you are camping there are numerous activities you could be doing. You could go on a hike, you could go fishing, you could go swimming, you could go birdwatching, you could play a sport, you could go kayaking, you could do anything really. Find something you both would enjoy doing and occupy your time together, very romantic.

10. Have a picnic.
A picnic is a great way to induce some romance. When you are camping there are often many opportunities for finding a scenic location to sit down and have a picnic. My go-to foods for a picnic are sandwiches and fruit salad, but I am a simple man. Get as creative as you would like too, there are tons of picnic recipe ideas online.

Bringing a blanket and sitting down under some shade is a great way to have a picnic, but if you are camping in an established campground then odds are that there are some designated picnic areas nearby with tables and trash bins.

11. Bring some wine or champagne.
Alcohol can be a great way to up your romance while on a camping trip. The secret is to not drink too much of it because then things get sloppy and not as romantic. Remember to bring your partner's favorite drink, not just your own. Wine and/or Champagne is a great beverage of choice because Wine is known as a symbol of love and Champagne is known as a symbol of celebration.

12. Make s'mores.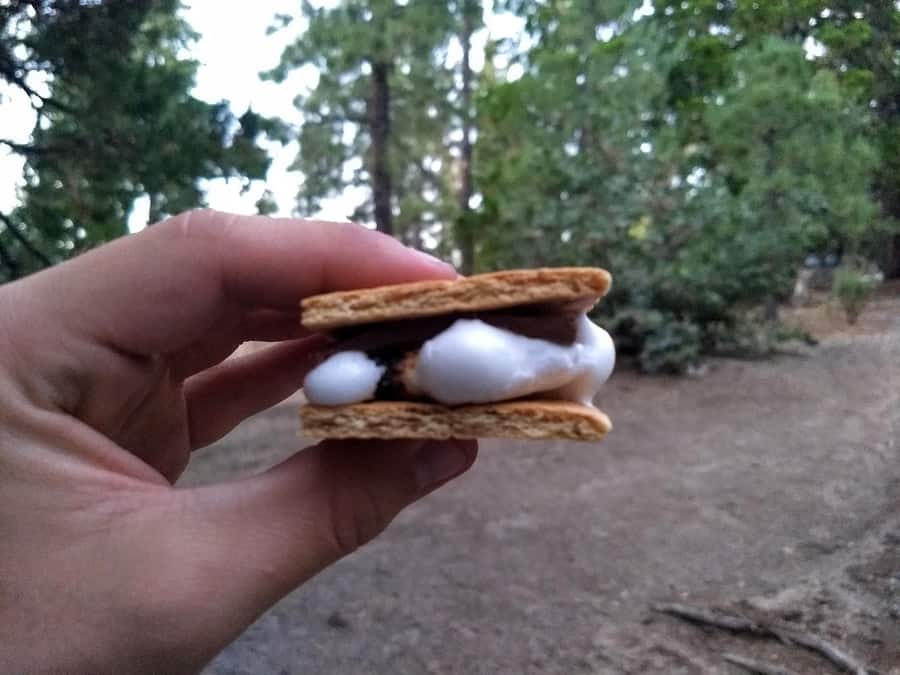 S'mores are a classic camping dessert that will probably never die out. Most people like s'mores and if you and your partner are one of those people then you should make some yourself. You probably already know how to make them but just in case you forgot, all you need is graham crackers, chocolate bars, and large marshmallows. Simply roast a marshmallow and place it with a piece of chocolate between two graham crackers. My favorite is using dark chocolate!

13. Get a loveseat camping chair.
A loveseat camping chair can be a great way to relax together and snuggle up. I like the OmniCore Designs Folding Double Camp Chair

that you can get on Amazon. With a double loveseat, you can cuddle up under a blanket next to the fire on a cold night or lounge around under a tree together during the day. It's much more romantic than simply sitting in separate chairs, it forces you to be close together, and sometimes that's nice.

14. Consider dispersed camping for some alone time.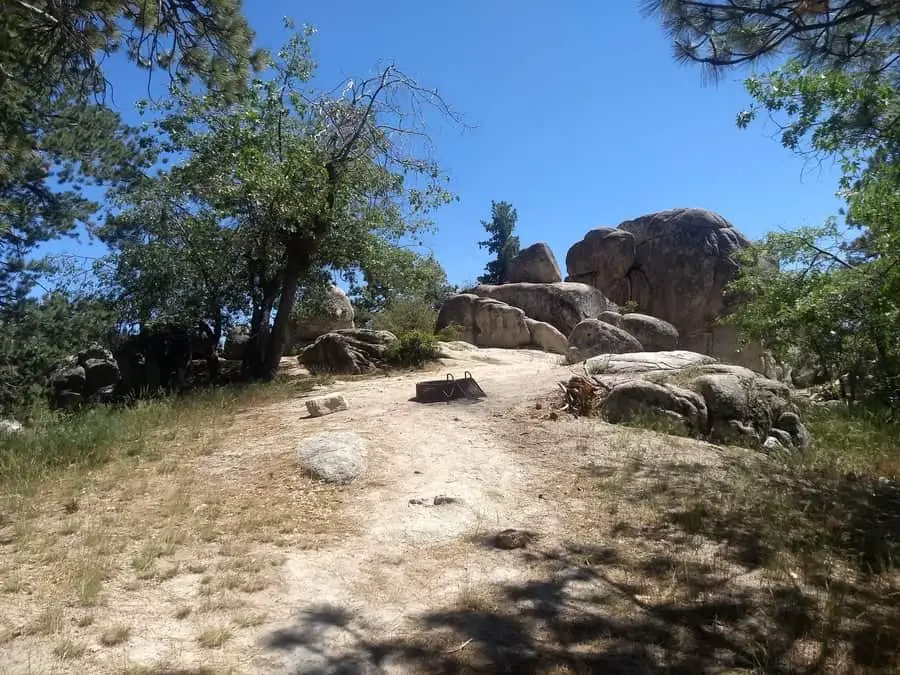 As much as I love camping in regular campgrounds, sometimes you just want to be alone,  like for real. Dispersed camping is simply camping outside of a developed campground. You can do it on most federally held land for free. I talk a lot about primitive camping in this article. Primitive and dispersed camping are practically the same thing. You should give dispersed camping a try if you want some real alone time while camping.

15. Lose the electronics.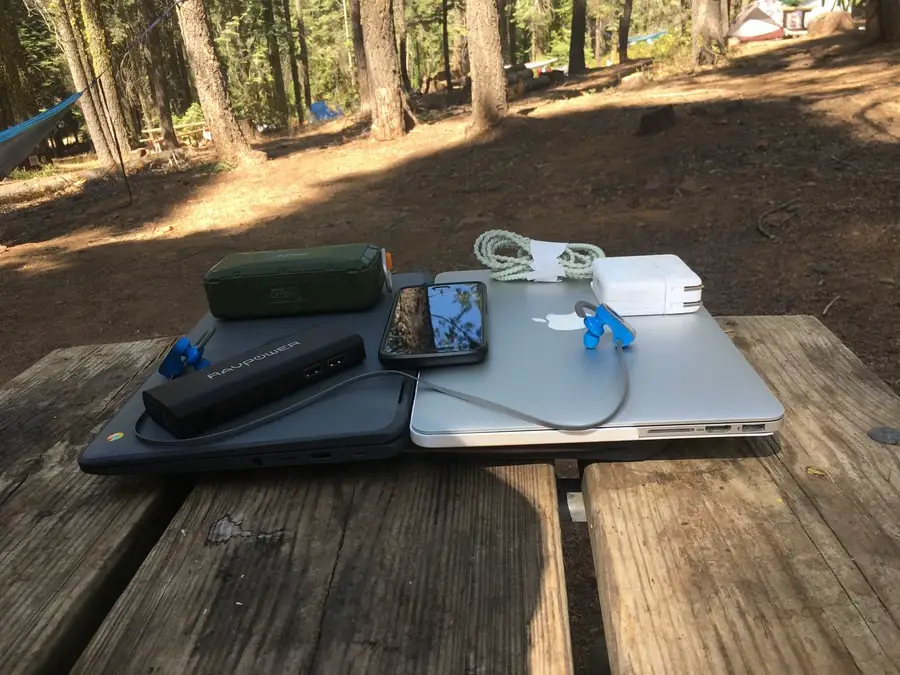 You probably won't have any signal anyway, but still, just put away all electronics for the duration of the trip. Phones, tablets, laptops, and other electronics are really distracting and what you need on a camping trip to keep it romantic is each other's undivided attention. There are many benefits to occasionally unplugging all electronics and not being connected every once and a while, and camping is an opportunity for you to take advantage of those benefits together.

16. Try a unique camping experience with Airbnb.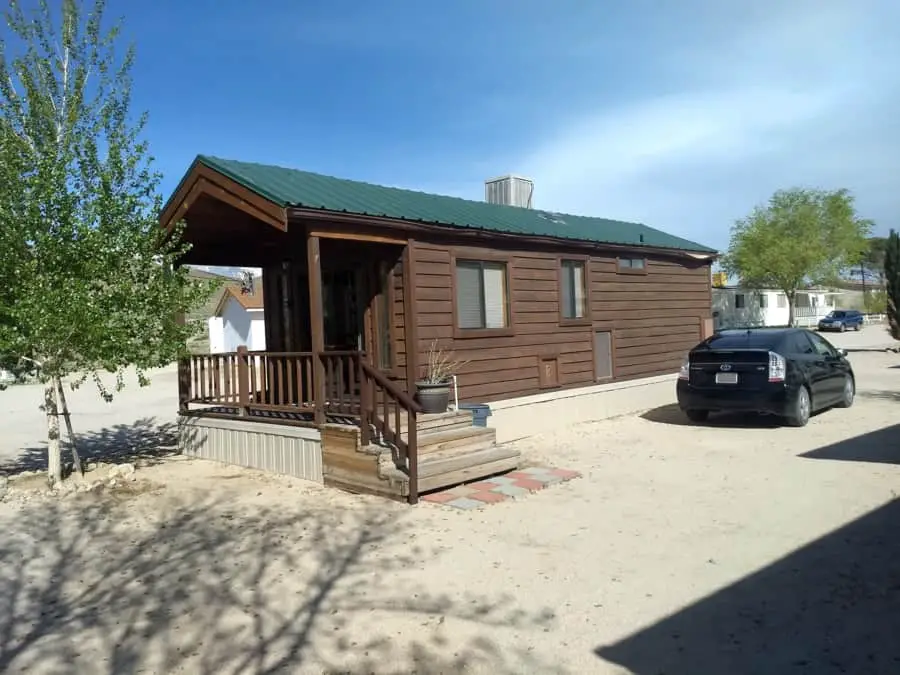 Camping is awesome but in recent times a new kind of camping experience has begun to emerge on Airbnb. You probably have heard about Airbnb, but just in case you didn't it is basically a community that allows people to share their own homes and spaces to travelers mostly on a short term basis. What a lot of people might not know or realize is that Airbnb offers lots of unique camping experiences around the world. Check out Airbnb on their website

and browse some neat camping opportunities near you.

17. Take instant pictures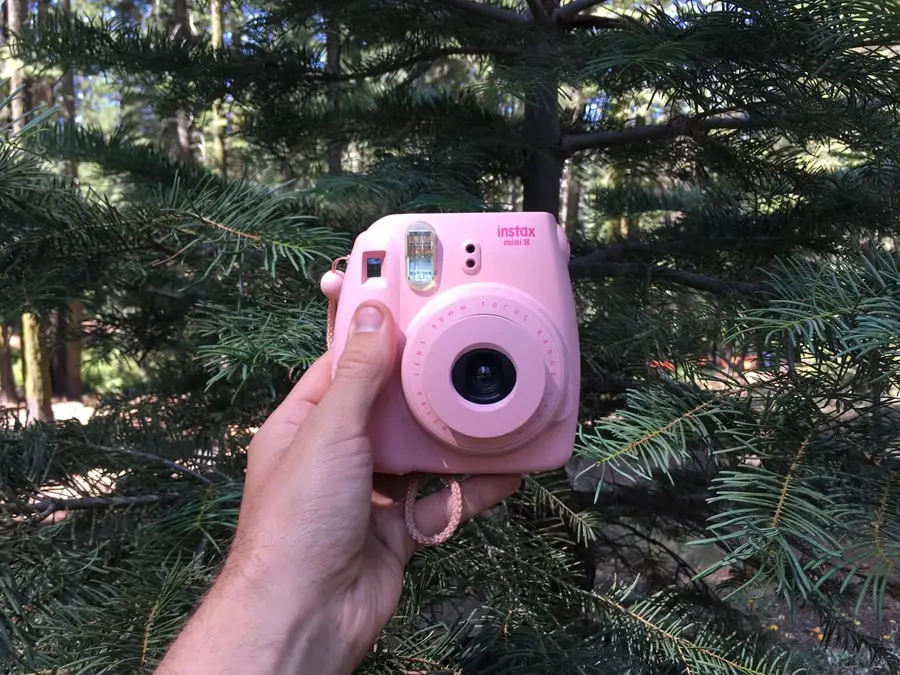 Regular pictures are awesome, but instant pictures are even better. With regular pictures, you can take a lot of them and forget about them, but there is something special about real pictures. Taking instant pictures makes you capture a moment and have it in your hands minutes later. I got my wife a Fujifilm Instax Mini 9 Instant Camera

(link to Amazon) and we love it. I think you will like it too, you don't get unlimited tries as you would with your phone camera so you have to make every shot count if you want a good photo, it's fun!

18. Just talk.
Sometimes the biggest thing that we really need is to just talk. Maybe you are too busy back home to have any real meaningful conversations. There is nothing to distract you when you are camping. Try to learn something new about each other. Share a story, tell each other about the day that you had yesterday, just talk. Talking things through could help you reconnect and camping gives you that opportunity because you are free from distractions and worries.
My Favorite Camping Gear