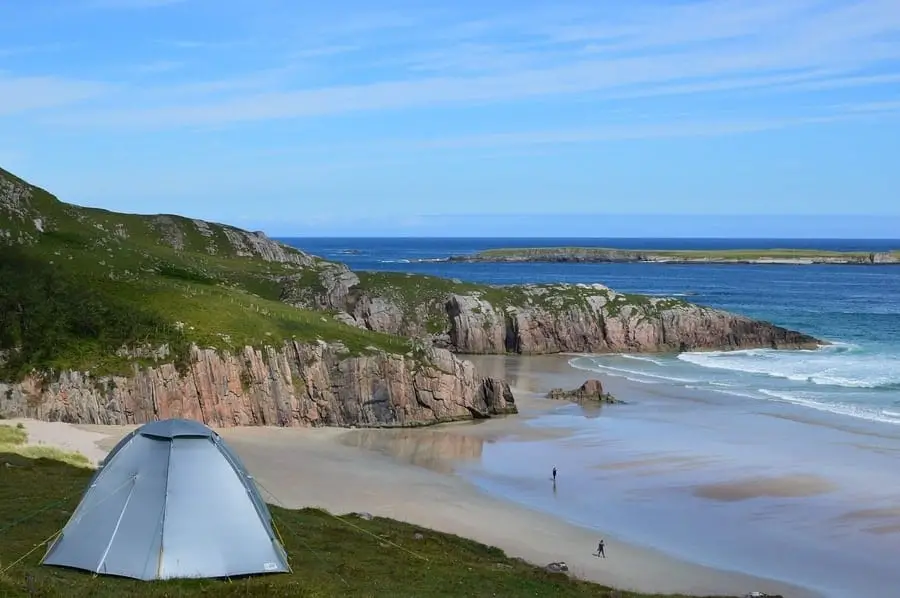 Camping on the beach is one of the best camping trips you can have. California has a lot of beaches, and you might have wondered if you can legally camp on some of the beaches in California. I have often wondered the same thing and so I did some in-depth research to find out.

So, is camping on the beach legal in California? Camping directly on the beach in most California beaches is illegal. There are a select few beaches in Calfornia that allow camping directly on the beach, but most beach campgrounds are not directly on the beach.

Technically, all of the California coastlines are supposed to be opened to the public. Therefore, all beaches are supposed to be public beaches, and with public property comes common public rules. On most beaches, it is illegal to be there after a certain time at night and before a certain time in the morning. It is also illegal in most circumstances to sleep or camp overnight on most beaches in the state of California.
By the way, If you are in the market for a new tent, then you should click here

to see the one I recommend on Amazon.

Why Is Camping So Restricted On California Beaches?
There are many reasons why camping on the beach is restricted in California. The primary reason for this is in order to protect the environment. The beaches in California are heavily protected, especially since there are a lot of people living and visiting the state. Beaches and the ocean, in general, are actually pretty fragile ecosystems.

Laws are also set in place for your protection since the tide can change dramatically it could be dangerous to sleep in a tent so close to the waves. If you have ever gotten to the beach and have seen how the sand is still damp several feet up from the shoreline then you should know how drastic the tide change can be.

Additionally, most beaches in California outside of the already developed campground are just not set up to handle people camping overnight on them. Many of the beaches already fill up to the brim during the day in the warmer months. Imagine if camping was legal on all of these beaches, they would never be empty! And so there are laws in most beach areas that strictly prohibit overnight camping or usage of beaches in California.

If you were thinking about getting around this by sleeping in a vehicle in the parking lot of a beach then think again because this too is illegal in most places. Pretty much all beach cities and counties have enacted ordinances that prohibit sleeping in cars in public places such as at the beach. Luckily, there are some beaches in California that allow you to sleep on the sand and a few that allow you to camp close to the beach.
The rules might be different in other states though. If you are interested in beach camping throughout the United States then you need to click here to read another article that I wrote about beach camping in ALL of the ocean states!

What Are Some Beaches You Can Camp Directly On The Beach In California?
Oceano Dunes SVRA
Oceano Dunes State Vehicular Recreation Area (SVRA) is the only California State Park that allows you to drive onto the beach itself. It is a popular area for off-road driving and off-highway vehicles (OHVs). Oceano Dunes is located south of Pismo Beach in San Luis Obispo County. It is recommended that you make reservations for camping here ahead of time by visiting the Reserve California

website.

Santa Rosa Island
Santa Rosa Island is part of the Channel Island National Park. While all of the Channel Islands allow some kind of camping, Santa Rosa is unique because it allows you to go backcountry camping on some of its remote beaches. Backcountry camping on the beach on Santa Rosa Island can be done from August through December. For more information about beach camping on the island, visit the official National Park Service website here.

Catalina Island
Catalina Island offers several opportunities for beach camping. Most of these beach camping spots are accessible only by boat and/or kayak. Some beach camping spots can be located by taking the "safari bus" on the island. This website

has one of the best resources for finding a beach campground on Catalina Island since there is a map of all the campgrounds. Most of the campgrounds on Catalina Island require advanced reservations and they fill up quickly, plan your trip in advance if you can.

Thornhill Broome Beach
Thornhill Broom is located in Point Mugu State Park. It is one of the rare campgrounds in California where you can pitch a tent in the sand on the beach overnight legally. The set-up of the campground is like a straight line that is parallel to the beach. You technically park on the road right next to the sand but can set up your tent in the sand next to the picnic table. This campground is a bit north of Malibu, CA, and reservations are made on Reserve California. More information can be found on the California State Park website

.

Lost Coast Trail
The Lost Coast Trail is an intense hike in Northern California that is located in a really remote region. The area is managed by the Bureau of Land Management (BLM). The BLM

keeps camping pretty unrestricted so camping is allowed directly on the beaches, but you do need to be careful with the changing tide. This is not a beach camping opportunity to be taken lightly because of how strenuous and remote this place really is. You will need a permit to hike this trail and I recommend you read a good hiking guide such as this one

before you go. If you want to learn more about camping on BLM land then click here to read my full guide to camping on BLM land!

Point Reyes National Seashore
Point Reyes National Seashore is just a short drive north of San Francisco. There are no traditional car campgrounds here, but instead, it offers various backcountry camping experiences. Some of the backcountry campsites can be reached by hiking in, biking in, or boating in. For more information on backcountry camping in Point Reyes, you can review this

page on the National Park Service website.

What Are Some Beaches You Can Camp Close To The Beach In Calfornia?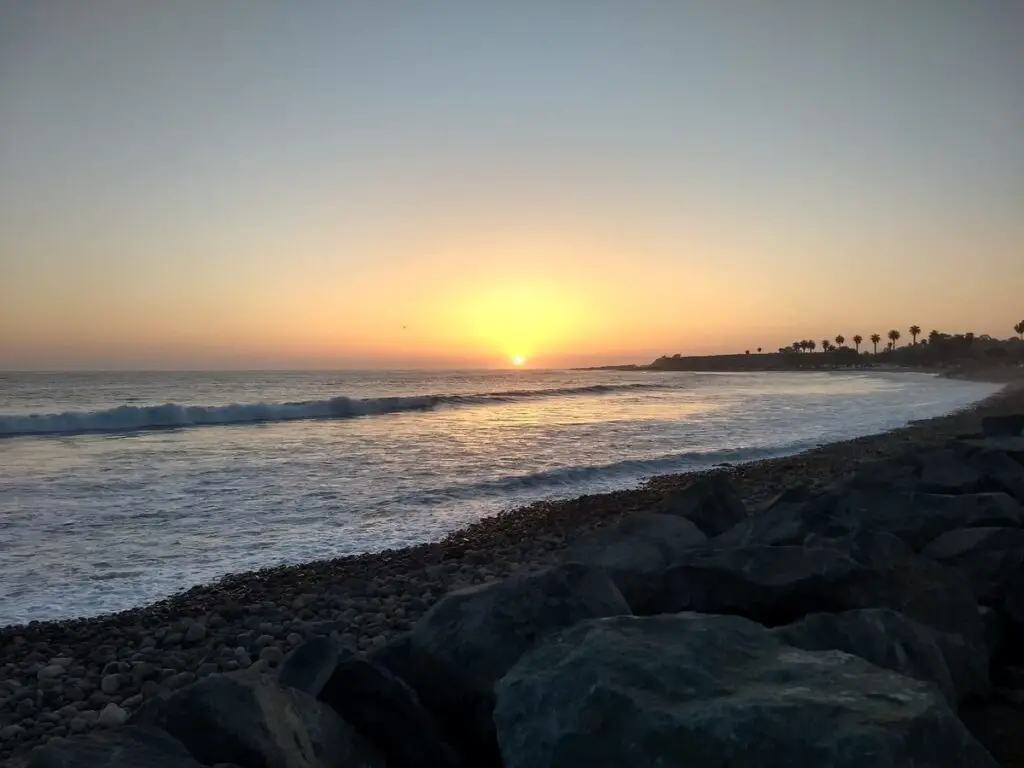 Carpinteria State Beach
Carpinteria State Beach is south of Santa Barbara and north of Ventura. Some of the premium campsites get you right next to the beach, while the others are still a very short walk. Being part of the California State Park system, reservations for the campgrounds on the beach must be made well in advance. Here

is the website for Carpinteria State Beach.

Moro Campground – Crystal Cove
Moro Campground is located in Crystal Cove State Park which is in Orange County. The campground is on a cliff overlooking the beach. Like pretty much every other beach campground you will need to make your reservations online in advance. Here

is the official website for the Moro campground.

San Onofre State Beach
San Onofre State Beach has a campground called San Onofre Bluffs Campground. The campground is located in San Diego County north of Oceanside. Do not get the "Bluffs" campground confused with "San Mateo" since the Mateo campground is actually quite far from the beach itself. Make your reservations online well ahead of time if you want to get a campsite, or else you might have to settle for San Mateo as I did.

For a ton of more ideas on camping near the beaches in California, you can see this

website called "California Beaches" which features a full list.

Related Questions:
Can you pitch a tent on a beach in California?
You can pitch a tent on the beach in California on most beaches during the day. Day use of tents on beaches in Calfornia is generally okay but overnight use outside of designated campsites is prohibited.

Is wild camping legal in California?
Wild camping is legal on most public land in California. There are restrictions on wild camping such as boundaries, stay limits, etc. Common places to find wild camping in California include National Forests, BLM Land, and some National Parks.
My Favorite Camping Gear