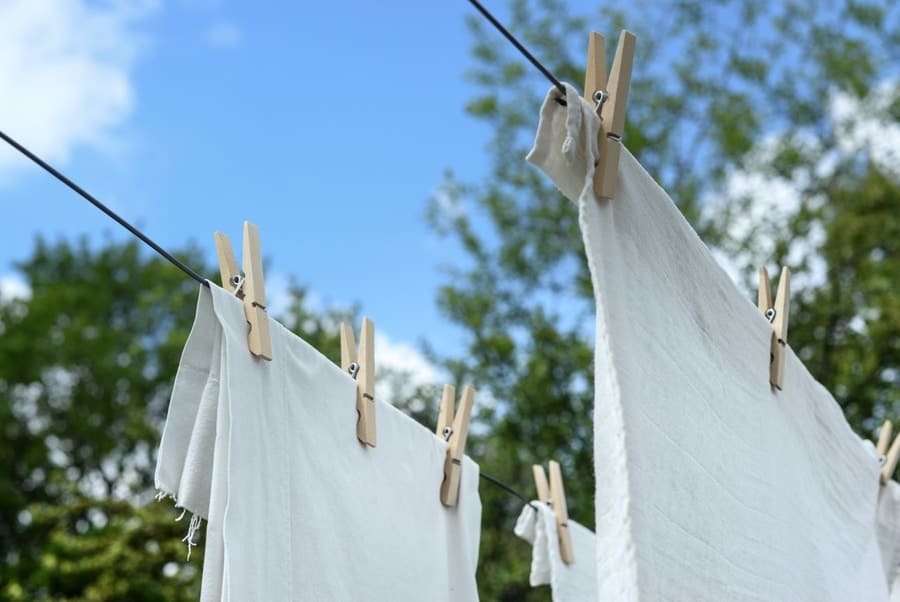 Usually, my advice would be to bring enough clothes on your camping trip so that you do not need to wash them. However, this isn't always possible for everyone and every camping situation.

So, how do you wash clothes while camping? Here are 13 brilliant ideas and tips for how to wash clothes while camping, plus a few ways how not to.

Use a Trash Bag
Handwash Using a Storage Bin
Try Using A Scrubba Was Bag
Handwash In A Collapsible Bucket
Plunger & 5-Gallon Bucket
Portable Washing Machine
Book A Campsite With Laundry Facilities
Find a Laundromat
Use Eco-Friendly, Biodegradeable Detergent
Dispose of Grey Water Properly
Don't Wash Your Clothes In a Natural Water Source
Don't Wash In The Campground Bathroom Sinks!
Don't Wash With The Campground Water Spigots!

Keep reading to find out more information about how to wash your clothes and how not to when you are camping.
By the way, If you are in the market for some new hiking shoes, then you should click here

to see the ones I recommend on Amazon.
1. Use a Trash Bag
Clean trash bags are one of the most versatile pieces of equipment you can have with you on a camping trip. I recently wrote an article featuring trash bags as being able to blow up an air mattress and now I am telling you that you can wash your clothes in one.
Well, it's true. A nice study trash bag is the perfect contraption for washing your clothes when you are camping if you don't have many other options. Most likely you brought some trash bags with you already so this method can be used in a pinch.
Besides the trash bag itself, the only other things you need is warm water and some biodegradable, eco-friendly detergent. I would recommend that you use a scentless trash bag so that the scents do not mix into something funky. Also, I prefer powdered detergent because it is lighter and spills are easier to clean up than with liquid.
Washing your clothes in a trash bag is super simple and I'm sure you can already guess how to do it. Just in case though, I will spell it out here. Use two different trash bags, one for soap and water, and the other with just water for the rinse cycle.
First, put your dirty clothes into one of the trash bags, and add some warm water. Add enough warm water so that the clothes are submerged, but not too much to where it would be too heavy to move around since you will be powering this washer.
There are many different ways that you can warm up the water for your trash bag washer. If you need some ideas then I recommend you read this post that I wrote with 13 different ways you can boil water while camping. You don't need your water boiling to wash your clothes, but warm enough to remove stains and dirt.
After you have your clothes and water in the bag, add a little bit of detergent. You will need less than you think so don't add too much unless your clothes are heavily soiled. Close the trash bag and shake the bag around vigorously. Have some fun with it like pretending you are a washing machine mimicking the cycles.
After you are satisfied with your wash cycle, transfer the clothes to a different trash bag with just water and no detergent. Close and shake some more because now you are in the rinse cycle. Once finished you can hang your clean clothes up to dry. Congratulations, you have just washed your clothes in a trash bag. You have now achieved greatness.
2. Handwash Using a Storage Bin
You have probably guessed this beforehand, but most of the ways you can wash your clothes while camping involves using your hands and hard work. Using your storage bins is another way for you to wash your clothes and utilize something that you already have with you.
Washing your clothes in a storage bin is a lot like washing clothes in any other container full of water. The first thing you need to do is empty out two of your storage bins and rinse them out so that they are clean enough to be your washing machine. You need two because one is going to have soap and water, and the other is going to have just water.
You don't need to fill up the storage bins all the way up, you only need enough water to where you can completely submerge the clothing that you are washing. I would recommend that you put some regular water in there, and then boil some water on the side to mix into the bin so that the water becomes warm. I linked to a helpful article on 13 ways to boil water a little bit further up the page, but here it is again in case you need it.
Once you have warm water in both of the bins, add some detergent to one of them and begin washing your clothes first in soapy water and then rinsing in the regular water. Hang your clothes up to dry using a nice clothesline and you are good to go. Dispose of your greywater properly. If you need to know the proper way to dump this water then read this article I wrote (it's about dumping dishwater, but the same rules apply).
3. Try Using A Scrubba Wash Bag
Scrubba is a cool name. Now that we have gotten that out of the way, let's talk about what it is. A Scrubba is a portable washing machine bag. Think of it as the trash bag method, but a lot more effective and easier.
There are many different washing bags like the Scrubba available on the market, but this particular bag has differentiated itself by being made of high-quality material and being very effective at washing clothes on the go. It also doubles as a dry bag when not being used to wash clothes and so it is very popular among serious campers and backpackers.
The Scrubba uses an easy 5 step process for washing your clothes. First, you add water, detergent, and clothes to about 20%-40% full. Second, you roll the bag closed and clip it shut. Third, you use the built-in valve to remove excess air. Fourth, you use your hands to rub against the bag so that it scrubs the clothes inside. And fifth, you empty and rinse your clothes inside the bag once more.
If you are a camper that needs to frequently wash their clothes while they are camping then the Scrubba can make a lot of sense for you. If you rarely wash your clothes then it might not be worth it. If you are curious about the Scrubba system then click here to view the price

on Amazon.com.
One thing I do really like about the Scrubba is its compact size. It is a really versatile piece of equipment if you can put it to good use. It can also be used for general traveling so that you do not have to pay for washing services at a hotel or a laundromat.
4. Handwash In A Collapsible Bucket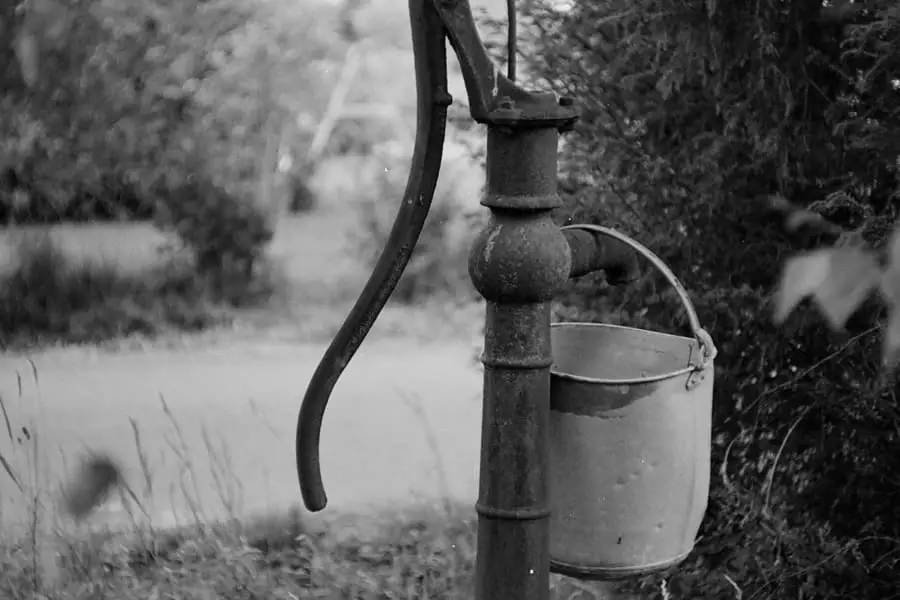 Here's another handwashing method for clothes that you can use while camping. Okay, you don't need a collapsible bucket, but I think that they are cooler than regular buckets. Especially if you like traveling light. A regular bucket can be used for this just as well.
The same steps apply to handwashing in the bucket. If you have two buckets then it will be easier to do the wash and rinse cycle. If not you just need to empty the bucket and refill it with water for the rinse cycle.
Depending on the size of your bucket, you may have to wash just one clothing item at a time. Since you are using a bucket, you are going to have to get your hands wet when washing your clothes. Submerge your clothing item in warm soapy water in the bucket and use your hands to gently scrub and clean your clothes.
Once you are finished with that, place the clothes to the side until you fishing washing all of your clothes in the bucket. Empty the soapy water from the bucket and fill it with plain water this time. Do the same thing in soapless water and then hang your clothes to dry.
5. Plunger & 5-Gallon Bucket
This is a do-it-yourself method of washing your clothes when you are camping. This will require a bit of work to be done before your camping trip. You will need two 5-gallon buckets with lids and 2 new (unused) toilet plungers. Seriously, unused plungers only.
Creating your own camping washing machine is relatively easy and fun. All you need to do is cut out a hole in the two lids of the buckets large enough to where the plunger handles will fit in them. Once you have done that, the plungers will be inside the bucket with your clothes and it will be hand-powered.
One bucket should be used for detergent and water, and the other should be used with just water. Place your dirty clothes in the first bucket with soap and water and use the plunger to plunge around and clean your clothes. Transfer the clothes to the second bucket and do the same thing. Hang your clothes to dry afterward. If you want a visual with instructions on how to do this then check out this

post.
6. Portable Washing Machine
Portable washing machines do exist, and they could be the most convenient way for you to wash your clothes when you go camping. Many RV'ers utilize portable washing machines since they are usually camping for more extended periods of time. If you like to go camping for longer periods of time then a portable washing machine could be a good purchase for you.
There are several pros and cons of getting a portable washing machine for camping. I don't think it is the best choice for everyone, but some people may find having one beneficial for them. Here are some pros and cons:
Pros
The easiest way to wash clothes
Makes camping for longer easier
Cons
More expensive than other methods
Require electricity to use
Takes up a lot of space
Here is the most highly rated

portable washing machine on Amazon if you are curious. There are plenty to choose from. They might make sense for you if you have space and like camping for extended periods of time in campgrounds with electrical hookups, or if you have a generator.
7. Book A Campsite With Laundry Facilities
Yes, you can book campsites with pretty much any kind of facilities nowadays. Typically you won't find laundry facilities in public camping locations such as National Forests, National Parks, and State Parks. Some private campgrounds and RV parks do have laundry facilities. Perhaps camping somewhere with laundry facilities is closer to glamping than it is camping.
Another unique way to find a campsite with laundry facilities is to go camping using an Airbnb. Airbnb is much more than just houses and apartments, they also host unique campsites, RVs, and glamping experiences. If you have never used Airbnb before then you can click here to sign up

using my referral link. You will get some free credit to use for your first booking.
8. Find a Laundromat
Another easy option for washing your clothes is to just drive to the nearest laundromat. This is easier said than done depending on where you are camping. Do your research before you leave to see if there will be laundry facilities nearby and what their hours are.
Most places you go camping will have some kind of small-town somewhat nearby. They might have a local laundromat for you to utilize if you need it. It will usually cost anywhere from $1-$3 per load.
9. Use Eco-Friendly, Biodegradeable Detergent
Here's a tip for washing your clothes out in the wilderness, please use eco-friendly and biodegradable detergent. Your regular household detergent probably won't cut it in the great outdoors. We need to be responsible for ensuring we do our part in making as minimal of an impact on the environment as possible.
You will need to dump that dirty water somewhere, and that is why your detergent needs to be biodegradable. I prefer to use powdered detergent since it is much lighter, takes up less space, and can easily be transported.
10. Dispose of Grey Water Properly
Greywater is any kind of water you have used and therefore mixed with something besides waste. It is a very common term among RV'ers because the RV usually has three different water tanks: Freshwater, greywater, and blackwater.
Freshwater is ordinary clean unused water such as the kind you drink. Greywater is water that has been used for something such as shower water, sink water, washing machine water, etc. (This is the kind you produce after washing your clothes). Blackwater is water that is mixed with human waste.
To properly dispose of your grey water after washing clothes there are a few main points to keep in mind:
Dump at least 200 feet from a natural water source
Do not dump at a campground water spigot
Do not dump in campground sink/toilet unless otherwise posted
Dump in a spread out area that will allow the water to evaporate
If you want a lot more details on properly disposing of grey water then you can read this article I wrote. It is about disposing of dishwater, but the same principles apply because both of them are considered greywater.

11. Don't Wash Your Clothes In a Natural Water Source
Natural water sources are a no-no for washing your clothes. Not only could you possibly contaminate your clothing with something, but you will definitely be contaminating the natural water source where animals live and drink. No camper wants to do that, so stay far away from natural water sources when washing your clothes. At least 200 feet away to be exact.
12. Don't Wash In The Campground Bathroom Sinks!
If you are camping at a campground with bathroom sinks, do not wash your clothes in the sink. The water is usually very limited and should only be used for washing your hands, face, and brushing your teeth.
Not only is it rude to take up the entire sink long enough to wash your clothes, but you would also be making the area where other people wash their hands and brush their teeth dirty with all the crud from your clothes. Be a good camping neighbor and do not use the bathroom sink.
13. Don't Wash With The Campground Water Spigots!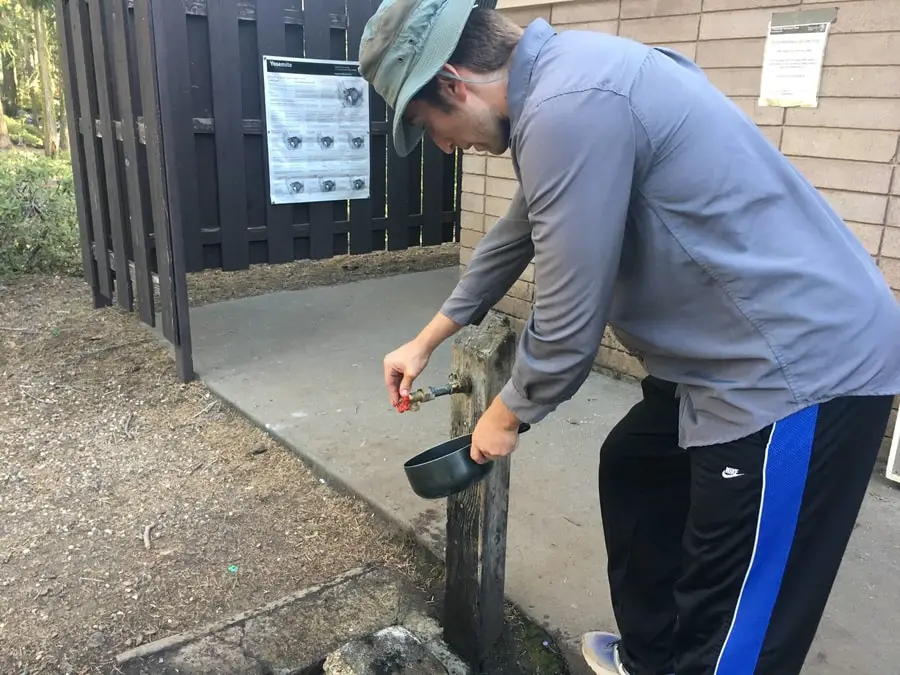 You shouldn't wash your clothes at campground water spigots. Doing so would dirty up the entire area and it is an ineffective way of utilizing the water. Instead, you can get your water from the spigot and take it back to your campsite to use one of the earlier methods that we have been discussing. Never dump your greywater at the water spigot either, please.
If you are looking to stay clean while camping then you need some ideas for bathing and showering while camping. Luckily, I wrote another article with 21 ideas on how to bathe or shower while you are camping! Click here to check it out!
Related Questions:
What detergent should I use while camping?
When you are camping you should use a detergent that is environmentally friendly and one that is biodegradable. That way you can properly dispose of the water and not worry about negatively affecting the environment too much.

How do you dry clothes while camping?
The best way to dry clothes while camping is to string up a clothesline and hang your clothes to dry. All you need is a nice sturdy rope and some clothespins. Both of those can be found at your local dollar store.

Can you sleep in a moldy tent?
You should not sleep in a moldy tent because some types of mold can be dangerous for you to be near and you could breathe in its nasty spores. Clean your moldy tent as soon as possible to remove the mold. If you cannot completely remove the mold then you should get a new tent.
My Favorite Camping Gear