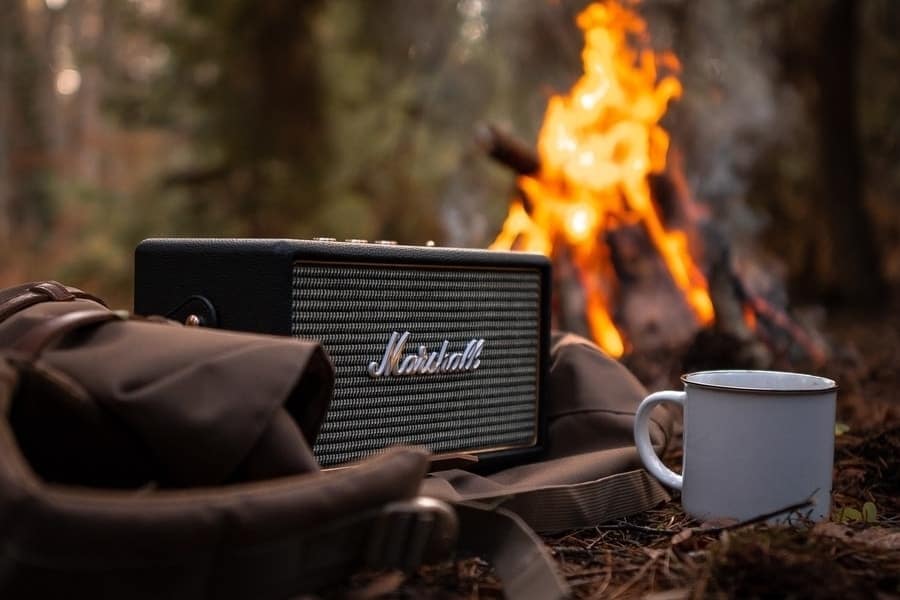 Being in nature can be relaxing but sometimes you just get that urge to listen to your favorite music. There's nothing wrong with that. Listening to music could make your next camping trip more enjoyable, but what are the best ways to listen to music while camping?. 

So, how do you listen to music while camping? Here are 7 awesome ideas on how to listen to music while camping:

Download Music offline to Your Phone
Put Music On An MP3 Player
Wear Headphones
Bring A Portable Speaker
Listen to Music in Your Vehicle
Listen to music in your RV
Make Your Own Music
Sometimes just the sounds of nature are all you need in order to truly relax while camping. However, sometimes the mood strikes to listen to some good music. For some people, music can be really relaxing. For example, music is especially fun to play to have when you are camping with family or friends. A big thing we always need to keep in mind is to always be respectful when playing music when we are camping near others.
By the way, If you are in the market for a new tent, then you should click here to see the one I recommend on Amazon.

1. Download Music to Your Phone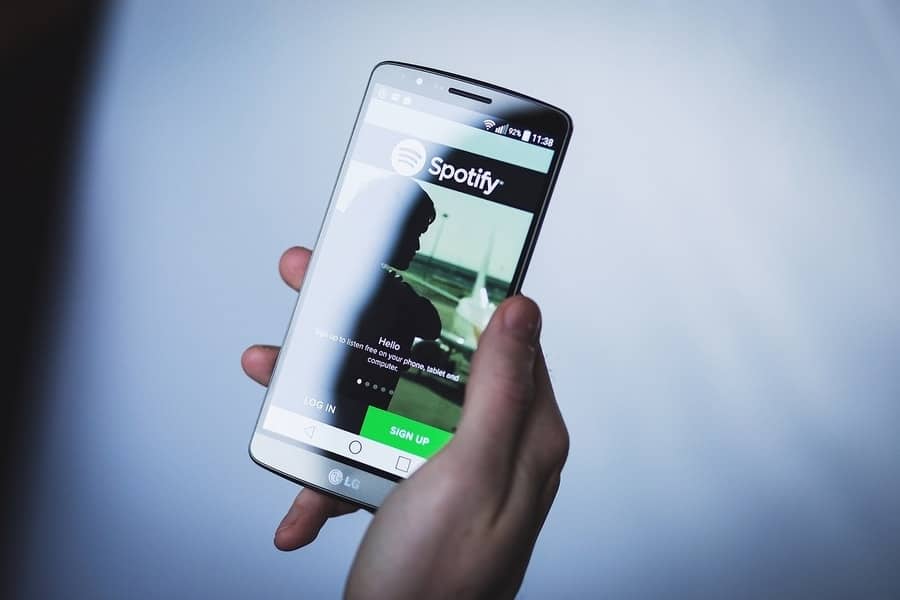 Before streaming services, we had to purchase and download our music to our devices individually which was often expensive and storage consuming on our phones. Now, with the convenience of these music services, we always have music available to us wherever we go. 

However, while camping, you may not have wifi or cellular service so it's best to remember to download whatever song or playlist you may want to listen to. All you have to do is open your favorite music streaming app and press the download option on whatever album or playlist you want to have saved to your phone. This will allow you to listen to your favorite songs while spending a relaxing weekend in nature. 

Another great thing about downloading music from your music streaming service is that you can always remove downloads if your phone starts to get full. I often like to take a lot of pictures while camping so once my phone's storage is full I can easily remove my downloaded music to make more space and just redownload the songs when I have wifi or cellular data after my camping trip. 

2. Use an MP3 Player
You don't see them being used as much these days since smartphones have pretty much replaced them. But MP3 players and Ipods are specifically for storing music, and they do not require an internet connection since songs are downloaded onto the device. If you have one stored away in your closet then go find it and take it with you on your next trip!

3. Wear Headphones
The most respectful way to listen to music while camping is by wearing headphones. This is because many people may not like hearing music on their camping trip. If you're on a hike or camping in an area where other sites are really close to you, then listening to music with your headphones on is the best option. Even if you think you're alone while hiking it can be very disruptive to play music out loud since the sound travels much further than you think.

It's important to always be aware of your surroundings especially when hiking, backpacking, or camping alone. If you do choose to listen to music with headphones just make sure to keep the volume low and leave your noise-canceling headphones at home.
Regular headphones that attach to your device may be the best option because they are easy to use and don't have a battery that needs to be charged. However, wireless Bluetooth headphones are continually being improved to come with batteries that last longer and longer. Amazon.com has a great selection of sports headphones that work well with camping that you can check out

.

4. Bring a Portable Speaker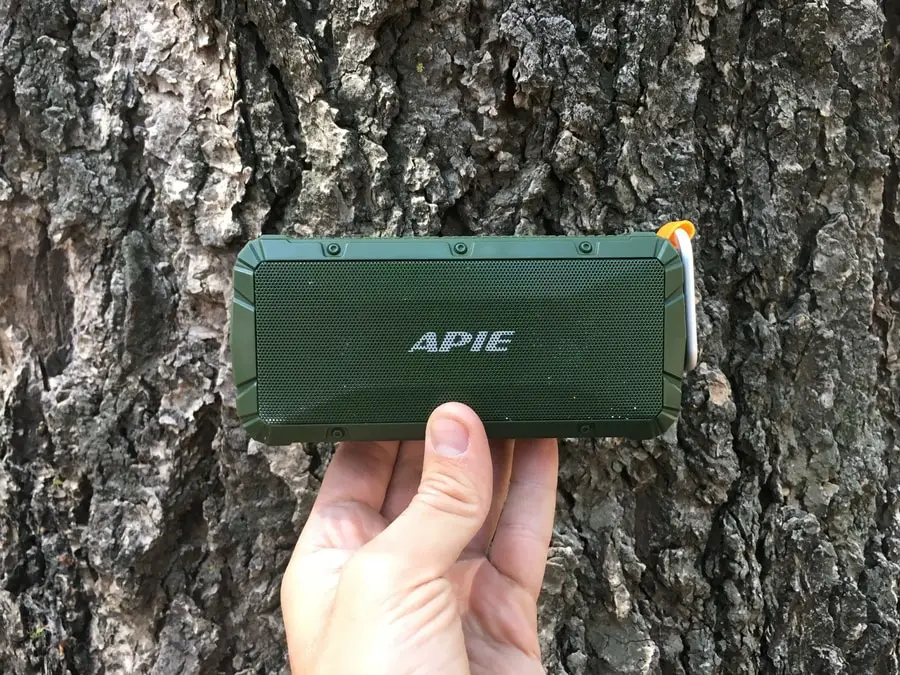 If you want to listen to some tunes with the entire family or all your friends while camping the best option would be to bring a portable speaker. Portable speakers come louder and more compact than they used to which makes them easy to bring along for camping trips. There are many portable speakers that offer clear sound and are rugged enough to withstand outside elements such as rain, water, dirt, and wind. Compact Bluetooth speakers are the most convenient to bring and they usually are able to last for a few hours before they need to be charged. 

If you're at a campsite with a lot of people, make sure to only play music before quiet hours. If you want to be even more courteous, play music when a majority of people at your campground are not around which is usually from noon to early evening. Some campsites are much larger and have more spread out campsites allowing you to play music without being too disruptive to your neighboring campers. Amazon.com also has a great selection of portable speakers to bring camping with you

5. Listen to Music in Your Vehicle
If you're going car camping, it is a lot easier to play music. Cars and other enclosed vehicles work well at blocking a reasonable amount of noise from escaping outside. This means that if you're the type of person who likes to fall asleep to music you can do so easily if you are sleeping inside of your car during the camping trip. You may not want to leave your car running to play music but even just playing it on your device should be loud enough to hear in an enclosed environment without affecting others. 

6. Listen To Music In Your RV
Just like with vehicles, most RV's have built-in speakers, mainly on the inside, but also sometimes they come with external speakers. If you are camping with an RV then consider using it to get your music fix.

If you're camping with an RV, you can listen to music inside of it well past quiet hours without disturbing anyone around you. Just make sure the volume is reasonable and you can only hear it inside of the RV.

7. Make Your Own Music
Sometimes we don't need a device in order to bring the joy of music to camping. Bringing your own instruments while camping can provide an even more enjoyable camping experience. In fact, when most people think of camping they probably think of a group of people sitting around a campfire roasting marshmallows and listening to someone play the guitar.
If you or someone you will be camping with is able to play the guitar, ukulele, banjo, etc. then why not bring it along? Small handheld drums, maracas, tambourines, harmonicas, and plenty of smaller instruments are also great to bring along and easy to use so that even kids can play.

Singing and playing instruments around a campfire is bound to create a memorable camping experience. It is also more creative and interactive than just simply listening to music on a speaker or device. Plus, other campers are probably less likely to be annoyed if they see you creating your own music…if it's good. 

Always Pack Backup Items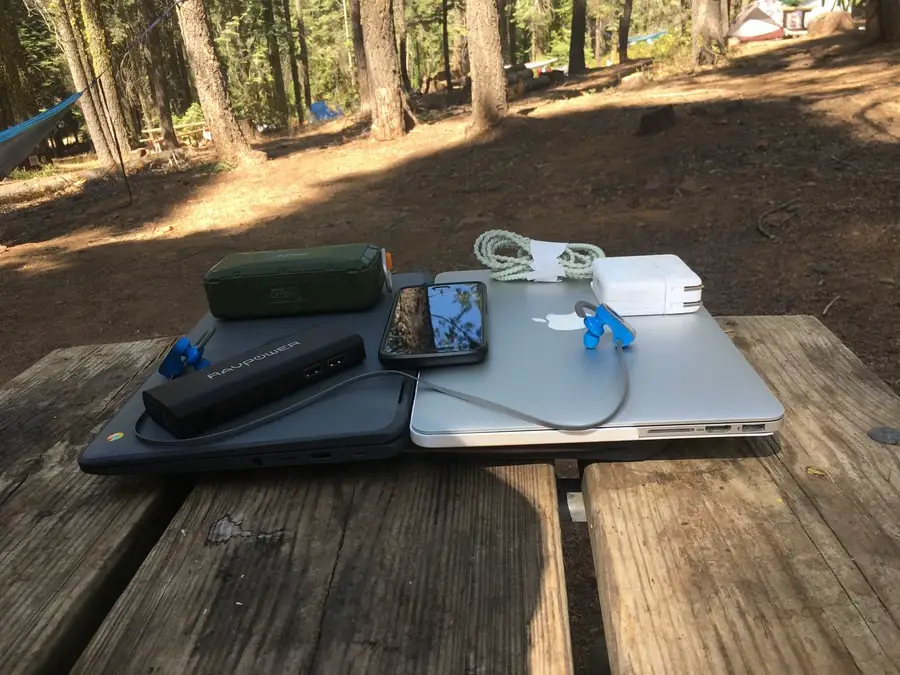 Things break, especially gadgets. You never know when you might need an additional auxiliary cord to plug your device into a speaker or portable charger to keep your phone, speakers, or even headphones charged while camping. Just keep in mind that the more electronic items that you bring while camping, the more you are going to have to pack in order to keep everything functioning.

If you're the type of person who needs to bring electronics along while camping then keeping portable batteries, portable speakers, wireless headphones and phones charged before a trip will make your camping experience a lot easier.

Pay Attention to Quiet Hours
The most important thing about playing music while camping is making sure to respect your campsite's quiet hours. Quiet hours are the times when you are supposed to turn off any loud devices like speakers or generators and refrain from making any loud noises at your campsite. These hours are made to allow most people in the campground to sleep peacefully. 

Most campsites have quiet hours from 10:00 pm to 6:00 am but it can differ from campground to campground. If you do not respect these designated quiet hours, you could possibly be asked to leave by campground officials. At the very least, you might get some very angry looks from your camping neighbors. Remember to always be respectful of those around you while camping.

Always Be Respectful and Safe
No matter how or when you choose to listen to music while camping always remember to be respectful to other campers around you. Learn your campsite's quiet hours and try to keep your music at a level only you and those you are camping with can hear. While hiking or backpacking alone, make sure to keep your music low if you are listening with headphones and always pay attention to your surroundings. 

Staying safe and respecting others is the most important thing to remember while camping. If you feel like you're not able to follow these rules then maybe its best to leave the music off. However, knowing your options for listening to music can allow you to try out some of the listed options and see which ones work best for you. 

Related Questions:
How loud can you play music while camping?
The general rule is that music should only be loud enough to be heard within the boundaries of your campsite only. Title 36 is a federal lands order that restricts noise on public lands to a certain noise level. For more information on how loud music can be in a campground, check out this full article I wrote about it.

What kind of music should I listen to while camping?
You should listen to your favorite music while camping, but if your favorite music contains a lot of profanity then you should not be playing it out loud as a courtesy to other campers, especially ones with young children.
My Favorite Camping Gear