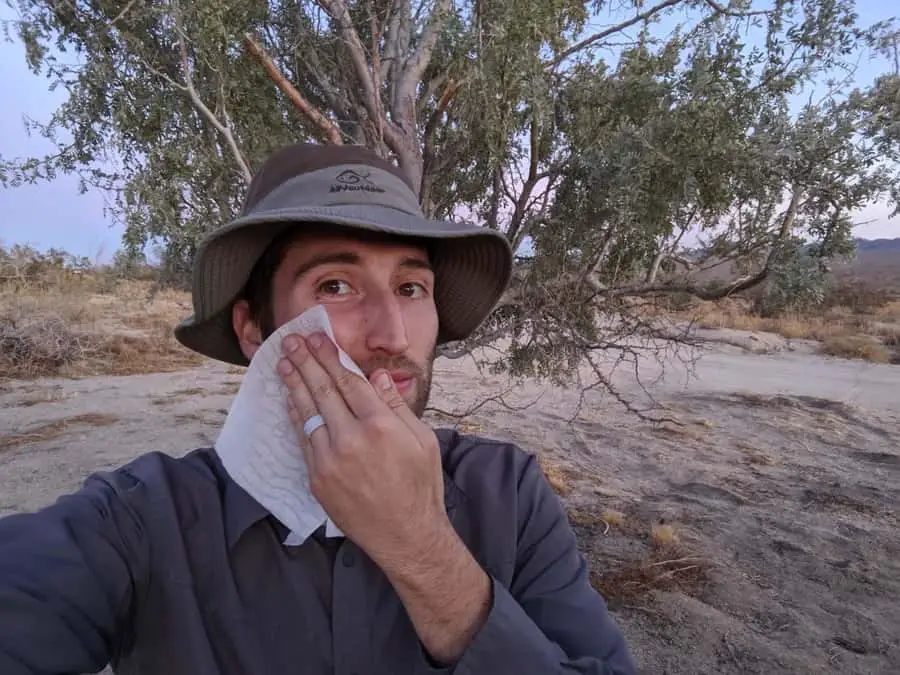 Do you love being outdoors but don't like breaking out? No one does. Camping and being exposed to the elements can be hard on your face making it easier to get pimples and dry skin while camping. However, if you make sure to keep your face clean and protected from the sun it is possible to prevent breakouts while outside.

Here are some ways not to break out while camping:

Wash your face daily.
Wear sunscreen or lightweight concealer with SPF.
Use bug spray, but don't spray your face.
Use moisturizers or lotions.
Ice your face.
Eat healthily.
Drink lots of water.
Wash your hair or keep it out of your face.
Apply ointments to sunburns and bug bites.
Avoid pore-cloggers.
Keep reading for more information on each of these tips on how not to break out while camping.
By the way, If you are in the market for a new tent, then you should click here to see the one I recommend on Amazon.

Wash Your Face Daily

It's easy to get and stay dirty while camping because you often don't have access to showers or even sinks. However, there are many ways to stay clean while camping and one way to do this is by washing your face. All you need is access to water and a washcloth or small towel.
Soak the towel in water and ring until damp. Then gently pat away dust and dirt from your face. Do this every night before bed so you can wake up refreshed. Prepackaged face wipes or makeup removers also provide the same effect and can be used to wipe away sweat after exercising.

Wear Sunscreen or Lightweight Concealer with SPF

Most people already know they should be wearing sunscreen when spending time outside but what you may not know is that there are specific sunscreens for protecting your face. Regular sunscreen can clog your pores and leave you more susceptible to breakouts. Look for sunscreen lotions that specifically say they can be used on the face.
If you like more natural options, raw shea butter works not only as a great moisturizer but also contains SPF protection and is an ingredient you can find in most natural or organic sunscreens. Or opt to use lightweight makeup concealers or tints that have SPF built-in. However, if you go for a makeup option make sure to clean your face properly after use. Make sure to check what SPF level works best for your skin type.

Use Bug Spray, but don't spray your face

The bump on your face may not be a pimple, it could be a bug bite. Mosquitos and various other bugs love to leave their mark on you while you camping. However, you can easily avoid bug bites by wearing or using bug repellent. Most bug spray can't be used on the face so I would recommend just spraying around your body. Bugs won't come near your face if your entire body smells like something they don't like.

Use Moisturizers or Lotions

For those who don't have dry skin, it can be easy to forget to moisturize your face when camping. Being exposed to the sun and other natural elements can quickly strip away the moisture from your skin. Always bring some kind of moisturizer or lotion. Specific moisturizers for the face work the best because they are often made with more gentle materials and you can get the one that best works with your skin. Do this every morning before applying sunscreen, or you can use a moisturizer with SPF protection already built-in, and every night after washing your face.

Ice Your Face Down

This may be a little more difficult if you don't have Ice or clean ice nearby. If you're bringing a cooler with you I suggest putting aside a small ziplock bag of ice that you can grab from to ice your face down. Gently pat your face with the ice after washing your face or during a hot day. This will make your face more firm and tighten your pores making it harder for dirt and dust to enter. When your face is really warm, your pores open to release heat and sweat. When your face is cold or cool, your pores tighten. 

Eat Healthily

It can be easy to eat a lot of prepackaged and processed foods while camping because they're easy to cook and eat. However, this can have a negative effect on your skin and face because of the large amounts of salt found in these foods. Always pack some healthy alternatives such as fruits and vegetables and try to go for the canned foods with less sodium. You can always add flavor to your foods with hot sauces and seasonings that are easy to pack and bring along on your camping trip. 

Drink Lots of Water

This is not only to keep your face blemish-free its also necessary for your health. Always pack and bring ample amounts of water with you no matter where you go. Even if you're camping in a cooler season you still need to drink plenty of fluids. Drinking water is also a natural way to keep your skin moisturized without having to apply a lot of external moisturizers. 

Wash Your Hair or Keep it Out of Your face
This tends to only apply to those with oily hair types. If you're the type to wash your hair every day and you can't while camping then I suggest keeping your hair up in a ponytail or bun and out of your face as much as you can. This is because the oils, sweat, and dirt from your hair can easily clog your pores if you leave it in your face.
However, if you are able to wash or rinse off your hair that would be the best option. There are even dry shampoos that don't require water and can easily remove whatever excessive oils and dirt your hair may pick up throughout the day. 

Apply Ointments to Sunburns and Bug Bites

If you're easily susceptible to sunburns you should always bring some sort of ointment or moisturizer that relieves burns. Sunburns can cause blisters and pimples so having some Aloe Vera or moisturizer that uses similar ingredients nearby helps prevent these types of breakouts. If you get a sunburn while camping, do not peel your skin!
Instead, try to keep your face moist by applying a light ointment and wear something that will cover your face from the sun such as a hat. The same can be said for bug bites, applying a medical ointment can make the bumps go down faster and become less irritating. 

Avoid Pore-Cloggers

Sweat and dirt can clog your pores but so can many other man-made items such as sunscreen, oils, and bug sprays. Try to only use sunscreen that is specifically for facial use. This is because many generic sunscreens may say they are safe for the face but are heavy and pore-clogging because of the ingredients they are made of. Most bug sprays are made of unnatural materials so they can easily cause you to break out and shouldn't be applied to the face.
Spraying around your body or on your clothes will still protect you from bug bites. Be careful with how much oil or lotions you apply to face. Only put enough to moisturize your skin or if you have an oily skin type, try to avoid oily moisturizers and go for lightweight, water-based lotions instead. 

Conclusion
Camping without breaking out is possible. Do your best to keep your face clean, protected and moisturized while exposed to the sun and other outside factors and you should see that your face will remain blemish-free. Try out each tip on the list and see which one or two works best for you. These are just generic tips so they may not work for every skin type. Make sure to consult a dermatologist if you have more severe acne issues. 

Related Questions:

How to protect your skin from the sun?
The best way to protect your skin from the sun is to cover your skin. Wearing clothes that block the sun but that is also breathable is the best option. For example, long sleeve shirts with collars, long pants or leggings and hats will give you the best protection. Another option is to wear sunscreen. Make sure to use sunscreen that will best protect your skin type and always reapply at the directed time the bottle suggests or whenever necessary. 

How to stay clean while camping?
If you don't have access to a shower at your campsite there are other ways to stay clean while camping. If you have access to fresh water and a towel you can wash off that way. Cleaning yourself with baby wipes is also an option. There are also portable showers that use solar energy or can be plugged into your car. Remember to bring a clean pair of clothes to change into. 
My Favorite Camping Gear