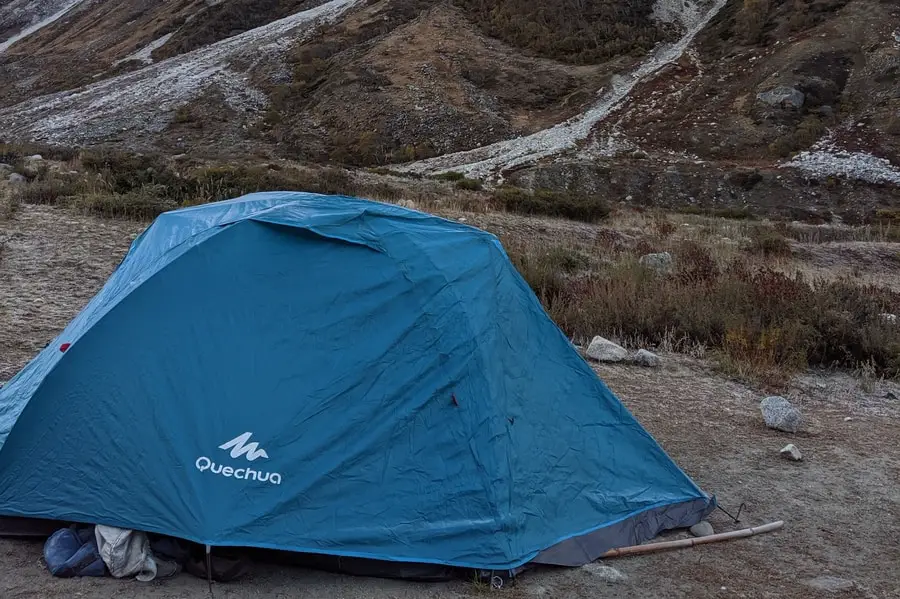 Deciding on what new tent to get can get a little confusing since there are so many different shapes, sizes, brands, and styles of tents. One such style of tent that you might have heard of is an instant tent. If you are wondering if instant tents are worth it, then you have come to the right place.

So, are instant tents any good? Instant tents are a good piece of camping equipment for recreational campers. They make the setup and teardown of your campsite very easy and easy.

So while instant tents are good products and are continually being improved, there are still some drawbacks of the instant tent when compared to traditional tents.
By the way, If you are in the market for a new tent, then you should click here

to see the one I recommend on Amazon.
What Is An Instant Tent?
Instant tents are tents that can be set up in one quick motion. They usually are able to be set up in less than one minute and are easily set up by just one person. Everything on the tent stays connected as it is all one large assembly, so there are no separate pieces. Instant tents come in many different shapes and sizes, but the two most common will either "pop up" or the poles will raise and lock into place.

There are two manufacturers that primarily make up the market production of instant tents. They are Quechua and Coleman. If you have ever seen any of my other articles before then you would know that I am a big fan of Coleman products because they are low cost and high quality for their price point. That's why I would recommend you to get one of Coleman's Instant Tents like this one from Amazon.com. Coleman makes several different kinds of instant tents. The one I linked above is one of the highest-rated tents on Amazon.

What Kind Of Instant Tents Are There?
There are three primary styles of instant tents. They are:
Instant Dome Tents
Instant Cabin Tents
Instant Pop Up Tents
The Coleman company produces all three styles and they do a pretty good job with all of them. However, Dome and Cabin tents are generally deemed as higher quality camping items when compared to pop up tents. Many campers think of pop up tents as being much more temporary than other kinds of instant tents. Pop up tents typically have a single wall and therefore do not work as well for wet weather.
For those reasons, If you are in the market for an instant tent, I would recommend dome and cabin styles over pop up styles. Instant tents are great for saving time, but they are not necessarily better than regular tents. We will discuss why further below, but first, it might be important to know how instant tents work in the first place

How Do Instant Tents Work?
Instant tents work by having everything already pre-assembled. The tent stays connected together and you do not separate the poles from the tent itself. The poles are raised until they lock into place. In under a minute you could have your tent up without having to mess around with long tent poles. See for yourself how quickly an instant tent can be set up:

When it comes time to take the instant tent down, the reverse process is performed and you need to unlock the locked tent poles and sink the telescopic poles back into their stored position. As you can see, instant tents are much different than regular tents. Let's talk about all of their advantages when compared to regular tents.

Pop up instant tents work a little bit differently. They come folded in a flat manner and literally pop out of the bag and become the shape of a tent. Think of them like a folding laundry bag that pops out into a fully working basket. The concept is the same with pop up tents on a larger scale. I won't really discuss pop up tents in my analysis since I generally do not see them as being up to the quality of regular and instant tents that use tent poles.

What Are Some Advantages Of Instant Tents?
Easier Set Up Than Regular Tents
Instant tents are just easier to set up than regular tents. As you probably already know, sliding tent poles into position with a regular tent can be difficult, especially if you are setting up the tent alone. Instant tents can effortlessly be set up by just one person.

Faster To Set Up Than Regular Tents
With the ease of setting up also comes less time to set up. This is the main idea and advantage of the concept of an instant tent. Less time setting up camp means more time to relax and enjoy your camping trip.

Some Instant Tents Have Built-In Rain Fly Technology
Many of the instant tents on the market are different than regular tents because they don't require an actual rain fly. Coleman instant tents, in particular, are mainly built to be waterproof without needing a rain fly cover. Not having to install a rain fly also means less time setting up camp.

What Are Some Disadvantages Of Instant Tents?
Instant Tents Are Harder To Fix
When you have a tent pole break with a regular tent you can usually fix the pole pretty easily and quickly. The complexity of the telescopic poles on an instant tent makes it harder to fix.

Instant Tents Are Bulkier Than Regular Tents
Regular tents can be folded down nicely into quite a small size. Instant tents, on the other hand, do not do this as well since they are one large piece. If you are car camping then this isn't usually a problem unless you have a really small car. 

Instant Tents Are Usually More Expensive
An instant tent that comparable to a regular tent will tend to be more expensive. The difference is usually not that significant, but it is still something to consider. Like with everything else in life, you pay more for convenience. There are always exceptions to the rules and that includes the pricing of instant tents vs regular tents.

Do Instant Tents Have Rain Flys?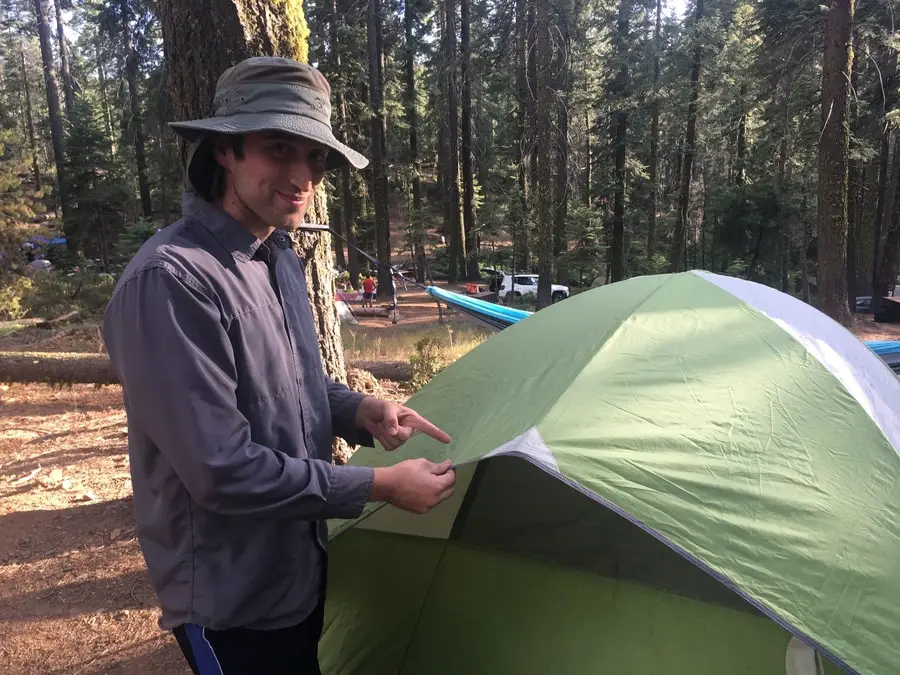 Some instant tents have rain flys and some do not. Coleman designs a lot of their instant tents do not have any rain flys and instead they build waterproofing technology into the tent. When deciding between an instant tent with or without a rain fly, it really comes down to personal preference.

If you tend to camp in a more rainy climate then it might make sense for you to go with an instant tent with a traditional rain fly. If you usually choose to go camping in good weather with little rain then going with an instant tent without a rainfly should not be a big issue. The tents are vigorously tested to ensure the waterproof technology works.

Alternatively, If your instant tent does not have a rain fly, you could always use a basic tarp draped over the tent. They work in a pinch and can help keep the rain out if the instant tent's waterproofing features aren't doing the job. 

Are Instant Tents Durable?
Instant tents are pretty durable. They are considered to be comparatively durable to regular tents with the exception of when something on an instant tent breaks it is more difficult to fix than a regular tent. Some instant tent users have noted that in the past they performed poorly in high wind conditions. The style and design of some instant tents have more to do with this rather than the fact that they are instant tents.

Cabin style tents are taller and are more susceptible to windy conditions because of its higher profile. Dome tents that are lower to the ground will usually perform better in wind because of the low profile. Instant tents are becoming better and better every day as manufacturers continually update and improve their products. For the avid recreational camper, instant tents are durable enough and will serve as a good shelter for camping.

Related Questions:
Are Instant Tents WaterProof?
Instant tents are usually built to be waterproof. No tent is guaranteed to be waterproof, but manufacturers are always concerned with integrating waterproofing features in their tents and that includes instant tents.

Are Instant Tents And Pop Up Tents The Same Thing?
Pop up tents are considered instant tents, but not all instant tents are pop up tents. Pop up tents are a type of instant tent that you can choose.

Are Instant Tents Good Family Tents?
Yes! Instant tents are great for families because they can be set up easily and quickly to allow more family time. Instant tents are also made to be large enough to sleep the entire family.
My Favorite Camping Gear