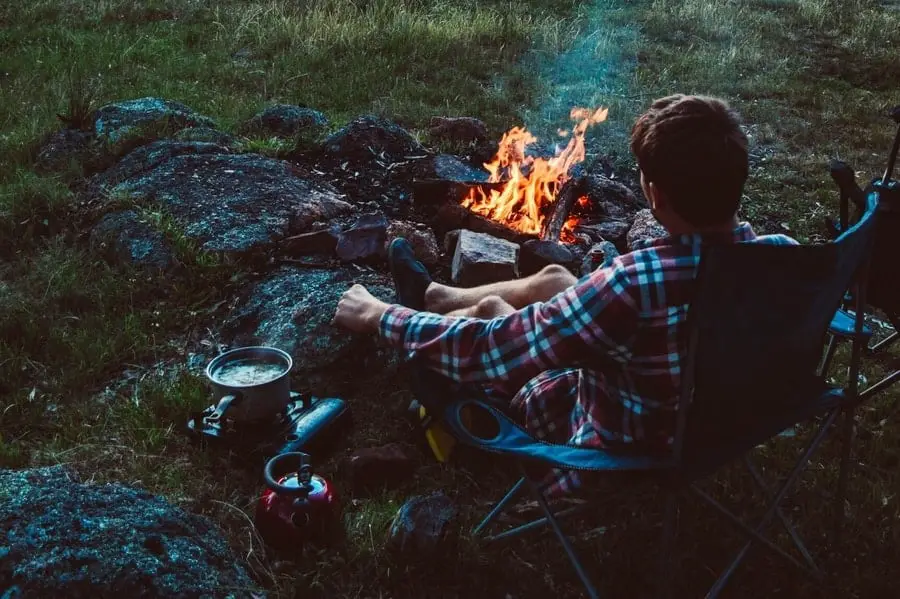 Sometimes I just need to relax like most people. One of my favorite places to relax is on a camping trip. If you need some ideas on how to relax while camping then you have come to the right place because I am going to list 38 awesome ways to relax while camping. These will come from my personal experiences and from some research I have done.

So, is camping relaxing? Camping is one of the most relaxing activities you can enjoy. There are many ways to relax while camping from sitting around the campfire to a leisure hike in the woods. The odds are that there is something relaxing for you to do while camping.

Here are 38 ways to relax while camping:

Watch The Sunset
Watch The Sunrise
Stargazing
Take A Nap In A Hammock
Soak In A Hot Springs
Go Fishing
Skip Some Rocks
Go Kayaking or Canoeing
Do Some Sunbathing
Floating
Rock Balancing
Cooking
Drinking
Wildlife Viewing
Bird Watching
Do A Little Bit Of Exploration
Get More Sleep Than You Usually Do
Board Games
Card Games
Journaling
Reading
Writing
Drawing
Painting
Sketch Booking
Photography
Knitting
Make Unique Jewelry
Coloring
Whittling
Stretching
Yoga
Meditation
Listen To Relaxing Music
Make Some Soothing Music
Just Sit Around The Campfire
Watch Your Favorite Shows or Movies
Driving

Keep reading for a ton of more information on each activity.
By the way, If you are in the market for a new tent, then you should click here

to see the one I recommend on Amazon.

1. Watch The Sunset
Sunsets can be a nice and relaxing way to end your day. When you are camping, you have the advantage of always being outside, therefore it is hard for you to miss out on when the sun is going to set. Some of the best camping locations are in close proximity to some amazing places to watch the sunset. Whether you are camping on the beach, in the forest, in the desert, or anywhere in between, there is bound to be somewhere you can watch a beautiful sunset and relax when you are camping.

2. Watch The Sunrise
Just as watching the sunset can be relaxing, so is watching the sunrise. I'll admit that this activity is geared more towards those of us that are morning people since you have to wake up pretty early if you want to watch the sunrise. However, it is almost always certainly worth waking up early to see. If you are fascinated with the sun, then be sure and try to catch a sunrise next time you are looking for something relaxing to do when you are camping.

3. Stargazing
If you live in a heavily populated area like a city then you might not get to see how many stars we have out there too often. When you are camping in more remote areas with less light pollution, you have the opportunity to go stargazing. There is something amazing about just sitting down and staring up into the night sky and seeing burning balls of fire that are many light-years away. So if you like staying up late, don't forget to relax and enjoy all the stars.

4. Take A Nap In A Hammock
I never used to nap, until I got a hammock. Hammocks can make even the most well-rested individual take a nap. If you are long overdue for a nap then try relaxing in a hammock and you will soon find yourself drifting off. Camping is a great time to catch up on overall sleep, and napping can be a healthy part of a sleep schedule. If you are in need of a hammock then I recommend that you check out the one that I personally use.

5. Soak In A Hot Springs
If you are camping near somewhere that has hot springs then count yourself lucky. Soaking in hot springs can be amazingly refreshing, relaxing, and rejuvenating. There are some places that you can go camping that has natural hot springs that are all out in the open. Finding them is sometimes an adventure on its own, but once you take a dip in, you will be overwhelmed with relaxation. Maybe your next camping trip should purposely be near somewhere with hot springs.

6. Go Fishing
I'm really glad that I got into fishing. Fishing can be a really relaxing and passive activity, or it can be an intense active one. Most of the time I tend to choose the relaxing version. Even if you don't catch anything, the pleasure and enjoyment of a rushing mountain creek or a still lake make it all worth it. You can bait and wait or toss in a lure, both of them are relaxing for me. Just don't forget your fishing license!

7. Skip Some Rocks
Skipping rocks is a really simple activity that oddly has some kind of relaxing effect. It's more of an art form requiring precision and technique. Okay, but sometimes the simplest things are the most relaxing things. Toss some stones in the water and see how you feel, and see how many skips you can get.

8. Go Kayaking or Canoeing
Sometimes you just need to go out on the water in order to experience some tranquility and relax. I think that kayaking or canoeing can do this very well since you are really close to the water itself. Boating could also be considered relaxing to some, but there is something better about using your own power to move you around the water. I'm not talking about going down some rapid rivers, because that's more thrilling than it is relaxing, but a nice calm and still lake will do the trick.

9. Do Some Sunbathing
Being outside gives us the benefit of enjoying the sun and all it has to offer. Some sun is really good for us because it helps regulate our hormones and it gives us vitamin D. Too much sun is not good for us, but that pretty much applies to anything. If you want to just spend some time laying out in the sun, then do it because it's really relaxing. All of those people at the beach can't be wrong, right?

10. Floating
If you are camping near a lazy river, or even just a still lake then floating could be a good activity for you to relax. All you need is some cheap pool floaties or river tube. This is an activity that is usually done well with friends and beer.

11. Rock Balancing
Yet another way that something as simple as a couple of rocks could keep you occupied and allow you to relax. Rock balancing is commonly found on hiking trails, they are intended to serve as a guide along the hiking path. For that reason, it is important that you do not leave any of your rock balancing art up when you are finished. Rocks just don't stack in nature, so stacked rocks are a good indicator of human activity.

12. Cooking
Cooking is already a relaxing activity that is normally done at home, but when you are camping then you must be a lot more creative in your cooking methods. Usually, all you have is your campfire and maybe a small camping stove. There are a plethora of unique camping recipes out there waiting for you to try out. If cooking is a relaxing activity that you enjoy at home then try doing some while camping. Everyone else you are camping with would surely appreciate the warm tasty food.

13. Drinking
As it turns out, a little bit of alcohol can be a good way for relaxing and just hanging out. For some people, drinking is an integral part of their camping adventures. If you haven't done before, it can be a great time when you are camping with family and friends. Just don't drink too much to where you go past the point of relaxing and instead reach the point of partying.

14. Wildlife Viewing
One of my favorite reasons for camping and being outdoors is seeing wildlife. You would be surprised by the number of different species living in such close proximity to your campground. Some of my most fond memories involve herds of deer walling right through my campsite. Also, I am reminded of some of my more intense wildlife encounters with black bears, but they were harmless. You can go out and find some creatures that are much less intimidating such as squirrels, chipmunks, lizards, etc.

15. Bird Watching
If you have a pair of binoculars then you have just about everything you need to get started with bird watching. There are so many bird species out there, it's possible that there are several species of birds that have been around you before, but you never noticed. I love going out and spotting road runners, quail, and blue jays.

16. Do A Little Bit Of Exploration
Just do a little bit of walking around where you are camping at and explore the area. You never know what you are going to find when you are out in the wilderness. Whether that be a beautiful view, wildlife, bodies of water, or just some weird shaped rocks. 

17. Get More Sleep Than You Usually Do
One thing that helps you relax during the day is when you are well rested from the night before. Take advantage of your camping trip and try to sleep in and see how you feel. Sometimes sleeping in can make you feel lazy, but our bodies need a good deal of sleep to perform at our optimum levels.

18. Board Games
Board games are a fun way to relax just about anywhere, including when you are camping. My favorite board games to take camping with me are Monopoly, Yahtzee, and Dominoes. On your next camping trip, try breaking out a board game to play with your family and friends. 

19. Card Games
A simple 52 deck of cards has nearly unlimited possibilities when it comes to a choice of games. Look up some before you go camping and try playing one you haven't played before. If you aren't camping with anyone then you could always just play solitaire…

20. Journaling
Journaling is the simple act of writing down your thoughts on paper. You could literally write them down by hand in a notebook or you could just type them on your laptop, tablet, phone, etc. Journaling is a great way to keep track of things in your life and it can help you deal with some issues by just "getting it all out there" it works well for stress relief. 

21. Reading
Reading is an intellectual activity that is great for expanding your knowledge or providing hours of detailed entertainment. You probably have a local library nearby where you can rent a countless number of books to take with you when you go camping. At the same time, e-books are becoming more and more popular, and they can be read on your phone, tablet, laptop, etc.

22. Writing
You can write about anything you want to and enjoy the relaxation benefits. Sometimes I like to even write posts like this for the website when I am camping because it relaxes me. You can write short stories, poems, or work on that book you always wanted to publish.

23. Drawing
Drawing goes well with camping if you want to draw beautiful landscapes. All you need to get started is a pencil and some paper.

24. Painting
The act of painting also goes well with camping since you can paint the landscapes you are witnessing.

25. Sketch Booking
If you have some photos from home that you want to put together into once place then you could create a sketchbook while you are camping. Better yet, why not make a sketchbook of your camping adventures!

26. Photography
Photography can be done just about everywhere, including outside in the beautiful places you go camping at.

27. Knitting
You can create cool things while rocking back and forth in your camping chair just like your grandmother used to do!

28. Make Unique Jewelry
Arts and craft activities are known for their relaxation effects. Make some jewelry yourself and give them out as a gift for Christmas and birthdays.

29. Coloring
Coloring isn't just for children, there are some really cool adult coloring books out there that can allow you to artistically express yourself. It's really inexpensive to get started since all you need is a coloring book and something to color with such as colored pencils.

30. Whittling
Whittling is the activity of carving pieces of wood into something beautiful, useful, or both. It is becoming less and less prevalent in our culture today, but it has historically been an artistic way to pass time.

31. Stretching
Stretching can help relieve soreness and aches. Relieving those symptoms could help you relax. Stretching can be done standing up, lying down, or just sitting.

32. Yoga
Yoga can be easy and relaxing or it can be difficult and taxing. If you choose to do some light yoga it could help you relax since exercise can have that effect on our bodies. For the most part, you do not need very much to get started with yoga, you just need the mat.

33. Meditation
Meditation is practiced by many successful people. Meditation seeks to clear your mind and focus on one simple thing. Camping can offer you some great places to find a solitary and quiet place to meditate.

34. Listen To Relaxing Music
Listening to some genres of music can be really relaxing. You can do this when you are camping too because streaming services like Spotify (the premium version) allow you to download songs to listen to offline.

35. Make Some Soothing Music
If you are the musically inclined type(I'm not) then you can make your own relaxing music by the campfire. Just be sure to keep the noise to a minimum if you are in a regular campground with camping neighbors nearby.

36. Just Sit Around The Campfire
Some of the most relaxing things are the most simple things in life. Campfires are something unique to camping (it's in the name). Staring into a crackling fire at night is somewhat of a mesmerizing experience. 

37. Watch Your Favorite Shows or Movies
If you're the kind of person that likes to watch movies and shows to relax then you can do so while camping too. Many streaming services like Netflix allow you to download shows and movies to watch offline. This means you can download some of your favorites onto your laptop, tablet, or phone and watch them when you get to your campsite.

38. Driving
Camping near beautiful places is awesome, but so is driving through them. Driving is a relaxing activity for me (unless I'm stuck in traffic) so I enjoy sometimes just driving around through the mountains or in the deserts.
My Favorite Camping Gear