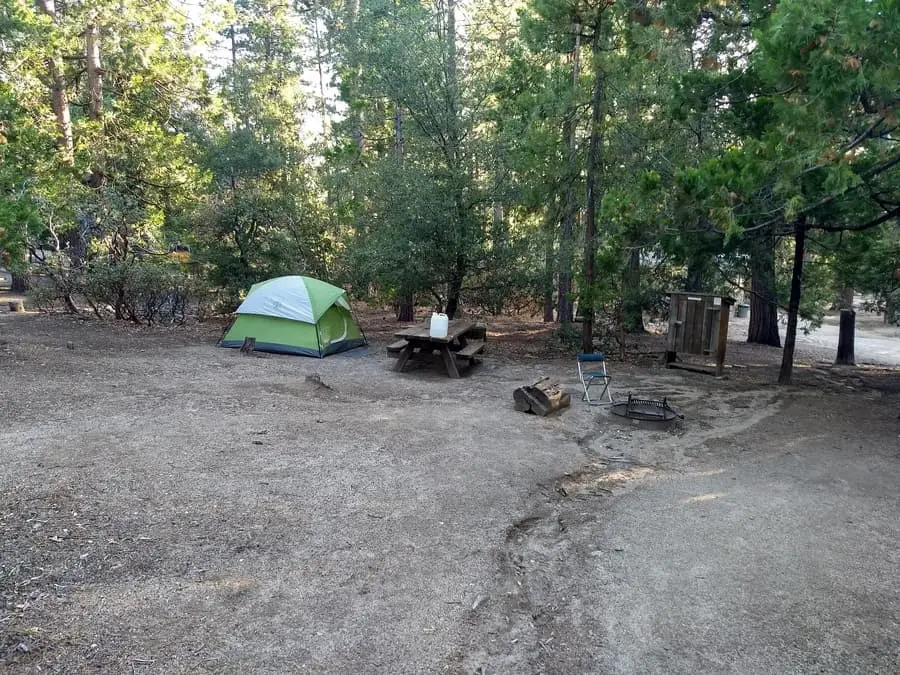 Have you ever tried minimalist camping? It's like camping, but you bring only the essentials and leave most of the glamping items at home. Most backpackers partake in minimalist camping because they have to, but you can try minimalist camping at a regular campground while car camping.

The 15 Things To Leave At Home If You Want To Try Minimalist Camping Are:

Canopy
Table Cloth
All electronics
Regular Pillows
Regular Blankets
Air Mattress
Firewood or Firelogs
Bug screen room
Hammock
Bug spray
Camping table
Camping chairs
Camping stove
Ice Chest
Lighter Fluid

Read on for more information on why you should consider leaving each item at home in order to try minimalist camping. Just because you try minimalist camping does not mean you must only partake in that style of camping. It is fun to try every once and awhile. If you have never tried camping with just the basic essentials, you should consider giving it a try to see how much different camping can be without all the fancy gear.
By the way, If you are in the market for a new tent, then you should click here to see the one I recommend on Amazon.

1. Canopy
Having some guaranteed shade while camping certainly is nice. A canopy can make camping a lot more comfortable since the canopy can give us a nice cool shaded area at any time of the day. Let's be honest though, it isn't an essential camping item. We can live without a canopy while camping.

If you are interested in trying minimalist camping then that means you should embrace the thought of chasing shade during the day. As the sunsets from the east to the west, we can move and adjust ourselves underneath the moving shade from trees, rocks, or other tall objects. 

If you want to rough it then try to lose the canopy and see how different camping is without it. If you already don't use a canopy, then congratulations you are already one step closer to camping like a minimalist.

2. Table Cloth
Table cloths are pretty, and they make the campground table look and feel clean. This certainly isn't something we must have while camping though. So through a minimalist mindset, it should be easy to leave the table cloth at home and eat on the barren wooden table with all of its imperfections. It builds character because we should be glad that we have a table in the middle of the "wilderness" to begin with.

Try camping without a table cloth for a more minimal camping approach. If your campsite doesn't even have a table, then you get extra bonus points.

3.  All electronics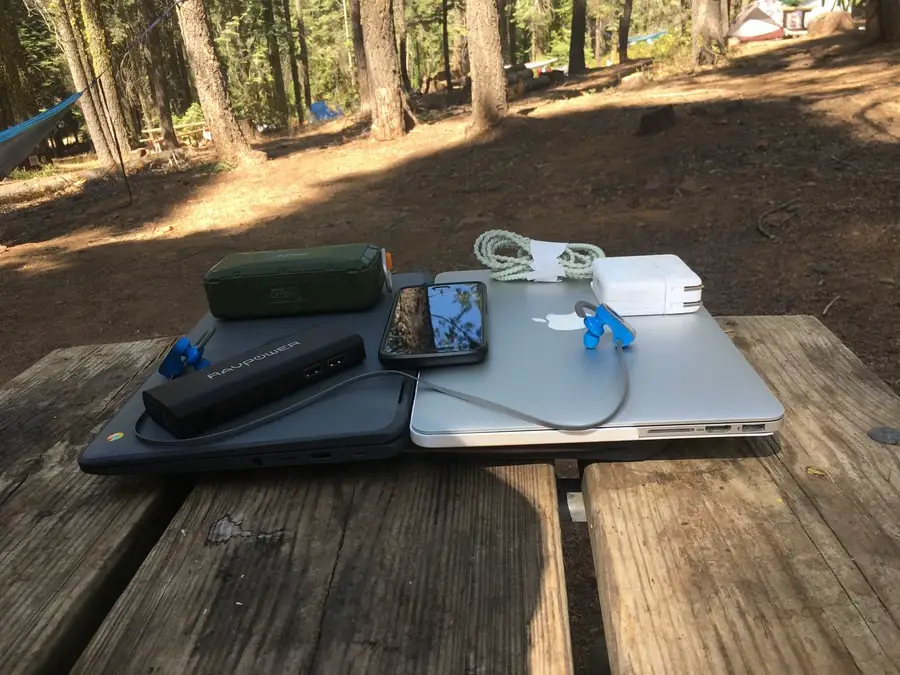 Isn't part of the reason why we go camping is to get away from it all? If we take our electronics with us then we aren't really getting away. Do yourself a favor if you want to camp like a minimalist and don't take any electronics such as your laptop, tablet, headphones, speaker, etc.

You should probably bring your cell phone for emergency purposes, but don't keep it in your pocket like you do every other day of your life. Instead, keep your phone tucked away in the car and away from you. Losing electronics is one thing that will probably improve your camping experience whether you want to try minimalist camping or not. We can certainly conclude that electronics is not an essential item for camping.

4. Regular Pillows
Regular pillows from home are so comfy and soft, aren't they? Well, nature isn't exactly comfy and soft and neither should your pillow. Okay, I'm kidding about that one, but instead, for minimalist camping, you should try using an inflatable pillow.

Inflatable pillows are actually pretty comfortable and extremely compact, which makes them much more minimal than our bed pillows from home. Odds are that you can live without your regular pillow for a couple of nights. Switching to the inflatable pillows saves you a lot of room and weight in the car.

5. Regular Blankets
To keep things minimal, you should consider sticking with your sleeping bag and not bringing your blankets from home. Your blankets from home make you feel like you are still at home, but you're not. Instead, you are trying to toughen up by roughing it with just your sleeping bag like a true camper.

Stick to just the sleeping bag and no extra blankets. If you need some extra warmth then wear extra layers of warm clothing. Just using your sleeping bag will make you feel like a backpacker and maybe trying minimalist camping will lead you down the path of trying backpacking.

6. Air Mattress
Air mattresses have improved in comfort drastically in recent years. Sleeping on a good quality air mattress can feel like sleeping on a real bed if you make it right. That's not what we are going for when we are minimalist camping.

Instead, what you should be sleeping on are sleeping pads. They provide much better insulation and are still a lot more comfortable than sleeping on the cold hard ground. They don't require a pump to be inflated as an air mattress does. You will save a tremendous amount of weight by switching to a sleeping pad.

7. Firewood or Firelogs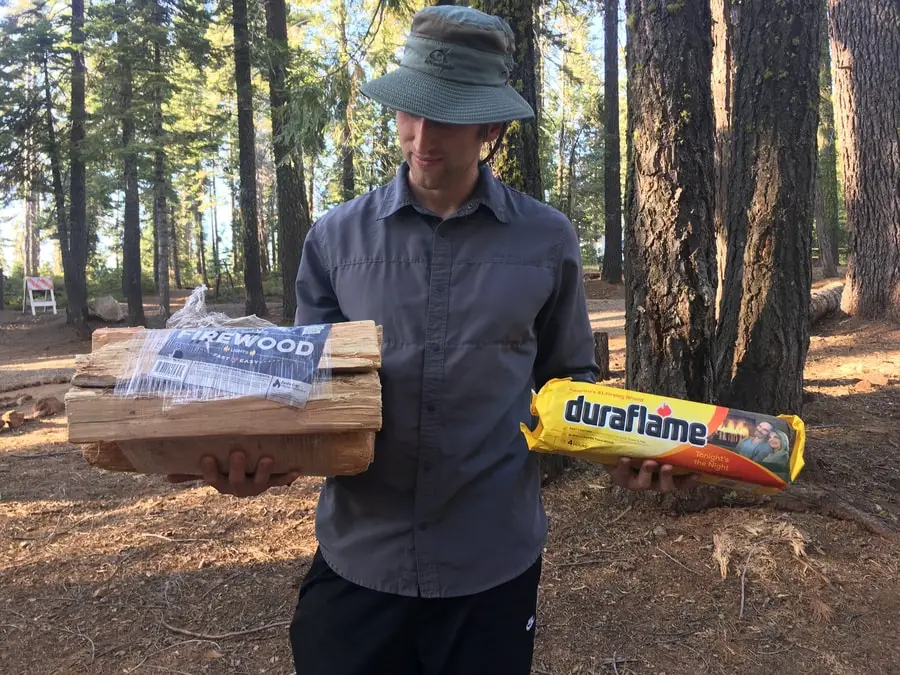 If you are going to try minimalist camping then you don't need to be bringing some firewood from the grocery store. Instead what you are going to need to do is collect your firewood yourself. Sometimes it can be difficult to collect firewood of the perfect size to fit in your fire grate, but that's why you will need to bring an ax for chopping up the wood yourself.

Collecting all of your firewood yourself can give you a huge sense of pride since you will earn that roaring campfire. If you are going to try and collect your own firewood you must make sure that it is allowed in the area that you will be camping in. Some areas in National Parks, National Forests, State Parks, etc. Do not allow any collection of firewood for burning.

So be sure to check online before you head out to make sure that collecting your own firewood is allowed. If not then you might have to bring your own firewood. That's okay, you tried.

8. Bug screen room
If it's one thing that will make your camping trip irritating and difficult it's probably going to be bugs. Bugs come in many different shapes and sizes and pretty much all of them are annoying while you are camping.

Some campers have invested in getting a mosquito net to go around a canopy or even a large stand-alone bug screen room. While having this certainly is convenient and luxurious, it doesn't help in getting us closer to nature. If you use one of these while camping, try leaving it at home for once and see if you can handle it, sometimes a challenge like that is fun.

9. Hammock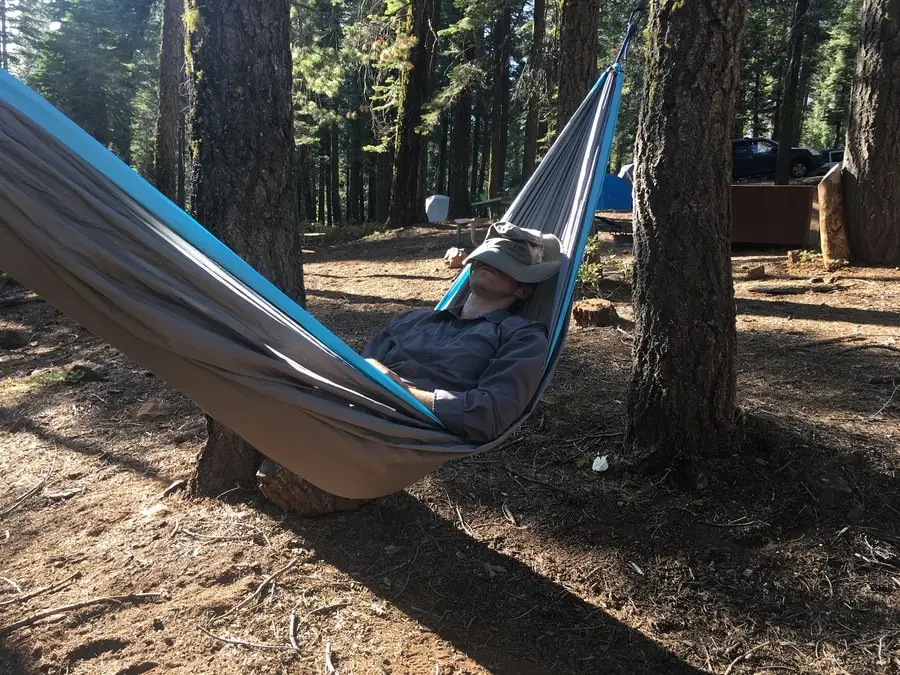 Ever since I got my first hammock it has been with me every camping trip. It's hard to imagine camping without one since they are so comfortable for just laying around all day and being lazy. If we want to get minimal then we need to reduce what is unnecessary and bring only the essentials. Unfortunately, a hammock is not essential if you are tent camping.

However, if you use a hammock instead of a tent to sleep in then you could still get away with bringing it and being minimal. In fact, hammock camping is a really good way to go minimalist camping. You will need a few different gear items compared to tent camping, but still, it is a great way to try minimalist camping if hammock camping interests you.

10. Bug spray
So you can't bring your big screen room and you thought that was bad. Now I'm saying not to bring any bug spray either. Bug spray is comprised of a concoction of unnatural chemicals. Using those chemicals is definitely a luxury while camping.

Try going without bug spray to stay minimal. Instead, you could try some natural remedies for keeping bugs away. There are many ideas available online, the catch is that you would have to find out which ones actually work…One commonly agreed upon natural bug deterrent is actually smoke from your campfire, go figure.

11. Camping table
If you usually bring an extra table with you when you go camping, there is no need for it now. For minimalist camping, just use the picnic table that is provided or go without a table altogether. Don't worry, this isn't permanent. Minimalist camping is something you can try to get closer to nature and less close to all of the extra items that come along with traditional camping.

12. Camping chairs
Camping chairs are an extra added luxury. When you go camping you can get creative and find other ways to sit down. They probably won't be as comfortable, but you will get used to it. Two great ideas are logs and boulders. Let's not forget that most campsites come with a table that has seating too. If you want to try going minimal, then leaving your camping chairs at home could get you one step further.

13. Camping stove
Camping stoves make camping while cooking super easy and convenient. If you are interested in minimalist camping then you should try cooking all of your meals over a campfire. Your campfire is going to make everything taste amazing anyway.

One good item you might need for this a nice cast iron skillet. These are perfect for camping over an open campfire. Aluminum foil is also a staple for campfire cooking. Not having to bring a stove and fuel is going to save a lot of weight and room in the car. As a bonus, you will be challenged in preparing all of your meals on the campfire, but you will be rewarded with some delicious food.

14. Ice Chest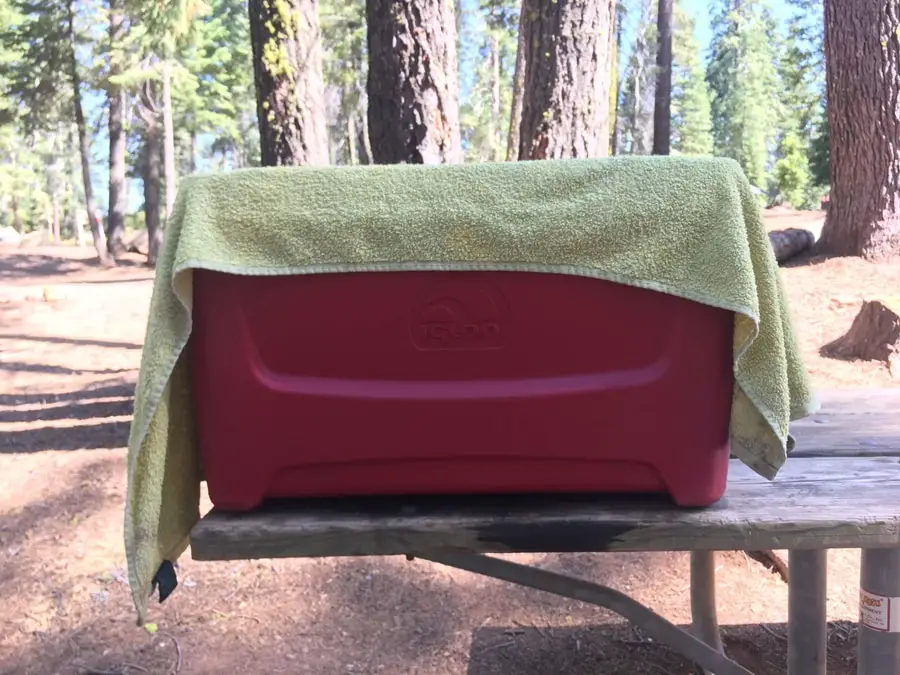 This is probably going to be one of the most difficult things to give up. That is because most of the best tasting food goes in the ice chest and needs to be cooked to perfection. However, if you want to try some minimalist camping then leave the ice chest at home and bring only nonperishables.

I'm not saying you have to go hunt and gather your food, what I'm saying is take the time to realize how luxurious having an ice chest with refrigerated good is. Going without one every once and a while and trying nonperishables can make things interesting. It can force you to get creative with your meals since you are dealing only with vacuum-sealed foods, canned foods, and the likes.
15. Lighter Fluid
Yep, you are going to have to try and start and keep your fire going without lighter fluid. It will be a little harder, but it's far from impossible. Nature provides us with many great firestarters such as pine needles, bark, pinecones, and dried leaves. Try and learn to make a fire without lighter fluid, you will be proud of yourself.

Conclusion
You don't have to go minimalist camping on every camping trip, but it is fun to do it every once and a while. I like minimalist camping sometimes and I like glamping sometimes. Keep your camping trips unique and exciting by changing things up every once and a while and you won't regret it. If you haven't already, give minimalist camping a try and see if you can truly rough it.
My Favorite Camping Gear